Who doesn't enjoy a big area with lots of greenery around and where you can have a good time with your friends and family? We all are in search of such places for sure. And if you are in Patna then I have an amazing option for you. Yes! I am talking about the Eco Park Patna. This is one of the most popular places in Patna that is visited by a lot of people on a daily basis. Furthermore, this is one such location that is ideal for people of all ages to have a good time.
More popular as a picnic spot, this can be the ideal destination for kids to have some fun. Not just that even couples can visit here and have a good time roaming around. But what if I tell you even middle aged visitors and older visitors also will enjoy this place equally. So what are you waiting for? You need to plan a trip to the Eco Park Patna now. Keep on reading this article because here I will mention everything you need to know about Patna Eco Park. From Eco Park Patna time table to entry fee to various things that you can enjoy here, you will get to know each and every information here. So read the whole article because this one is going to be a helpful read for you.
Eco Park Patna
| | |
| --- | --- |
| Eco Park Patna address | Rajbansi Nagar, Jawaharlal Nehru Marg, Patna, Bihar |
| Timings | Eco Park Patna timing is from 5 am to 8:45 pm on all days from Monday to Sunday. There is no Eco Park Patna closing day. |
| Ticket Eco Park Patna | Eco Park Patna entry fee is not applicable for morning joggers from 5 am to 8 am. |
However the standard Eco Park Patna ticket price is Rs. 20 for adults and Rs. 10 for children of 5 to 11 years of age after 8 am. For children below 5 years age entry is free.
Eco Park Patna tickets for camera: You need to pay Rs. 50 for a digital camera and for videography you need to pay Rs. 2000.
Boating Charges:
Paddle boat charges for a two seater boat and 30 minutes is Rs. 30 and for a four seater it is Rs. 50 for 30 minutes. However the charges vary a little on Sunday. On Sunday the charge is Rs. 30 for a two seater paddle boat for 20 minutes and it is Rs. 50 for a four seater paddle boating for 20 minutes.
Aqua Zorbing Charges:
For kids below 12 years of age the charge is Rs. 40 and for kids above 12 years the charge is Rs. 60.
Best time to visit
You can technically visit here all year long. But during the months from March to April and from August to October are usually the most crowded months here. Avoid visiting during peak summer or peak monsoon as too much of heat and humidity as well as too much of rain can dampen your mood as well as your visit here.
About Eco Park Patna
Eco Park Patna or Ecological Park Patna is originally known as Rajdhani Vatika. However it is more popularly known as Eco Park Patna. Located on the Strand Road Bihar, this Eco Park is undoubtedly one of the most popular places in Patna. The main purpose of creating this park was to balance the rush of Patna Zoo a little. On an average almost around 90, 000 to 100, 000 people visit Eco Park Patna in a month. Furthermore about 3, 000 to 5, 000 footfall is recorded here on normal regular days. And on Sundays and special days the footfall rises up to 6, 000 to 9, 000 people. The park also has a record of hosting 42, 350 visitors on 1st January 2014. Obviously now you can understand how popular this park is in Patna.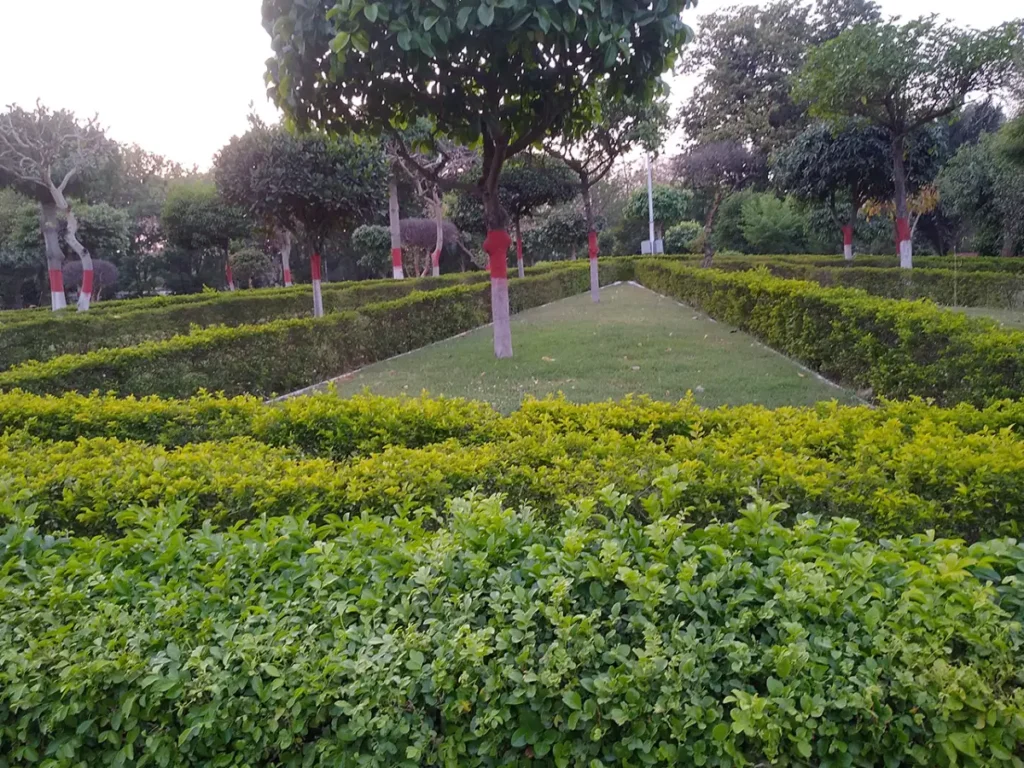 In 2011, the Eco Park Patna was inaugurated by the then Chief Minister of Bihar Nitis Kumar. Furthermore the Department of Environment and Forest in Bihar took the initiative of creating this space. And from the time of its inauguration this park has remained one of the most popular parks in Patna. Both locals as well as tourists prefer visiting this Eco Park in Patna. Spreading across an area of 9.18 hectares this park has separate zones along with 2 lakes inside the premise. Furthermore the area includes a 1445 meter pathway, 1191 metres of jogging track for morning joggers and a separate children's corner as well.
Facilities available Here
The whole area of the Eco Park is divided into two parts. In between there is a road and the two parts are connected through a tunnel. In the first part of the park there is one Play Area, Children's Park, Food Court, Fountains and Cafeterias. However in the second part there is a lake for boating, a restaurant, Rashi Van, Kali Van, Panchawati and Guru Vatika. Basically, the second part of this is like a theme park.
Furthermore the area of the Eco Park is huge and you can sit and relax in the beautiful gardens there or just take a stroll. Almost around 3000 plants both small and big as well as flowering plants are seen here. You can also take part in activities like Boating and Water Zorbing. Other than that some more activities are available here. These are Bamboo structure, Zipline, Climb Ride, Swings, Skating, Side Rides and open gym. All these areas are accessible to everyone so you can explore the area and the different sections.
What's more?
They have drinking water facilities inside the park and along with access to washrooms which is a great thing. The park can get really crowded on busy days like weekends or special days like public holidays. So you should be prepared to stand in queue for ticket counters and also for different rides. However they have multiple ticket counters so even if you had to wait the wait would not be extremely long.
Along with all these the park has a beautiful view on the lakeside which you should not miss out on enjoying. Also the park has a number of swings and rides which you can enjoy. One of the highlights here is the Cactus Smriti artwork. This is an artwork made by artist Subodh Gupta using all kinds of necessary and common kitchen utensils like spoons, forks and bowls. It is one of the major attractions in the Eco Park Patna. Furthermore the park also has a display board. Here various stages and activities from the life of Lord Buddha are exhibited.
Nearby places to visit
Patna Sahib Gurudwara
Revolving Restaurant
Sri Krishna Science Centre
Buddha Smriti Udyan
Patna Museum
Patna Planetarium
Sanjay Gandhi Botanical garden
ISKCON Patna
Wrapping up!
For a picnic-like atmosphere, some time being spent amidst nature, observing different rides and having a good time with your friends and family, what more do you need in life? And now you can enjoy all of it just within one single space. The Eco Park Patna can very well be a place where you can spend a whole day with a lot of fun and activities. Furthermore this makes the place even more popular. It is accessible for the general public and also the prices and entry fee are really low. So if you are in search of a place where you can enjoy a whole day without burning a hole in your pocket you must consider a place like this.
Furthermore, the Eco Park can be an ideal option for a picnic, a day out or a get together with old friends. Just visit here and have a gala time. Do let me know if you have ever been to Patna and if the Patna Eco Park was in your list of must visit places. Also let me know if you are already a resident in Patna and if you have ever visited Eco Park in Patna or wish to visit.