How amazing would you feel to enjoy an adventurous trip through a Glass Bridge? Yes, now you can enjoy such a thrilling experience in Bihar. The Rajgir Glass Bridge is the location which is situated in Bihar, Nalanda. The campus promises a lot of fun and various sorts of activities that you can enjoy too. So if you are interested in knowing everything about the Rajgir Glass Bridge then keep on reading this article. I will mention each and every piece of information that you might need to enjoy a trip to the Rajgir Glass Bridge.
Where is Rajgir Glass Bridge?
Railway Over Bridge, Rajgir Station, Rajgir, Bihar
Timings: 9 am to 5 pm on all days except Mondays. Mondays are closed.
How to reach Rajgir Glass Bridge?
By Air
Rajgir does not have any Airport. The nearest airport is the Gaya Airport which is around 68 km away. You can get flights from major cities to reach Gaya. Furthermore the Patna Airport is another nearest airport to reach here which is 98 km away from the location. You will have to take taxis from the airports to reach the Glass Bridge campus.
By Train
The nearest railway station is the Rajgir Railway station that is only 1 km away from the location. However if we talk about major rail head then the Gaya Railway station is the nearest that is connected to major cities. The Gaya railway station is 60 km away from Rajgir.
By Road
If you wish to travel by road you can get buses from Gaya, Patna, Nalanda, Bihar Sharif, Pavapuri etc. You can even travel by your own personal vehicle if you want.
About Rajgir Glass Bridge
Made on the model of the Hangzhou Bridge in China, the Glass Bridge in Rajgir is equally wonderful and mesmerizing to look at. This 200 feet high bridge in Nalanda is built between five hills. The Rajgir glass bridge opening date was 2021 and from then this bridge had been a topic to talk about. Also the place gained momentum as a tourist spot in a very short span of time. People from all over the world visit here to enjoy the thrilling and adventurous experience. Also the whole area is spread across 500 hectares. The main purpose of creating this bridge was to boost the tourism of Bihar.
Along with a sky walk and walking on a suspension bridge different adventurous activities are also offered here that the tourists will enjoy a lot. Furthermore this is like a one of a kind campus and Nature Safari that takes you really close to nature.
Rajgir Glass Bridge Architecture
This 85 feet long and 6 feet wide Glass Bridge in Rajgir is built above 400 feet. At a time it can carry up to 40 people in total. However for safety reasons only 10-12 people are allowed to reach till the end of the glass bridge.
Rajgir glass bridge online ticket
Rajgir Glass Bridge Ticket booking can be done through the official website of Rajgir Zoo Safari. The Rajgir glass bridge ticket booking online website– info.naturesafarirajgir@gmail.com.
From the main Home Page you will get an option for "BOOK TICKETS".
You need to register yourself with your mobile number and you will immediately receive an OTP.
Verify the OTP to move to the next step.
Fill all the necessary details there like name, no of tickets etc and submit.
Next you will be redirected to the page where you need to complete the payment.
Complete the online payment via UPI, credit card or debit cards.
After your payment is confirmed you will get a computer generated Rajgir glass bridge online ticket.
Download the ticket and keep it with yourself at the time of your visit to the Glass Bridge.
Rajgir Glass Bridge ticket price
Various activities are available at the Rajgir Glass Bridge campus. Other than the adventure activities there are many other activities that you can enjoy too. These are :
| | |
| --- | --- |
| Details | Price |
| Suspension Bridge | Rs. 10 per person |
| Battery Vehicles | Rs. 10 per person |
| Cycling | Rs. 10 per person |
| Wall Climbing | Rs. 20 per person |
| Rifle Shooting | Rs. 50 per person |
| Zipline / Flying Fox | Rs. 100 per person |
| Archery | Rs. 100 per person |
| Jeep Sky Booking | Rs. 100 per person |
| Wooden House, Bamboo House, Mud House | Rs. 500 per person |
Activities in Rajgir Glass Bridge
The campus of Rajgir Glass Bridge is huge and offers various areas and activities that will be perfect for the entertainment of the visitors. These are,
Sky Walk
Of course this one has to be the number one in the list of activities to do in the Rajgir Glass Bridge campus. The Glass Bridge here is made near the entrance of the Safari. It is made with glass and steel and the total length is 130 feet. Around 10-12 people are allowed to walk on it at the same time. You can enjoy the mesmerizing view along with enjoying the thrill of walking on top of a high glass bridge. I am sure this would be like one of a kind of an experience for you.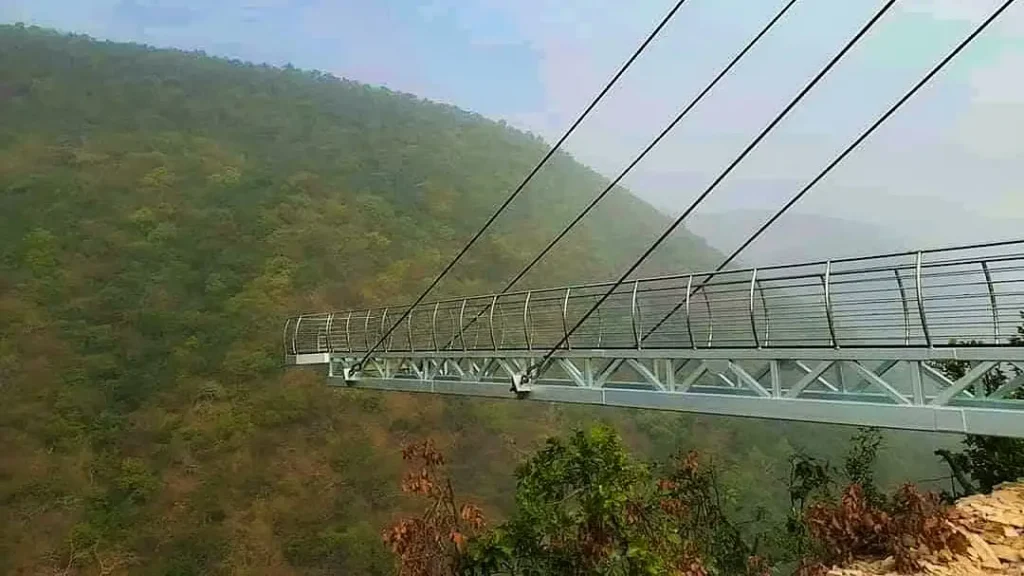 Suspension Bridge
In the Nature Safari Rajgir you can find a suspension bridge too. This bridge connects two hills of Rajgir. Furthermore this bridge is about 370 feet long and 6 feet wide. What makes it even more interesting is the fact that it is the first ever swing bridge for the tourists in India. It can be a very thrilling experience to walk over this bridge. If you are an adventurous person then you are surely going to enjoy this a lot.
Play area for children
There is a separate area where the children can play and have a good time. So in case you are travelling with kids they will have a good time here.
Cottages
The cottages in the Glass Bridge campus offer varied experiences to the visitors. They offer Wooden Cottages, Bamboo Cottages as well as Mud Cottages. Staying in these cottages amidst nature can be one of the most thrilling experiences you can enjoy here. If you are interested in some sort of unique experience then you must opt for staying in these cottages.
Arogya Van or Ayurveda Park
This is an informational park that imparts basic knowledge about Ayurvedic and medicinal plants found in India.
Cactus Garden
Different plants and cactuses are found here that you can enjoy watching and observing.
Zipline/ Flying Fox
For the adventure lovers this can be a haven. On the majestic backdrop of Rajgir Hills you can enjoy this activity while enjoying the panoramic view of the whole area. Furthermore it would be one of a lifetime kind of experience for you as well.
Zip/ Sky Bike
Air Cycling, Sky or Zip Biking can be other activities that you can enjoy here. The cycle will be tied to a rope here while you remain attached to it. And then you can cycle your way amidst open air. How cool that sounds right? Furthermore, if you are an adventure lover then these activities would also let you soak in to nature even more.
Rifle Shooting and Archery
These are other activities that you can enjoy if you are interested in practicing your aim. You can surely try them out to have some fun and also test your skills.
Trekking
The Rajgir Safari also offers a trekking trail through the rugged hills. For trekking enthusiasts this can be an extremely exciting activity to indulge in. However, the level of trekking here is moderate so even first timers can opt for it if they wish to experience something new in life.
Battery Vehicle and Cycling
Using battery vehicles and cycling through the whole area can be yet another great way to explore the whole campus. You can surely opt for these activities to enjoy a ride in the campus while soaking in nature.
Services at Rajgir Glass Bridge
Eco friendly shuttles
These are vehicles that would take you from the entry point to reach the Nature Safari.
Cafeteria
The campus also comes with its own cafeteria where you can get some refreshments. This place is hygienic and you can enjoy some quick bites here for sure.
Cottages
The cottages here are ideal for the visitors to rest. Furthermore they would also offer you a unique experience to enjoy by staying in those cottages.
Medical Aid
Emergency medical aid is available here to handle sudden medical emergencies.
Places to visit in Rajgir Glass Bridge
Other than the Rajgir Glass Bridge there are a lot of places that you can visit here too. Rajgir being an old city holds a lot of historical relevance and occurrences to it. Some of the popular places that you can visit here are,
Buddist Stupa- This is a Japanese Buddhist Stupa that also comes with a large park. The ambience here is really serene.
Swarna Bhandar- This was the area where Lord Buddha used to mediate. You can enjoy a very peaceful ambiance here.
Other than that you can visit
Vishwa Shanti Stupa
Cyclopean Hall
Ghora Katora Lake
Rajgir Hot Spring/ Brahmakund
Gridhakuta Hill
Bimbisara Treasure
Ajatshatru Fort
Pant Wildlife Sanctuary
Wrapping up!
A location like the Rajgir Glass Bridge offers so much to the visitors at the same time. Such a beautiful glass bridge at such an elevation and with this kind of height is unique to be found in India. However Rajgir Glass Bridge online booking should be done in advance because the entry is mostly limited. Especially if you are travelling during peak season then make sure you are booking the tickets in advance. Make sure whenever you are in Bihar you are visiting this spot. Not everywhere you will find a glass bridge like this so you simply cannot afford to miss out on this one.
Furthermore the adventure activities, the natural trails, the thrill and excitement and even the unique stay at cottages here would give you varied kinds of experiences that you would like to cherish forever. Do let me know if you already had an idea about this amazing place or got to know about it from this article. Also let me know when you are planning to visit this wonderful site.