A perfect destination does exist. If you have never been to Purulia Ajodya Pahar then you are missing out on this beauty. The beauty of woody hills, dense forest and the scenic beauty is surely going to take your heart away. An offbeat destination in West Bengal, Ajodhya Pahar in Purulia is still not hugely explored. It is gaining momentum in recent years though and becoming a much loved destination for travel enthusiasts. In this article I will mention everything that you need to know about Ajodhya hill. So keep on reading.
About Ajodhya Pahar
42km away from Purulia, the Ajodhya Hill is located in the Bagmundi district of Purulia in West Bengal. It is situated on the border of West Bengal and Jharkhand. Ajodhya Hill is an extension of the Dalma Hills in the Eastern Ghat region. The area is approximately 320sq km. 700m above sea level this hilly region offers a captivating view and promises a relaxing experience. Gorgaburu is the highest peak in Ajodhya Hills which is 855 metres. The air quality is light and will give you a break from the city pollution. Ajodhya Hill is a perfect place for a short trip or a weekend getaway amidst nature.
How to reach Ajodhya Pahar
There are various ways by which you can reach Ajodhya Pahar.
How to reach Ajodhya Pahar by train:
The nearest railway station is Barabhum Railway Station. Bagmundi district is 22 km away from the Barabhum Railway station. From Purulia Railway Station Bagmundi is 60km away. You will get trains from Howrah Station like the Lalmati Express, Howrah Ranchi Intercity Express, and Howrah Chakradharpur Express to reach Barabhum Railway Station. You can get trains from Howrah to Purulia as well. From Purulia station you can take a cab and reach Ajodhya hill which takes around 2 hours. You can also take a bus from the Purulia Bus terminus and it will take two and a half hours to reach there.
How to reach Ajodhya Pahar by bus:
Different buses are available from Kolkata that you can opt for. Ajodhya Pahar and Kolkata are connected through the Durgapur Expressway. The distance is approximately 300km and takes around 6-7 hours to reach.
How to reach Ajodhya Pahar by car:
Purulia is connected well with a good network of roadways. There can be two routes. You can start from Kolkata and travel via Bardhaman, Durgapur, Ranigunj and Raghunathpur to reach Purulia. Another option is travelling from Kolkata via Dankuni, Singur,Bishnupur and Bankura to reach Purulia.
Best time to visit Ajodhya Pahar
The ideal time is October to March. Around this time the weather here is most pleasant. Winter is the best time to explore a place like this as the mornings would be sunny and you can have a good time sightseeing while the nights will be chilly and you can stay in and enjoy some time alone or with friends and family.
Monsoon season also looks beautiful here as the waterfall blooms to their best and the greenery around reaches their optimum level. But the rainfall can be a bummer in your way of sightseeing and can dampen the holiday spirit. Summer is not at all favourable as the temperature here rises very high and the scorching sun makes everything unbearable. It is not advisable to visit here in the months of April and May. If you plan a visit around March during the Holi Festival or Basanta Utsav you will be able to see the beautiful Palash flowers blooming here that look splendid.
Things to do in Ajodhya Pahar
The scenic beauty of Ajodhya Pahar is something that you all need to enjoy. Just pause for a moment and look around and see the birds chirping and flying over green forest, the hilly landscape and flowing freshwater stream, where nature has its own language. Soak into nature and have a relaxed time. This is a place for photographic ventures as well. The photographer in you would dance in delight because everywhere you keep your eyes on, there is beauty to capture. So make sure you capture everything with your eyes as well as your lenses.
Other than enjoying the scenic beauty you can enjoy different activities like trekking, rock climbing and this is also a perfect picnic spot. Witness the breathtaking views of sunrise and sunsets at the Muruguma Dam.
One thing you cannot miss is the Santal Dance and Chou Dance performances. Chou Dance is a tribal dance form very popular among the Santals, Mahatos, Kumars, Kalindis communities. It is a masked form of dance where the dancers wear elaborate costumes and wear masks. The story around this dance usually revolves around how the good always wins over the evils. The dancers perform the Mahisasuramardini and enact how Goddess Durga killed the Demon Mahishashura. They also perform themes based on epics like Mahabharata and Ramayana. Another important thing to notice is the use of musical instruments like Dhamsha, Dhol and Sehnai and that creates an ambience that is unparalleled to any other experience. This form of dancing needs a lot of physical strength and effort and is almost like a martial art form. These are things that will be etched in your memory forever.
Another thing to enjoy in Ajodhya Pahar is camping. The feeling of staying in tents and spending the night under clear blue sky is an undeniably memorable thing to experience. Camping is getting popular here day by day so you can give that a try too.
There are amazing places for sightseeing as well that you will enjoy.
Places to visit in Ajodhya Pahar: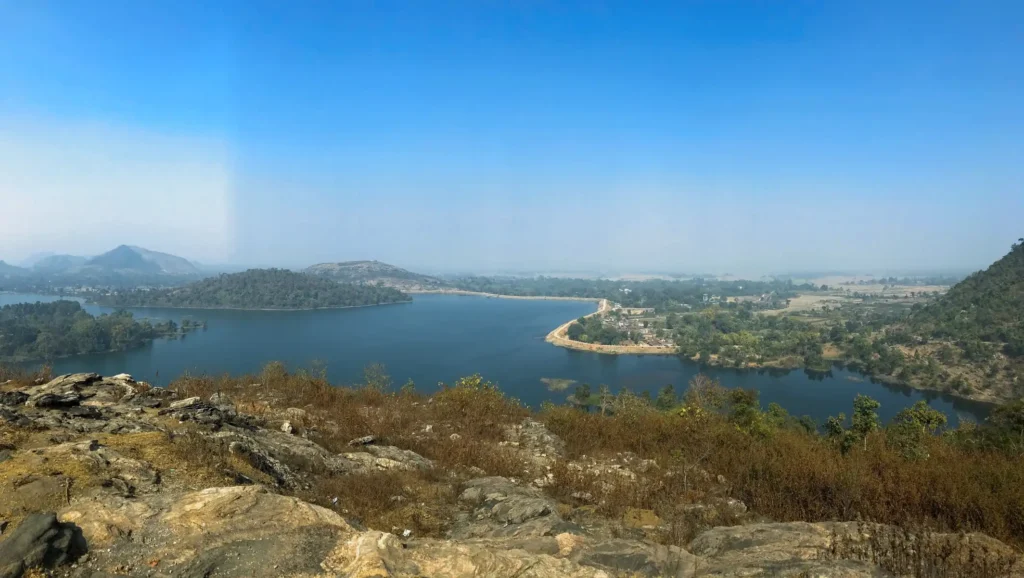 Muruguma Dam
There are a number of dams in Purulia because of the presence of many rivers and streams. The Muruguma Dam is the prettiest of them all and is one of the popular sightseeing options in Ajodhya Pahar. Muruguma is basically a village and here the dam is Kangsabati River's tributary. According to the locals there Muruguma means the "Home for Peacocks". At the foothill of Ajodhya Hill this dam is a beautiful spot. This dam supplies water to the local people and they are dependent on this dam for their agricultural activities. The place is surrounded by beautiful hillocks that offer a natural view for anyone to enjoy.
Bamni falls
This waterfall is located inside the dense forests. It is located on top of Ajodhya Pahar on the way to Baghmundi. The crystal clear water here is a view to enjoy. You can enjoy rock climbing as well as trekking here. It is the ideal place to have a relaxing time with your friends and family. The sound of nature will be an interesting break from the noisy busy city life. Have a calmer experience sitting here and enjoy the flowing water and mesmerizing view. The place will make you crave for more and you might feel like visiting this place again.
Mayur Pahar
Another popular tourist spot in Ajodhya Pahar is Mayur Pahar which is situated at a height of 605km. The place got its name from the peacocks that roam around freely here. On the top of the hill there is a small temple of Hanuman Ji that you can visit. You can surely expect a sight of beautiful peacocks here if your luck favors. The thick dense forest, the everlasting blue sky, the landscape and the windy environment will provide you the much needed refreshment. The place is like a treat to the eyes, so grasp as much as you can with your eyes and then capture the rest with your cameras. The location is picture perfect and is one of the best spots to have a good time with your friends and family.
Sita Kund
Sita Kund is located in the Bagandi Village. It is a shallow water body where cold water bubbles from the sand base. According to mythological tales, the soil crust here was pierced with an arrow by Lord Ram to quench Devi Sita's thirst. Lord Ram and Sita were here during their exile period and therefore the place is called Ajodhya Pahar and the water body is known as Sita Kund. Within 500 meters from Sita Kund there is a temple of Lord Ram as well. During the Baishakh month of Bengali calendar that is during April every year a special festival is held here known as the Shikar Parab or Disum Sendra. It is believed by the local tribal people that young boys attain their adulthood during this time. The boys drink water from the Sita Kund before going out for their hunting spree.
Durga Bera/ Marble Lake/ Tarpania Lake
The hard rocks used to construct the Purulia Pumped Storage Project (PPSP) Dam were extracted to create the Marble Lake. There are numerous boulders and rocks scattered around this lake. The view here looks splendid and is a good spot to spend some relaxing time. The thick Sal forest and the red laterite soil looks like a picture perfect combination. The picturesque landscape looks beautiful with the lake flowing and gives a rustic charm that is quite enjoyable. There are some small shops where you can enjoy a cup of tea and some quick bites as well.
Begunkodar Village
This is a very small village that you can visit. The distance is around 5 km from Murguma Lake. The railway station in Begunkodar is famous as a ghost station as the locals there believe it to be a sight of paranormal activities. It is a tourist spot nowadays that a lot of people visit. Other things are the famous historical Thakur Bari and the Rashmancha in Begunkodar. These two spots are currently preserved and maintained by the Archeological Department of West Bengal and are popular tourist spots as well.
Purulia Pumped Storage Project ( PPSP Upper Dam and Lower Dam)
This is a Hydel Power Project in Purulia's Baghmundi Block and is one of the largest pumped storage plants in India as well. This started functioning in 2008. There are two rock filled dams here known as the Upper Dam and Lower Dam. The Lower Dam looks more beautiful as it is situated amidst hills. The way towards the lake also offers a spectacular view of lush greenery. This place is ideal for photographs.
Turga Village and Turga Waterfall
This is a hidden gem located near Ajodhya Hill. The Turga Village is known for the Turga Waterfall but the village itself is a scenic beauty. The spring season here is the prettiest with the Palash flowers blooming here. The waterfall almost looks like shiny pearl drops falling from the clear sky. Nature lovers are going to get mesmerized by this pristine beauty. The ambience is serene and promises the much needed refreshment. You can opt for camping here as well. It would be an experience to stay over at night amidst nature. You will return with a lot of memorable experiences for sure.
Khairabera Lake
This is yet another picturesque lake located at the foothill of Chamtaburu Hill. This lake is a part of Khairabera Irrigation Dam. The place is popular for activities like Kayaking, Hiking, angling and cycling.
Pakhi Pahar
Pakhi means bird and Murraburu Hill got its unique name Pakhi Pahar because of a reason. The hill has various sculptures of birds chiseled over the rocks of this hill. This was started by Famous sculptor Chitta Dey and his expert team. For the past 30 years he sculpted the images of birds on this hill. It is one of the most popular tourist spots nowadays.
Charida Mukhosh Gram
Masks are called Mukhosh in Bengali and Purulia's Charida is famously and popularly known as the Mukhos Gram and "Artisan's Village". The traditional tribal dance Chau demands colourful outfits and masks. Those masks are made here and therefore it is known as the Mukhos Gram. The artists here have been involved in the making of these masks for generations. The making of these masks started around 150 years ago and were popularized by Chau Dancer and Padmasree recipient Gambhir Singh Mura. These masks are listed in the list of Geographical Indications in India.
These masks are very heavy and artistic made with Clay and then they are painted and decorated with ribbons and beads. By visiting here you will get an insight about the lifestyle and livelihood of the people of Purulia. The masks are beautiful to look at and they are displayed outside for everyone to see. The artistry and the artists both will be a point of exploration for travel enthusiasts. If you are interested in interacting with the locals and want to know about their lives, this is an ideal sight for you to visit.
Hotels and Resorts in Ajodhya Pahar
There are a good number of options for Hotels, Homestays and Resorts in Ajodhya Pahar. But the accommodation here is scattered in different parts and different locations like Jhalda, Baghmundi, Khairabera or Mathaburu. You can choose the location according to what is convenient for you. But they are always crowded during peak seasons so definitely book the hotels beforehand.
Some of the notable hotels in Ajodhya hills are Ajodhya Pahar Guest House, Ajodhya Pahar Homestay, Kushal Palli Resort, Ajodhya Pahar Camp, Hotel Akash Hilltop, Hill View Resort, Aranyak Lodge, Bon Polashi Eco Hut, Palash Bitan Jungle Huts, Sarada Lodge, Khairabera Eco Adventure Resort, Renuka Lodge, Digardi Homestay etc.
You will also get good options of hotels and resorts in Purulia. You can stay there as well and make trips to visit the places in Ajodhya Hills during peak seasons.
Busy city life can very well become monotonous after a certain point of life. A place like Ajodhya Pahar can release the stress and tiredness from our mind and will feed our soul with its beauty and simplicity. While visiting such places we will understand how elaborate nature can be yet so simple. We will get an idea how natural elements can be so breathtakingly beautiful. So if you are interested in diving into the goodness of nature then Ajodhya Hills Purulia is your calling. Visit the Ajodhya Hills and enjoy the tranquility of nature.
Read my Featured Blogs : https://nomadsaikat.com/category/featured/