For travelers and globetrotters time constraint is mostly a really big factor that comes in the way. I mean in today's busy life, who has time for long holidays anyway. But the travel spirit can never be dampened just because of time restrictions. In that scenario locations like Susunia Pahar can be just perfect. Furthermore, locations like this are apt for that perfect weekend trip. So if you are in West Bengal and you are looking for a spot amidst nature to spend some time in tranquility then Susunia Hill is going to be a great option.
A natural respite, a rich archeological spot along with a location that promises adventure activities, it can be an ideal location for your next holiday destination near Kolkata. Keep on reading this article because here I am going to mention all the information that you might need to plan a trip to Susunia Hill West Bengal.
Susunia Pahar
Location: Bankura district, Chhatna, West Bengal
About Susunia Hill
Susunia Hill located in the Bankura Purulia district is a very nice picnic spot nestled in nature. For a weekend getaway or a short holiday this can be an ideal destination. Situated at an elevation of 1400 feet this is one such spot that promises beautiful natural landscape along with natural beauty. Furthermore the entire Susunia Pahar is covered in small trees, shrubs and rich herbs. With waterfalls, lush greenery, an elevation and river flowing by this can be one of the best natural retreats near Kolkata. Certainly the Susunia Pahar photos cannot justify how breathtaking it would look from up close. Susunia Pahar height is approximately 1200 feet that makes it even more alluring for the visitors.
Furthermore, according to geographical location this area is a part of the Chota Nagpur plateau and Bankura uplands. The red laterite soil here remains covered in lush greenery and Sal wood forest. You can also find coal mines on the northern part of the Susunia Pahar along the Damodar River. Most of the population of this place is rural and it is mostly a village area. Only about 11% of the total population are of urban type.
What's more?
Susunia Pahar is also known as the archeological and fossil site. This place actually has a lot of fossils and ruins of animals like Hyena, Asiatic Lion, and Giraffe scattered at different areas of the Susunia Hills. Not just that, Susunia Hill also holds a lot of historical importance. Here you can see the oldest rock inscription of West Bengal. According to history Raja Chnadravarman once had built a fort on this hill in the 4th century. On the rocks a wheel sign is found. Also some names like King of Pushkaran, Devotee of Chakswami, son of Singhvarman, King Chndravarman were found written here.
How to reach Susunia Pahar
By Air
If you are travelling to Susunia Hill from anywhere outside West Bengal then Kolkata Netaji Subhash Chandra Bose Airport is the nearest. From there Bankura is 212 km. And from Bankura Susunia distance is around 29 km and it takes around an hour to reach the location.
By Train
If you are travelling in a train from Kolkata then the distance is about 233 km to Bankura. And from there you will have to take a bus or a car to reach Susunia.
By Road
 Bankura Susunia Pahar can be reached by a car as well. The district of Bankura is well connected through roadways from nearby locations like Durgapur, Asansol, Burdwan, Panagarh etc. You can get buses from Kolkata Esplanade to reach Bankura and then from there you can take a bus again to the Susunia Pahar.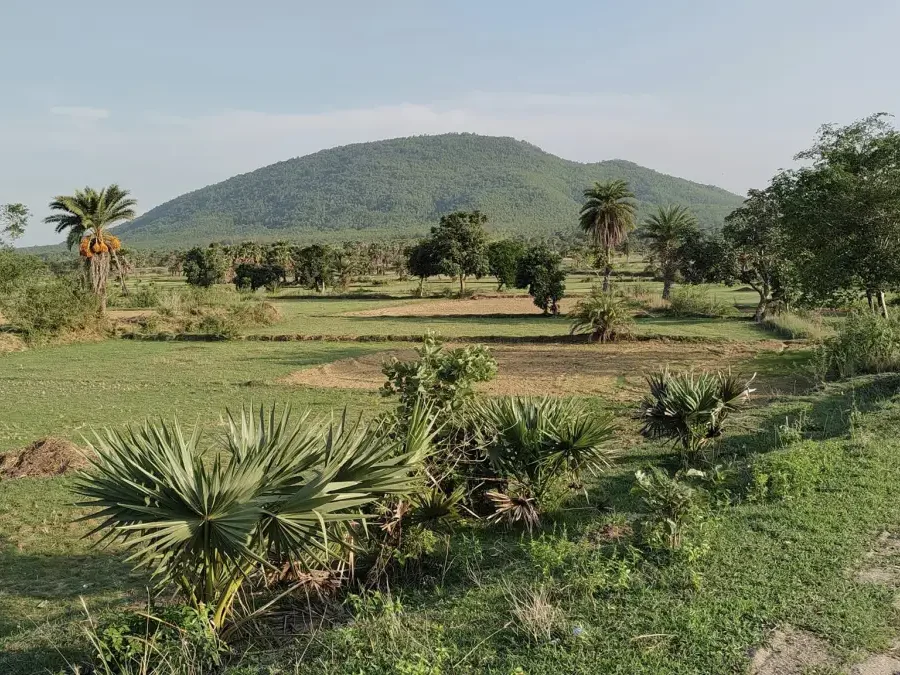 Best time to visit Susunia Pahar
Susunia weather is mostly comfortable except for summers. Even after being located at a higher elevation the summers here can be a little humid and hot. However the ideal time to visit here would be from October to February. Also when the sky is clear here you can also enjoy the splendid sunrise. Furthermore the pleasant weather during this time would let you explore the place and its surroundings better.
Places to visit in Susunia Hill
Narasimha Temple
This is an open temple of Lord Narasimha in the foothills. The idol here looks very different from any other Indian deity and is made of stone. Here the deity actually has a demonic form and is very similar to tribes of Kol, Vil and Munda.
Dhara
This is a stream near the Narasimha Temple that comes out of a stone. It is believed that the water of this stream has medicinal properties in it. Furthermore the people there believe that the water here is even better than any packaged drinking water. However the source of this stream still remains unknown. This almost falls like a waterfall from some height and is considered holy. People believe that this water can treat incurable diseases as well. This is one of the most popular tourist spots in Susunia Hill.
Susunia Hill
Of course you need to explore the unfiltered beauty of the Susunia Pahar. It is believed that the hill is so old that it is older than the mighty Himalayas also. You can enjoy the Sal and Palash here if you are visiting during the time of blooming. The whole area gets dressed in brighter orange tones that look spectacular.
Susunia Lipi
The rock inscription found here is known as the Susunia Lipi. Dated back to the 4th century AD this inscription is currently kept in the Pushkarana or Pakhanna region. Furthermore it is also an ASI Protected site.
Biharinath Hill
Located in the north of Saltora Block the Biharinath Hill is yet another famous tourist spot. This is the highest hill in the Bankura district so do not miss out on seeing this one.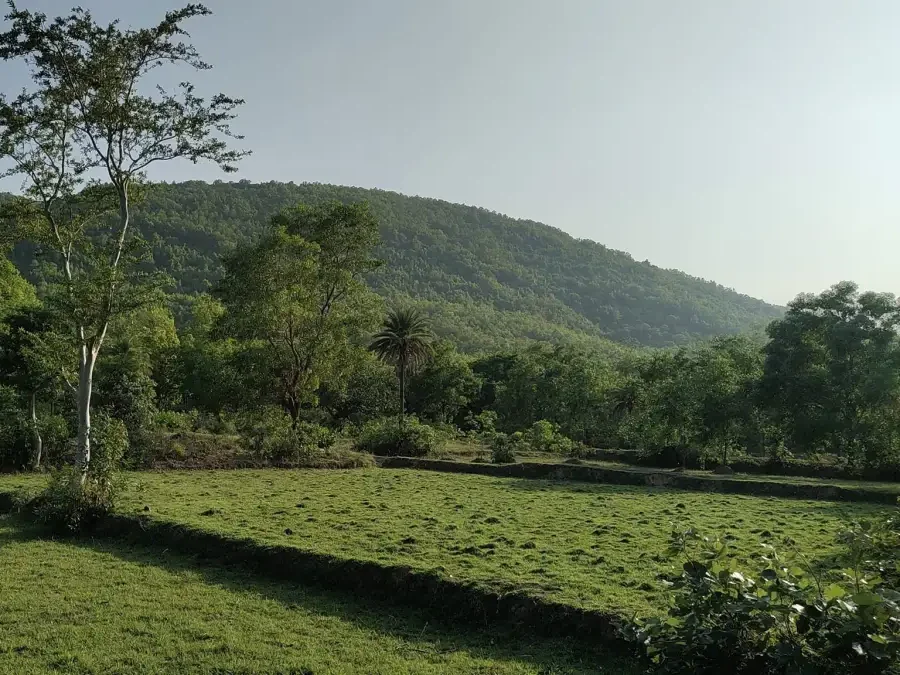 Things to do in Susunia Hill
Enjoying the nature
Of course at a location like Susunia Pahar embracing and observing and getting engrossed in nature has to be the most important activity. The Gandheswari River flows by the hills and the greenery around the red laterite soil looks like a beautiful contrast. Soak into nature and enjoy the majestic hues of nature during different times of the day.
Birdwatching and Flora and Fauna
This place is ideal for bird watching. You can easily spot Indian Pitta, Asian Paradise Flycatcher here. Not just that, you can even find many Butterfly species in this area like Tawny Raja, Golden Angel, Spotted Swordtail etc.
Trekking and Camping
Susunia Hill is a perfect place for trekking as well as camping. Through these two activities you can simply fall back on the lap of nature and enjoy the natural beauty here. Furthermore if you are an adventure lover then you are surely going to have a good time enjoying these activities.
Exploring Bankura
Bankura as a district is very rich with its culture and traditions. You will find various terracotta items here that you can buy and take back home as a souvenir. Also the sweets of Bankura are really famous like Peda and Sandesh. So don't forget to try them too.
Susunia Hill Resort
You can get some options of Susunia hotel in the Susunia Hills. Some of them are
Hotel Susunia Redrock
Address: Near Susunia Hill, Susunia, Jamthol, West Bengal
Contact Number– 7797345876
This Susunia Pahar resort is a good option to stay near the Susunia Hill. The room tariff starts from Rs. 3000.
Murut Baha Eco Park
Address: Susunia Chatna Road, West Bengal
This is another good option to stay in Susunia Pahar. This hotel is very close to Susunia Hill and also comes with facilities like free parking, free wi-fi and free breakfast. Furthermore they have good AC rooms and the staff service is also good. Also they have their own dining area.
Sprangle Wings Resort
Address: Lake Village, near Baranti, West Bengal
Contact Number– 7278565659
This is a good option to stay near Susunia Hill on a budget. They have standard AC rooms, Deluxe AC rooms and Superior 4 Bed AC rooms as well. The room tariff starts from Rs. 1355.
Biharinath Eco Tourism
Address: Biharinath, Paharbera, West Bengal
Contact Number– 8250165765
This hotel has Deluxe Rooms and Triple Bed Deluxe Rooms. The tariff starts from Rs. 3500. Furthermore they offer free parking, free breakfast and free wi fi as well.
Hotel Hilton
Contact number– 8900582130
This one is not very close to Susunia Hill but is around 24 km away from the Susunia Holy Spring. You can stay here and travel to the Hills. Also the area is semi residential and this resort is only 5 km away from Bankura Junction railway station. The room tariff starts from Rs. 2200. They have deluxe rooms with free Wi fi and free breakfast. Furthermore they also have a restaurant and a parking space as well.
Other than these hotels and resorts you can also check out hotels in Bankura. You will get many options to stay there as well. However, if you are interested in enjoying the serenity of the Susunia Pahar and want to stay close to nature then you should try to stay somewhere near the area.
Wrapping up!
Locations like Susunia Pahar offer the visitors a slice of nature. What makes locations like this even more special is that the nature here is undisruptive and completely unfiltered. Furthermore the natural trails, the tunes of nature, the beautiful landscape and the beautiful panoramic view is surely going to sway you off your feet. Such locations like the Susunia Hills can be extremely exciting for the travelers and nature lovers. So for the next weekend you must consider this place as a short getaway. I am sure this place will provide you the much needed refreshment that you are looking for at the moment. Do let me know if this article was helpful for you in planning a trip to this excellent location. Also let me know if you have ever been to Bankura and if you have an idea about this place already.