Who would not like to enjoy the undisruptive nature right? In today's world of construction and buildings, enjoying a slice of nature has been a little too difficult. But you don't need to worry because in this article I will be giving you all an idea about one such place where you can enjoy nature and the natural beauty as it is. The place is Netarhat in Jharkhand. Furthermore Netarhat Jharkhand is one such place that would wash away all your stress and worries with its serenity. So if you are a traveler, a wanderer and a nature lover then Netarhat should surely be in your list of must visit places. So keep on reading this article as here I would mention all the necessary information that you might need to plan an amazing trip to this amazing location.
Location: Netarhat, Latehar District, Jharkhand
About Netarhat
Netarhat is one of the blissful gems that is tucked in the state of Jharkhand. This is a quaint low hill station that promises a different level of serenity and tranquility. Furthermore, away from the hustle and bustle of the city this hill station can be the ideal spot to rejuvenate yourself from all the monotony of regular life. Once upon a time this was a hill station developed by the British rulers. For them this was a place for their recreation and they would often visit here to spend some quiet time amidst nature.
However at present the place has grown and become one of the popular tourist spots. Located at an altitude of 3696 feet, this hill station is covered in Kendu, Palash, Sal, Eucalyptus, Pine and Mahua trees that elevate the beauty of this place further. Not just that the place is also home to many endangered species and other animals like wolves, elephants, pythons, cobra, tigers etc. The proximity of the region to the Betla National Park makes it even richer in its flora and fauna.
Furthermore, one of the highlights of this place are the beautiful sunrises and sunsets here. Out of every activity that the visitors can enjoy here these definitely need special mention. Also Netarhat Jharkhand is famous for the Netarhat Residential School established in 1954. This is one of the boarding schools or Gurukuls that are still present in modern India. Furthermore they are also known for producing the highest number of toppers in Bihar Board Examination. Netarhat is a plateau region in the Chota Nagpur Plateau also known as the Queen of Chota Nagpur lovingly. Just a few hours' drive away from the main city centre of Jharkhand this region is full of dense forests everywhere.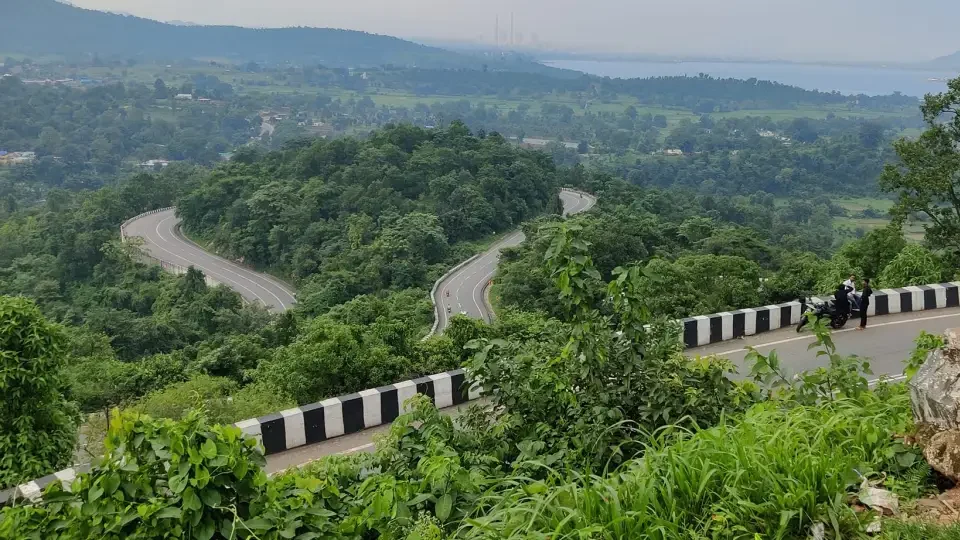 How to reach Netarhat
By Air
The nearest Airport is Ranchi Birsa Munda Airport. Ranchi to Netarhat distance is 152. 7 km. The Ranchi airport is well connected to major cities like Delhi, Kolkata, Mumbai, Bangalore and Patna. So you can easily get flights from there. Furthermore, theRanchi to Netarhat journey can be covered by either bus or taxi. You can get them from Ranchi Airport to reach Netarhat Hill.
By Train
The nearest railway station is Ranchi Junction. From there you can get buses and taxis to reach Netarhat which is around 150 km away.
By Road
You can even opt to travel by road to reach Netarhat. The road condition is good and it is well connected by National Highways. Furthermore you can choose either buses or taxis or even your own vehicle as a medium of transport. The distances from some of the major cities are
Ranchi (152 km)
Rourkela (153 km)
Gaya (164 km)
Bokaro (177 km)
Korba (205 km)
Jamshedpur (210 km)
Patna (352 km)
Varanasi (384 km)
Delhi (1197 km)
Mumbai (1418 km)
Kolkata (1534 km)
Bangalore (1831 km)
Best time to visit Netarhat
Technically Netarhat is an all year round destination and you can visit here any time of the year. But if you want to consider the Netarhat weather then the summer and spring season can be called the ideal time to visit here. Furthermore, Netarhat temperature during these months remains most pleasant so it would be more comfortable for the visitors to enjoy and explore the whole area. According to months, February to March is the best time to visit this beautiful place as nature rises up to its best self during that time of the year.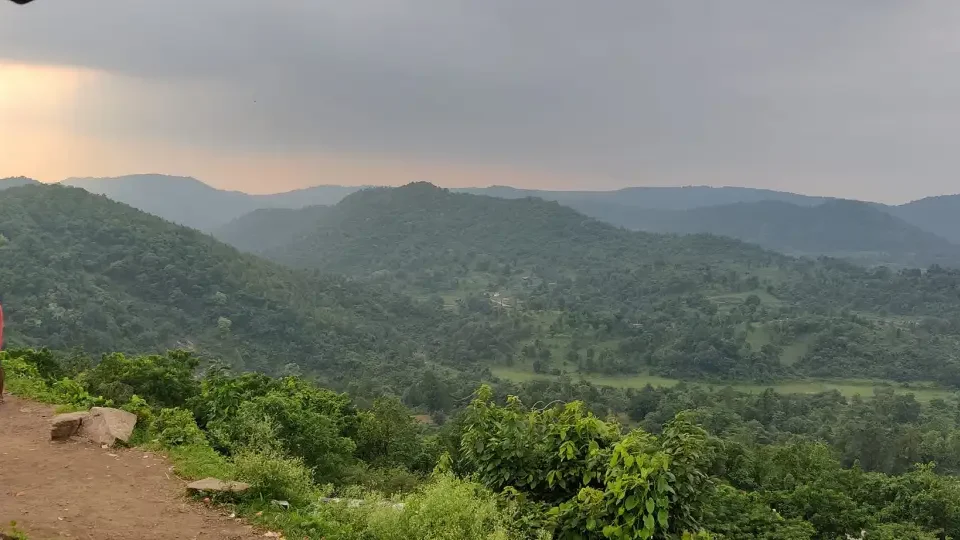 History of Netarhat
A part of the Chota Nagpur Plateau, the Netarhat is the highest hill here. Not much is known about the place but it is believed that this area was once inhabited by various tribes. Later this place served as a retreat for the British as well. However the area remains secluded even many years after independence of India. Until a few years back, this place slowly started gaining momentum amongst travelers and visitors. Furthermore the untouched and undisturbed beauty of Netarhat became a talking point among the nature lovers and it became a popular tourist spot. The raw and rich surrounding of this beautiful place is surely going to catch the attention of all the visitors visiting here.
Places to visit in and around Netarhat
Sunrise Point
One of the things to enjoy in Netarhat is obviously the Netarhat sunrise. To explore nature under a warm light with nature shining at its best you must visit the Netarhat sunrise point. From the top of 3700 feet you can enjoy the panoramic view of the whole area. That in itself can be one of the most intriguing sights that you can observe. However to get the best out of this scenic spot you must reach there before the sun rises when it's dark already. And then you can enjoy the sun rising up to engulf the whole region in its own light. The transition and change in the colour of the sky makes nature look even prettier.
The Netarhat Sunrise Point is currently one of the most popular tourist spots in Netarhat. And you certainly cannot miss out on this place. Furthermore for the growth of tourism this place now has a lot of restaurants and small places to eat which you can check out as well.
Magnolia Point
This is yet another sightseeing point in Netarhat most popularly known as the Netarhat Sunset Point. The beauty of witnessing the sunset from this spot is beyond any sorts of explanation. Around the time of sunset the visitors gather around the area to witness the sky bidding goodbye to the day. Furthermore, nature looks beautiful at that moment and it is a sight of wonder. So whenever you are in Netarhat make sure you are enjoying the Netarhat sunset at the Magnolia Point.
Betla National Park
For a nature lover the Betla National Park can be a paradise. Located on the hilly terrain of the Palamu district, this National Park is located around 94 km away from Netarhat. Furthermore this national park is a home to varied species which you can enjoy watching here. Especially if you are with your family or children this will be a nice experience to visit here.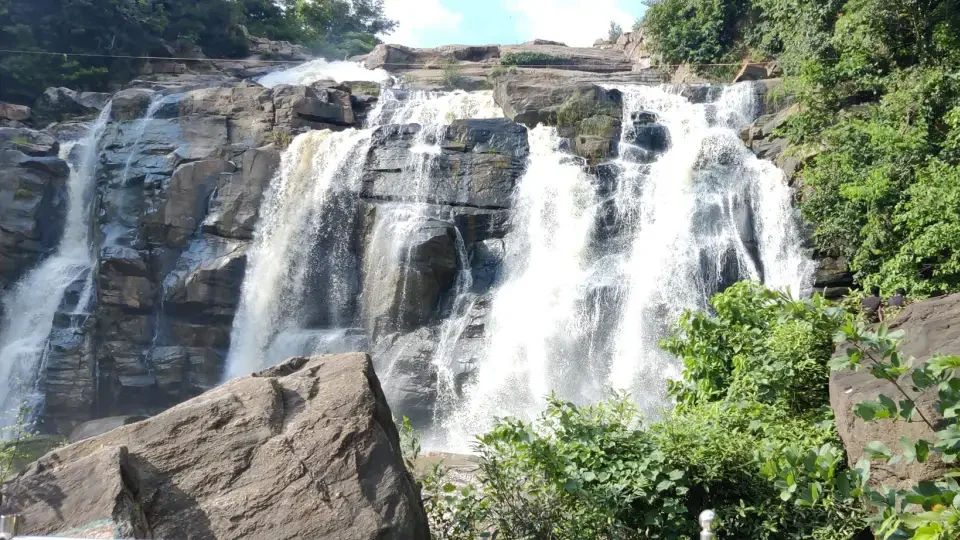 Upper Ghaghri Waterfall
The upper Ghaghri Netarhat Waterfall is another beautiful sightseeing spot. It is around 4 km away from Netarhat. The heavy flow of water and the cascading stream is a beautiful sight to witness. Furthermore people from all around come and visit this waterfall to explore the beauty of this place.
Sadni Waterfall
This is yet another waterfall which is about 35 km away from Netarhat. You can surely visit here. One of the most intriguing factors of this waterfall is that the waterfall here resembles the shape of a snake. That's why this waterfall looks very interesting and is a popular tourist spot here.
Netarhat Hills
This is another scenic spot that you can visit in Netarhat. The hills are further surrounded by dense forest that elevates the beauty of this place.
Koel View Pont
Around 3 km away you can visit the Koel Viewpoint. This is a spot where you can enjoy a breathtaking view of the River Koel and its surrounding.
Lodh Falls
This is around 70 km away from Netarhat but this is one of the places that you should not miss visiting. This is the highest waterfall in Jharkhand and the 21st highest in India.
Mahuadanr Wolf Sanctuary
This is the only sanctuary in India for the protection of wolves. Furthermore you can spot Indian Wolves here.
Hotels in Netarhat
You can find a decent number of Netarhat hotels. However it will always be better to do the Netarhat hotel booking in advance. Some of the best hotel options that you can check out are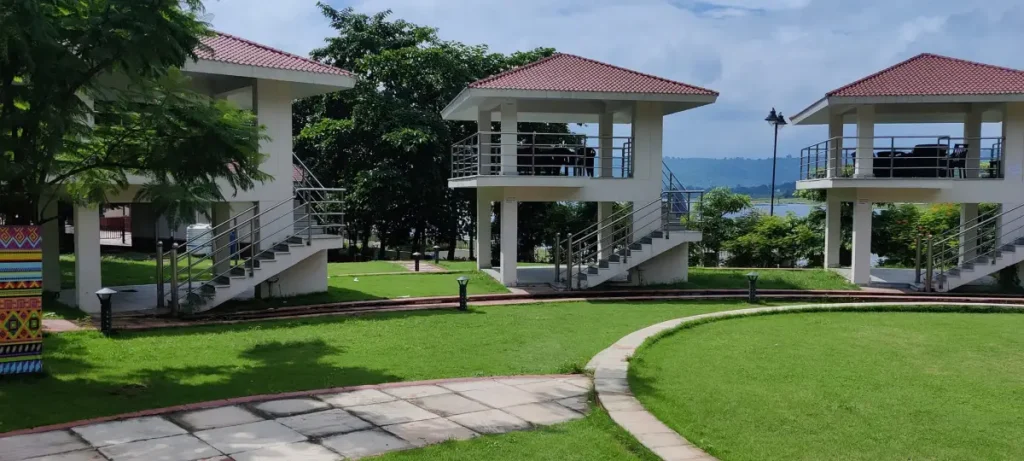 Lake View Family Resort Netarhat
Location: Lake Road, near Van Atithi Sadan, Netarhat, Jharkhand
Contact number– 9693512065
This is a good option for staying in Netarhat. They have facilities like Free Parking and Free breakfast. Furthermore they also have a swimming pool.
Netarhat Art Village Resort
Location: Lake Road, Near Lake View Point, Netarhat , Jahrkhand
Contact number– 6287282806
This is another Netarhat Resort that you can check out. They have facilities like AC rooms, free parking, free Breakfast and free wi fi as well.
Hotel Prabhat Vihar
Location: near Bus Stand, Netarhat, Jharkhand
Contact number– 9102403883
This hotel is very close to the Netarhat sunset point. They have a pool and facilities like free parking, free breakfast and free wi-fi here.
Hotel Sunrise Netarhat
Location: Prabhat Vihar Road, Netrahat, Jharkhand
Contact number– 9572884558
This hotel in Netarhat is in a good proximity with all the nearby popular sightseeing spots. They offer facilities like breakfast and parking. Also they have their separate dining area as well.
A nature's paradise Netarhat is one of the places that you should not miss out visiting. Places like this are a perfect blend of nature at its best and natural beauty outshining everything else around. Yes that is exactly how you will feel when you visit Netarhat Jharkhand. The hilly terrain, beautiful view points, the mesmerizing sunrise and sunsets, the forest atmosphere, waterfall, national park, you can find everything here. What else do you need to stay close to nature anyway? So next time you are looking for that one perfect spot to enjoy amidst nature, surely consider visiting Netarhat. I am sure you will be mesmerized by the beauty of this place. Do let me know if this article was helpful for you in planning your visit to Netarhat Jharkhand.