It must be really interesting to observe the animals in their most natural habitat. And if you are a nature lover then nothing can be better than a hideout where you can witness the animals and explore nature too. Dalma wildlife sanctuary can be a really good option for all the nature and animal lovers. This sanctuary located very close to Jamshedpur is one of the sanctuaries that houses a very significant number of Indian elephants. So if you are anywhere near Jamshedpur or around you need to include this place in your list of must visit places.
Keep on reading this article because in this particular article I am going to mention each and everything that you would need to know about the Dalma Wildlife Sanctuary. I am sure after reading this article it would not be a hard task for you to plan a successful trip to this sanctuary.
Dalma Wildlife Sanctuary
Location: Near Jamshedpur, Jharkhand, India
Timings: Dalma Wildlife Sanctuary timings are from 7 am to 5 pm. The sanctuary is open on all days.
Dalma Wildlife Sanctuary ticket price: The Dalma Wildlife Sanctuary entry fee is Rs. 5 for adults, Rs. 2 for school children. For a mini bus or a matador trip you need to pay Rs. 250 and for a jeep the price is Rs. 150. Furthermore there are additional charges for cameras. For videography you need to pay an additional charge of Rs. 500 and for photography you need to pay Rs. 80.
How to reach Dalma Wildlife Sanctuary
By Air
The nearest airport to reach this sanctuary is the Birsa Munda Airport in Ranchi. From there you can take a bus or taxi or hired car to reach Jamshedpur and the distance is 5 km. From there you need to reach the Dalma Wildlife Sanctuary.
By train
The Jamshedpur junction is the nearest railway station to reach the Dalma Wildlife Sanctuary. Jamshedpur to Dalma Wildlife Sanctuary distance via Kanderbera Road is about 16 km. It would take around half an hour to reach the sanctuary from there.
By road
You can drive for 33 km from Jharkhand via NH 33 to reach the Dalma Wildlife Sanctuary. You can take shared rides, hire a cab or even drive your own vehicle to reach there.
Best time to visit the Dalma Wildlife Sanctuary
The months between October to March can be pointed out as the best months to visit the Dalma Wildlife Sanctuary. Furthermore the winter months are the ideal time to explore the varied flora and fauna of the sanctuary. Also the weather will be pleasant during this time period that will make the visit even more comfortable. The summer months can however be a little uncomfortable as the temperature here rises above 38 degrees. So try to avoid visiting here during the summer months of April to September.
About Dalma Wildlife Sanctuary
Located very close to the main city of Jamshedpur, the Dalma Wildlife Sanctuary is famous for the elephants that reside here. This wildlife sanctuary was established in 1976 with the help of Sanjay Gandhi. Furthermore spreading across an area of 195 sq km, the sanctuary is located around the Dalma Hills. The term Dalma Hathi or elephants of Dalma is a very common term amongst the people in Jamshedpur. Furthermore the sanctuary has the Subarnarekha River nearby that nestles from the Dalma Hills. The forest cover, the river flowing by and the hilly terrain together makes this place even more beautiful. Majority of the Dalma forest comes under the Dry Peninsular Sal and Dry Mixed Deciduous Forests. As a result of that the forest cover usually shed leaves during the summer and blooms fully just after monsoon.
Flora and fauna in Dalma Wildlife Sanctuary
Flora
An abundance of medicinal plants like the Sarpagandha, Anantamula, Shatavari are found here. Along with that, different species of climbers, herbs, shrubs, orchids are also found here. But 90% of the total forest cover in the sanctuary had been deforested because of the theft by timber mafias. Still you can find a variety of short and large trees here ranging from Mahua, Haal, Kendu, Gamhar, Semgal, Dhaura, Jamun and more.
Fauna
The fauna of the Dalma Wildlife Sanctuary is quite rich though. You can find animals like Elephants, Sloth Bears, Barking Deers and Porcupines as the main inhabitants. Alongside there are Wild Boar, Giant Squirrel, Mouse Deer, Mongooses and Pangolins in the sanctuary.
Birds
Some of the birds like Indian Tree Pie, Falcons, Golden Oriole, Grey Hornbills, Paradise Fly Catchers, Peafowl, Herons, Kingfishers, Egrets, Pigeons, Mynas, Racket Tailed Drongo and Magpie Robins can be seen here.
Major tourist attractions in Dalma Wildlife Sanctuary
Exploring the nature trails
You cannot enjoy a specific wildlife safari in the Dalma Wildlife sanctuary but exploring the nature trails on foot is equally interesting though. This is one of the very first sanctuaries that allow the visitors to explore the forest area on foot. Furthermore the experience is quite different from conventional jungle safaris or wildlife safaris. The whole activity of exploring the trails is marked really well by the forest department so that is not an issue at all. In this way you would also get a chance to enjoy the flora and fauna of the Dalma Wildlife Sanctuary from up close.
Furthermore this can be one of the most interesting activities for a wildlife enthusiast. However the whole activity should be conducted under the guidance of a supervisor or a guide. This activity is only available during the morning though and you need to pay a fee of Rs. 100 for this. 
Lord Shiva Temple
It is quite a contrast to visit a religious site at a place like this but this temple of Lord Shiva is actually really old. The temple has been there for many years and it is one of the most revered shrines that is worshipped by the people of Jamshedpur. After visiting this temple you can also visit the Dalma Mai shrine. Furthermore this wildlife sanctuary is named after Dalma Mai.
Museum and Interpretation centre at Makulakocha
This is a centre that can provide you with a lot of information about the flora and fauna. The museum and Interpretation Centre was formed in order to promote the Zoological and Biological research of Zoological species. So if you are interested in knowing more about this sanctuary like how many species inhabit here and their types you can surely visit this spot.
Majhlabandh or Nichlabandh
These are dams constructed during the colonial age and are still now surviving in honour. At one point of time this area was used for Indigo cultivation along with gold mining in the pre-independence period. Furthermore currently this is just a tranquil space to mediate and enjoy some solace. However keep your eyes open because you might just get to spot a deer or any other wild animal peeking through.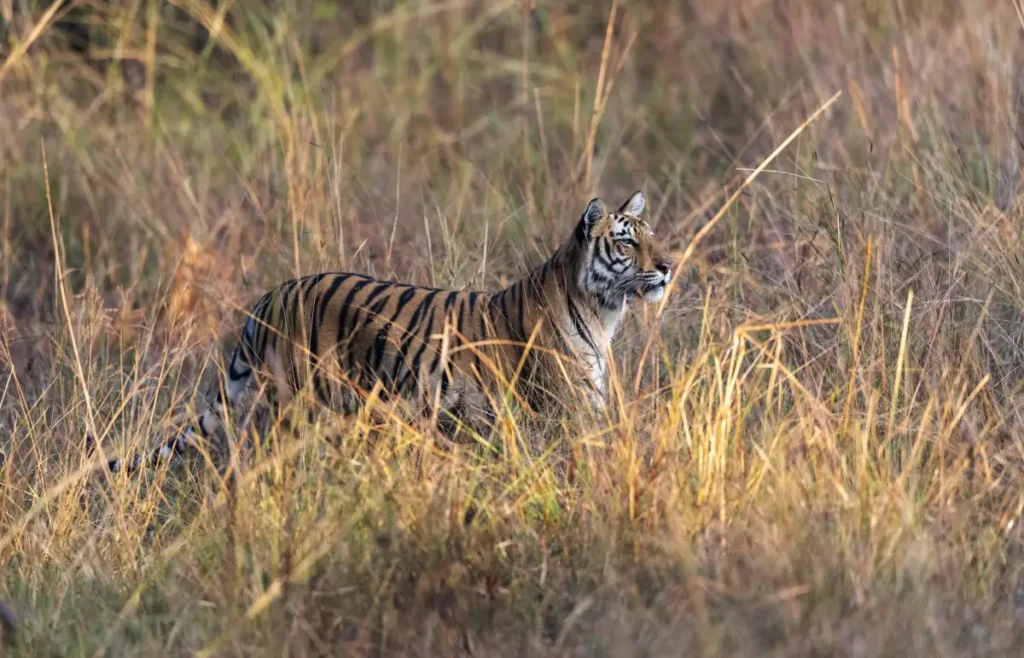 Dalma Wildlife Sanctuary hotels
There are some good options for Dalma Wildlife Sanctuary stay. You can actually stay in the forest reserve house or the Bamboo Hut available there if you wish to spend the night amidst the forest. However the permission to stay in the Forest Reserve rest Houses can only be obtained from the Forest Range Office. So keep that in mind.
Pindrabera Forest Reserve House
The best way to enjoy the true essence of the forest and nature is by staying in the Pindrabera Forest Reserve House. They offer a beautiful view and are located 12 km above the hills. Furthermore the whole city of Jamshedpur can be seen from the top along with a beautiful view of the forest. The serenity and tranquility of the location can be truly enjoyed if you stay for a night here. However, there are some limitations of this place. The facilities and services offered here are very limited. There is a little bit of an issue with food and water. However you can hire a cook from there as well by paying the amount who will cook the meals. The room tariff starts from Rs. 800 per person. Pre booking is always recommended.
Bamboo Huts in Makulakocha
Another thrilling experience would be to stay in the bamboo huts at Makulakocha. They offer some plush bamboo cottages that you can choose to spend a night amidst nature. However in this case also pre booking is a must. Furthermore if you are travelling during the peak season most of the huts would be booked at its full capacity. So make sure you are doing the Dalma Wildlife Sanctuary booking of staying here in advance. Room tariff starts from Rs. 800 per person
Dalma Wildlife Sanctuary resort options are not much available. If you wish you can get decent stay options along National Highway 33 which is about 15 minutes away from the Dalma Wildlife Sanctuary. You can make a trip from there to reach the sanctuary. Also you can even stay in Jamshedpur. Hotels and resorts are available there as well.
Nearby places to visit from the Dalma Wildlife Sanctuary
Hanuman Temple
Shiva Temple
Deer Enclosure
Elephant Rescue Centre
Jubilee Park
TATA Steel Zoological Park
Dimna Lake
Jayanti Sarovar
Amadubi Rural Tourism Centre
Locations like the Dalma Wildlife Sanctuary have the ability to take you really close to nature. You can grasp the beauty of nature, get engrossed in observing the wildlife and listen to the tunes of nature. How amazing would it be to enjoy the unhindered nature right? Furthermore nature can only be enjoyed at its best when it is not restricted. So if you are interested in taking a break from the regular monotonous life, then you must make a visit to the Dalma Wildlife Sanctuary. I am sure you will feel refreshed once you have visited the spot. The flora and fauna, the tranquility of the location and the thrill of exploring the forest area will all come together to give you the ultimate taste of being a travel enthusiast.
So pack your bags and plan a trip to this amazing sanctuary. After all, you simply cannot afford to miss out on this amazing place. Do let me know if this particular article was helpful for you in planning a successful trip to the Dalma Wildlife Sanctuary.