Guided nature walks, spotting wildlife and exploring the forest trails, what else do nature lovers need anyway. For nature enthusiasts staying close to nature is a necessity. And in God's Own Land Kerala, there is an amazing option for you to get as close to nature as possible. I am talking about the Chinnar Wildlife Sanctuary which is one of the richest biodiversity hot spots in Kerala. If you are someone who enjoys exploring nature then this is the kind of place you should be visiting. Everything around this beautiful location would take your heart away. So if you want to know everything you need to know about the Chinnar Wildlife Sanctuary then keep on reading this article.
Chinnar Wildlife Sanctuary
| | |
| --- | --- |
| Location of Chinnar Wildlife Sanctuary: | Munnar Udumalpet Road, Chinnar Wildlife Sanctuary Munnar, Kerala |
| Timings of Chinnar Wildlife Sanctuary: | 6 am to 6 pm |
Chinnar Wildlife Sanctuary Information
Spreading across an area of 90.44 km the Chinnar Wildlife sanctuary is a wonderful getaway in the heart of Kerala. This sanctuary with pristine beauty and lush vegetation is one of the richest sanctuaries. Furthermore the Chinnar Wildlife Sanctuary Kerala is protected in the eastern shadow of the Western Ghats and located in the Idukki district in Kerala. This biodiversity hotspot is surrounded by the Eravikulam National Park on the south and the Indira Gandhi Wildlife Sanctuary on its north. The Chinnar Wildlife sanctuary was declared as a wildlife sanctuary in 1984.
Furthermore along with exploring the wildlife and vegetation here this sanctuary is also popular for its ecotourism activities. Activities like river trekking, trekking to watch tower, nature trail walking, tree house stay, camping and jungle trekking are carried out by the Forest Department and Eco Development Committees. The landscape, extensive flora and fauna, the weather, and the topography everything makes this a popular spot for tourists and visitors.
Chinnar Wildlife Sanctuary ticket price: The Chinnar Wildlife Sanctuary Entry Fee for adults is Rs. 10 per person and Rs. 5 for children below 12 years of age. For foreigners entry fee is Rs. 100 per person. If you are carrying a camera then you will have to pay an additional Rs. 25 for a still camera and Rs. 150 for Video Camera. Furthermore for light vehicles there is an additional charge of Rs. 50 per day and for heavy vehicles it is Rs. 150 per day.
How to reach Chinnar Wildlife Sanctuary
By Air
The closest airport connected to major cities is Cochin. You can get flights from Mumbai, Delhi, Bangalore, Chennai, Kolkata, Hyderabad etc to reach Cochin. From there you will have to take a cab to reach the Sanctuary.
By Train
Ernakulam Junction Railway is the nearest major railway station to reach the Chinnar Wildlife Sanctuary which is around 173 km away. You can hire cabs or cars to reach the sanctuary from there.
By Bus
Government buses, Volvo buses and Kerala state run buses are available from nearest cities and states. Also you can take your personal vehicle or hire a cab to reach there.
Weather of Chinnar Wildlife Sanctuary
The lower areas of the sanctuary receive a dry climate with low humidity resulting in low moisture and low rainfall. However the peaks and slopes get high rainfall here because of the tropical temperature climate.
Best time to visit Chinnar Wildlife Sanctuary
From November to March the time is ideal to visit this sanctuary. According to the weather from November to March it is a typical wet month here with the advent of North East Monsoon. However during this time the grasslands and the hill slopes became a breeding ground for animals. Also the whole sanctuary looks its best post monsoon so you can visit during that time as well. Furthermore from December to February the weather here remains most pleasant and ranges between 10 degrees to 28 degrees. It will be comfortable for the tourist to indulge in various activities like trekking or nature trail walks.
Chinnar Wildlife Sanctuary Flora and Fauna
Flora
Mainly consisting of dry Deciduous Forest, Dry Thorny Scrub Forest, Wet Grasslands, High Shoals and Riparian Forests the vegetation in the Chinnar Wildlife Sanctuary is quite rich. Some of the rare species like the Arabica Acacia Leucophloea, Elaeocarpus Recurvatus, Santalum Album are found here. Furthermore the sanctuary is rich in its Sandalwood Forest. Also around 1000 species of flowering plants and a wide variety of medicinal plants are also found here.
Fauna
Almost around 144 species of animals are recorded inside this sanctuary. If you are wondering, Chinnar Wildlife Sanctuary is famous for which animal, then the answer is Grizzled Giant Squirrel. This is one such animal that is hard to find anywhere else and the presence of these squirrels catches a lot of attention from the tourists. Furthermore another habitant here that catches attention is the Gaur known as Majampatti White Bison. Some other popular Chinnar Wildlife Sanctuary animals are Indian Elephants, Common Langurs, Panthers, Hanuman Monkey, Garra Mullya Minnows, Bonnet Macaque, Little Cormorants, Sambar, Rusty Spotted Cat, Nilgiri Tahr, Spectacles Cobra, Kraits, Leopards, Darters, Tigers, Crocodiles, Wild Elephant, Start Tortoise, Tufted Grey Langurs, Spotted Deer, Slender Loris and more.
Furthermore, you can also find a great variety of birds in this sanctuary as well. These are Yellow Throated Bulbul, Black Eagle, Grey Heron, Little Egret, Serpent Eagle and more. Along with these the Chinnar Wildlife Sanctuary Kerala also houses 42 species of fishes, 156 species of butterflies and some insects and reptiles as well.
Chinnar Wildlife Sanctuary Accommodation
The Chinnar Wildlife Sanctuary offers Dormitory, Jungle Camp and Forest IB inside its premises that you can opt for. None of the stay options are of star category. However they are comfortable and provide basic amenities. Furthermore for decent stay options you can also opt for staying in hotels, resorts or lodges in Marayur which is the nearest town.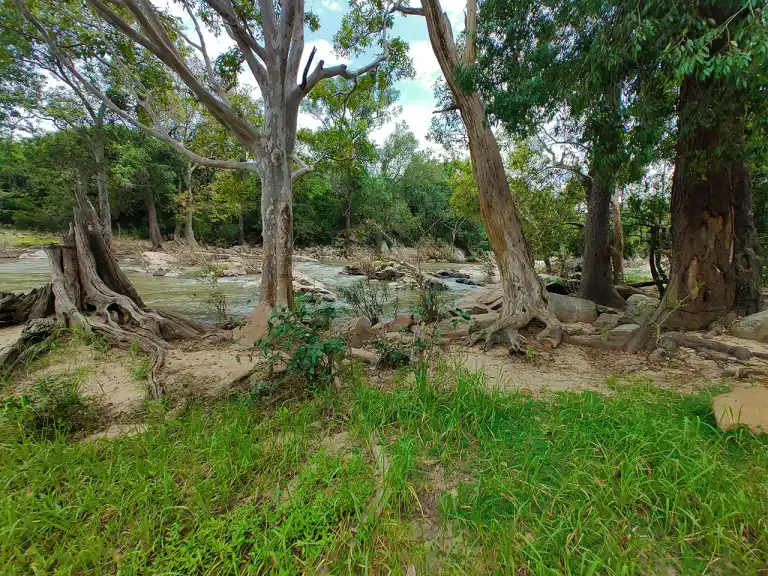 Things to do in Chinnar Wildlife Sanctuary
Chinnar Wildlife Sanctuary is open for activities like nature trail walks, hiking and camping all throughout the year. However for visitors opting for day time activities like watchtower hike and nature trails it is offered only in Chinnar. For the people opting for overnight camping, the service is available in Alampatty which is 10 km away from Marayur. Also another centre is Chinnar Forest Office where overnight camping options are available.
Trekking
This is undoubtedly one of the best activities that you can enjoy here. With trekking you can reach various viewpoints and enjoy the best of the sanctuary. Along with activities like bird watching and wildlife experiencing you can also enjoy the beautiful view of the landscape here. The Department of Forest and Wildlife organizes these treks which you can choose according to your preference.
However treks are allotted to a person depending on their physical strength and ability. The Nature Trails are available from 7 am in the morning to 3:30 pm in the afternoon. It starts from Alampatty to Thoovaanam Forest and Rock Art sites. And there is a Watch tower hike available from 7 am in the morning to 5:30 pm in the evening. All these treks, hikes and walks are guided by tribal guides. There is no need for prior booking for the treks and walks.
Overnight Camping in Tree houses
This is yet another adventurous activity that is popular in the Chinnar Wildlife Sanctuary. Overnight camping and walking tours come in a package offered by the Tourism Department of the park. These are camps where you can stay in tree houses or log houses. Furthermore the walking tours are escorted by tribal guides.
However the standard of the stay is not up to the mark. But nevertheless this can be an interesting activity that you can indulge in. Prior bookings are required for this which you can do from the Wildlife Warden Office. You will get a continuous supply of water and light here along with a full furnished room. Also breakfast and dinner are complimentary here. For nature trail walks it is advised to go for an English speaking guide for more convenience. Also carry some extra food, water and necessary camping gears for added comfort.
Wildlife Safari
If not for anything else you must visit the Chinnar wildlife sanctuary for the Jungle Safari here. This Jeep Safari will let you explore nature and its beauty in the best possible way. Furthermore for nature lovers and nature enthusiasts this can be extremely interesting to roam around the forest spotting wildlife from up close. Also the sanctuary allows you to take your own vehicle for the safari. However you will need prior permission for that from the Forest Department. The safaris are also available at night. If you are interested in enjoying the forest trail during the darkness of the night you can surely opt for night time jungle safari as well. Usually the safaris are for 2 hours and it would cost you about Rs. 2000 approximately.
Other Tourist Attractions in Chinnar Wildlife Sanctuary
There are some sites that you can enjoy here. These are Thoovanam waterfall, Nanadala Malai, Viriyoottu Malai, Kumarikkal Mala Peak, Kottakombu Malai, Vellaikal Malai etc.
Things to remember while visiting Chinnar Wildlife Sanctuary
You cannot feed, tease or hurt the animals in any way. If you are found doing any such thing then the authorities would not be responsible for what happens thereafter. So be careful.
Wear thick clothes and waterproof shoes if you are planning to trek.
Do carry enough drinking water to hydrate yourself.
Don't forget to carry mosquito repellents with you.
Do not throw waste materials anywhere inside the premises. Only throw garbage on their designated spots.
While clicking pictures of the wildlife make sure your flashlights are off as that might disturb the wild animals and they can get agitated.
It is not allowed to light a bonfire or indulge in camping inside the sanctuary. There are specific spots that offer these activities.
Carry hat sand sunglasses along to save yourself from the scorching sun.
Before indulging in trekking make sure you are physically fit and equipped for the physical hard work. In case of any underlying medical issue or injuries inform the guides beforehand.
Wrapping Up!
According to Chinnar Wildlife Sanctuary reviews this can be one of the spots that offer a lot of things at the same point of time. Starting from nature walks to hiking, trekking to camping you can enjoy a variety of activities here. Furthermore the extensive greenery, the lush vegetation, the wildlife and the landscape will provide you one of the best experiences here. You certainly cannot afford to miss out on visiting this amazing place. So next time when you are in Munnar, make sure you are including this location in your itinerary and enjoy being amidst nature. Do let me know if this particular article was helpful for you in planning a successful trip to the Chinnar Wildlife Sanctuary Kerala.