Being close to nature can be refreshing and rejuvenating for everyone, right? Nature comes with its own freshness that can wash away all your tiredness, fatigue and stress. And if you are someone who loves nature, natural beauty and finds peace amidst nature then just be happy because I have a really good option for you all. If you are in Andhra Pradesh, anywhere around, or planning to visit the state then, the Coringa Wildlife Sanctuary should surely be a part of your itinerary.
Furthermore not just the sanctuary but this place being an estuary the flora and fauna here is really rich. You must visit here once to witness everything on your own. And I am sure you will return feeling refreshed. So if you want to know everything about the Coringa Wildlife Sanctuary in Andhra Pradesh then keep on reading this article. Here I will mention everything that you need to know about the Coringa Wildlife Sanctuary before you plan a trip there. So do not skip and read the whole article because it is going to be a helpful read for you.
Coringa Wildlife Sanctuary
Location: Coringa, East Godavari District, Kakinada, Andhra Pradesh
Overview of Coringa Wildlife Sanctuary
Only 22km away from the Kakinada Beach the Coringa Wildlife Sanctuary is not just a sanctuary but also an estuary. This location is mostly famous for housing at least 35 different species of mangroves. Furthermore the sanctuary houses around 120 species of rare birds including endangered and critically endangered animals. This sanctuary is a favorite spot among nature lovers. You can get to see a wide range of flora and fauna here. Additionally the location being an estuary it also offers a stunning view of the sea meeting the river which is one of the main attractions here.
Furthermore the area of this sanctuary is huge, spreading across 235 sq km and holds a lot for its visitors inside its premises. In 1978 this sanctuary got the status of a sanctuary. The whole area is connected through wooden forest trails that will allow you to work through the whole forest to explore the area. Furthermore this sanctuary is a part of the Godavari Estuary. The Coringa River and the Gaderu River intersect the region along with their deltaic branches. Together they form around 335 sq km of marsh vegetation. The sanctuary has an extensive mangrove and dry deciduous tropical forest. Almost half of the water body here is the backwater.
| | |
| --- | --- |
| Timings | Coringa Wildlife Sanctuary Timings are from 9 am to 5 pm on all days. Tuesdays are closed. |
| Coringa Wildlife Sanctuary Ticket Price | The Coringa Wildlife Sanctuary entry fee is Rs, 10 for adults and Rs. 5 for kids. |
How to reach Coringa Wildlife Sanctuary
By Air
The closest airport to reach the Debrigarh wildlife sanctuary is Rajahmundry. From there you can get cabs to reach the Coringa Wildlife Sanctuary in 1-2 hours.
By Train
The nearest railway station is Kakinada. Kakinada to Coringa Wildlife Sanctuary distance is about 20 km and you can reach the sanctuary easily. You can get buses and cabs to reach the sanctuary from the station. Furthermore you can also get trains from Hyderabad, Guntur, Warangal and Vijayawada as well. From Hyderabad there are Cocanada Express, Goutami Express, LTT COA Express, from Guntur there is Circar Express, from Waranagal there is Cocanada Express and from Vijayawada there is Seshadri Express, Circar Express and Kakinada PSGR.
By Road
Coringa Wildlife Sanctuary distance from Rajahmundry is 70 km and from Kakinada it is 20 km. From Vishakahapattnam it is 166 km, from Vijayawada it is 220 km and from Guntur it is 250 km. You can drive through or take cabs or hire a car to reach the sanctuary by road.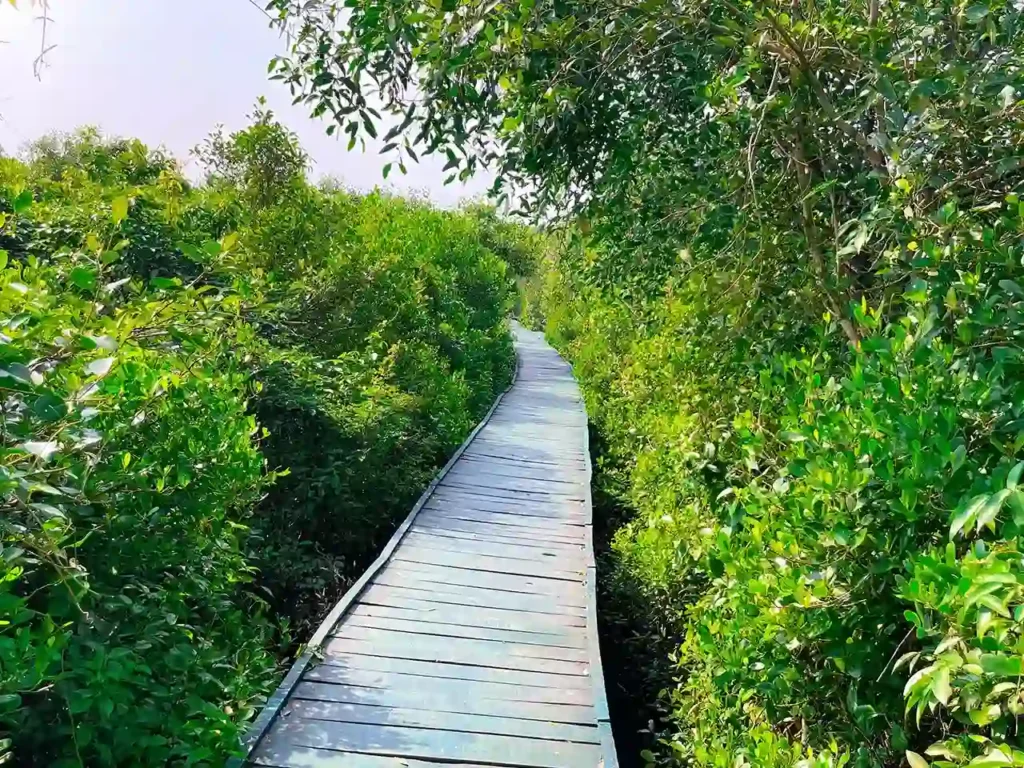 Best Time to visit Coringa Wildlife Sanctuary
Usually the weather of the region is very hot and humid. Especially during summer the temperature sometimes goes up to even 47 degrees. So it would not be advisable to visit there during the summer months. However, the ideal time to visit here would be from October to March. The winter temperature remains around 14 degrees which is favorable and comfortable for a nice trip. December to January are the peak months to visit here. You can see a lot of migratory birds during this period. Also the months from January to March are the nesting period of Olive Ridley Sea Turtles. So you can visit during that time as well.
Coringa Wildlife Sanctuary Flora and Fauna
Flora
Coringa Wildlife Sanctuary is an estuary and is really rich in its mangrove vegetation. Almost 35 species of plants belonging from 24 families are found here. Some of the popular ones are Avicennia Alba, Avecinnea Officinalis, Avicennia Marina, Rhizophora Mucronata, Aegiceras Corniculatum, Sonneratia Apetala, Thespesia Populneoides etc. Other than these many shrub species are also found here.
Fauna
Because of the feed available in the backwaters of the mangrove forest here, the sanctuary houses almost 120 different varieties of birds. Some of the popular ones are Cattle Egret, Little Egret, Pied Kingfisher, Pond Heron, Small Blue Kingfisher, Black Capped Kingfisher, Reef Heron, Night Heron, Grey Heron, Sandpiper, Little Stint, , Flamingos, Redshank, Crow Pheasant, Sea Gulls, Brahminy Kite, Purple Heron, Openbill Stork, Red Wattled Lapwing, Little Cormorant and many more.
Apart from these birds some endangered and critically endangered species are also spotted here. Critically endangered species like Long Billed Vulture, White Backed Vulture are present in the sanctuary. Furthermore, near threatened species like Oriental White Ibis, Painted Stork, Ferruginous Pochard and Vulnerable species like Spot Billed Pelican are found here.
Additionally the sanctuary also has a decent population of Avian Fauna like Sea Turtle, Golden Jackal, Fishing Cat, and Smooth Coated Otter. There is an 18 km long sand pit in the sanctuary where the Olive Ridley Sea Turtles nest every year from January to March. So if you are visiting here during that time of the month then you can surely spot them if you are lucky enough
Things to do in Coringa Wildlife Sanctuary
Boating
This is a popular tourist activity in this sanctuary. You can boat from the Coringa Sanctuary to the mouth of Godavari River. It would be really interesting to enjoy the scenic beauty along with enjoying the third largest Mangrove forest here. Furthermore boat rides here are of different types and the cost depends on the type of ride and number of people. For Speed Boats they allow up to 4 people, for slow Speed Boat 10-50 people are allowed and for Jet Ski only 1 person is allowed at a time.
Wooden Walkway
The wooden walkway in the sanctuary is another major attraction here. It would be an amazing experience to walk through the wooden walkway. You can enjoy the beautiful view of the sea joining the river here along with the beautiful mangrove forest.
Jeep Ride
This is yet another activity that tourists enjoy in the Coringa Wildlife Sanctuary. Jeep rides inside the sanctuary would let you explore the biodiversity of this rich hot spot from even close. You should not miss out on this activity whenever you are visiting the Coringa Wildlife Sanctuary.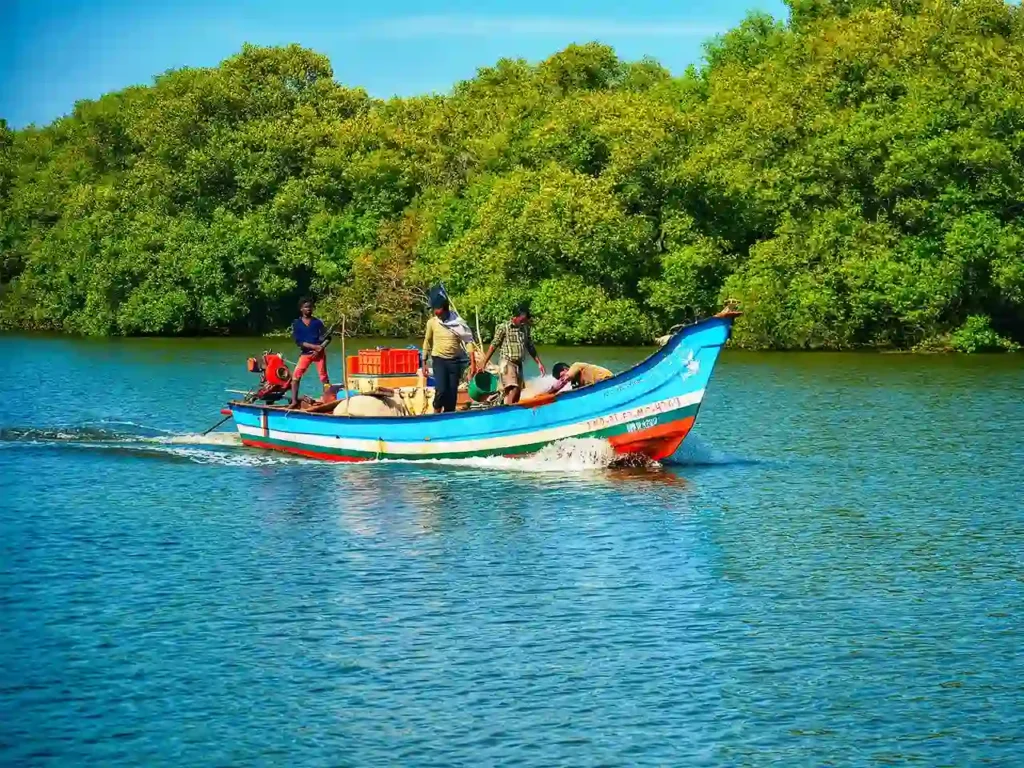 Coringa Wildlife Sanctuary Accommodation
There are options to stay within the Sanctuary. For that you can find Forest Rest House within the Coringa Wildlife Sanctuary. In total there are 3 cottages with attached bathrooms. You can contact the Range Office in Coringa for booking and other queries.
There are Forest Rest Houses in Kakinada and Rajahmundry as well. You can contact the Forest Offices for bookings and booking related queries.
Kakinada Division Forest Officer (Territorial)
Contact Number: 0884-2379381, 0884-2367460
Rajahmundry Division Forest Officer, Wildlife Management Division
Contact Number: 0883-2448643
Other than this you can get some affordable good options for staying near Coringa Wildlife Sanctuary as well. You can stay in Kakinada or Rajahmundry and make a trip to the sanctuary. Some of the popular hotels that you can check out are Grand Kakinada by GRT Hotels, Paradigm Sarovar Portico, Royal Park Kakinada, Venky Residency, Svenska Design Kakinada, The Fern Residency Kakinada, Hotel Jaya Residency Kakinada, Halcyon Times Kakinada.
Places to visit near Coringa Wildlife Sanctuary
Biccavolu
It is a village in Andhra Pradesh mostly known for the Subrahmanya Swamy Temple. The formation of this temple goes back to the 9th and 10th centuries AD by the Eastern Chalukyas. Furthermore the temple is built in a Dravidian style of architecture that looks splendid.
Read More : KOYNA WILDLIFE SANCTUARY SAFARI COST, REVIEWS, TICKETS
Draksharamam
This is another temple built during the Chalukya reign by king Bhima during 802 CE and 902 CE. The temple is one of the Pancharama kshetras.
Annavaram
This is one of the most famous temples that witness a lot of popularity amongst its devotees. The presiding deities here are Lord Satyadeva and Anantha Lakhsmi.
Rajahmundry
This is one of the most popular and well known cities in Andhra Pradesh. Furthermore this city is also referred to as the cultural capital of Andhra Pradesh. It is believed that the script of Telugu language and grammar evolved from here.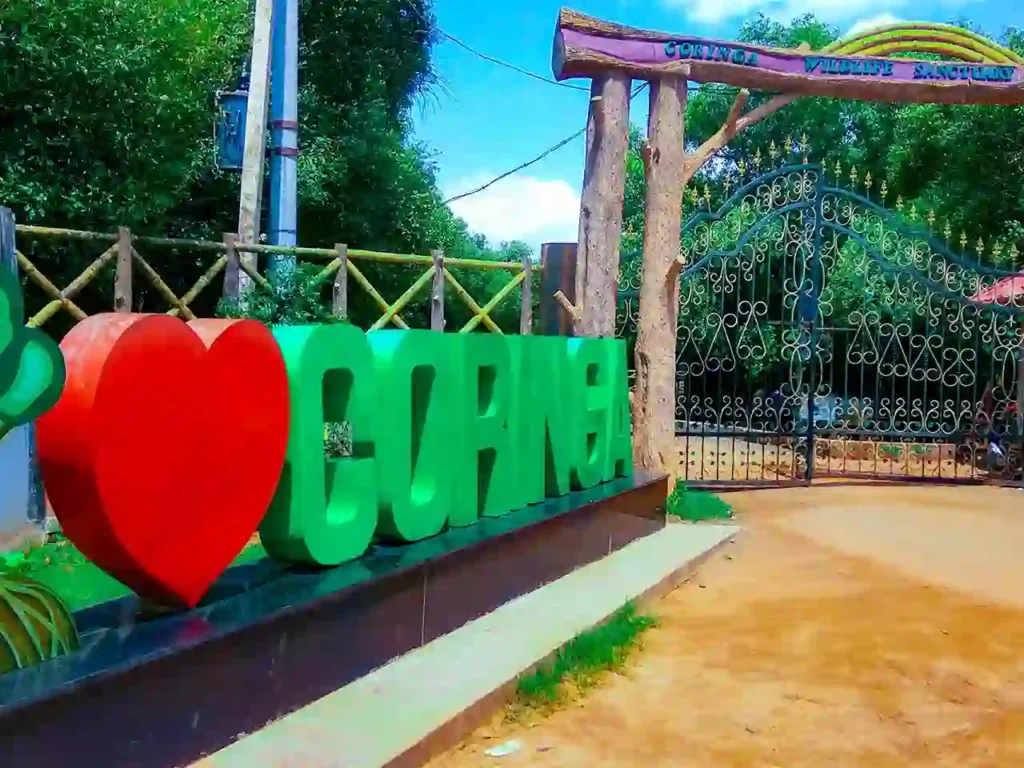 Papikondalu Boat Cruise
It can be one of the most interesting things that you can enjoy near the sanctuary in Andhra Pradesh. Don't forget to enjoy this cruise trip and I am sure you will be rejoiced.
Uppada Beach
This beach is one of the longest beaches on the Coromandel Coast also known as the Kakinada Beach.
Pithapuram Temple
The Pithapuram Temple is another important temple in the vicinity. It is considered as Tripuranthakam as this temple houses three main deities Lord Kukkuteswara Swamy, Puruhoothika Devi and Lord Sripada Vallabha Dattatreya Swamy.
Wrapping up!
So now you know why you must visit the Coringa Wildlife Sanctuary. The richness of this spot will surely make you feel refreshed in a lot of ways. Ranging from the beautiful scenic location, to the meeting point of sea and river, the flora and fauna along with the natural beauty makes this place a must visit spot for the visitors. Furthermore the mangrove forest here is the third largest stretch found in India and that is surely one of the focal points of this amazing sanctuary. Make sure you are visiting here and do let me know about your experience. Also do let me know if this particular article was helpful for you in planning a successful trip to the Coringa Wildlife Sanctuary.