It must be a passion for many people to delve into the past. The rich historical past of our country is definitely a fascinating aspect to explore. Old world charm mingling with historical evidence, speaks for a world that is long gone. But the historical evidence stands in the form of monuments and structures for us to get an insight about the old days. If you are a history buff or someone who has a thing for old monuments and structures, I have an option for you. The Gwalior Fort or Gwalior ka Kila or Gwalior Qila is one such place that needs a special mention.
This is one of the oldest forts that you can ever find. It is surely going to make you awestruck with its architecture and splendid aura. In this article I will mention all the information about Gwalior Kila that you need to know before actually visiting this fort. Keep on reading.
Location: Gwalior, Madhya Pradesh
Timings of Gwalior Fort: 7 am to 5:30 pm
Entry fee: Entry fee is Rs. 75 per person for Indians and for foreigners it is Rs. 250 per person.
How to reach Gwalior Fort:
Gwalior is well connected by trains, flights and roadways. If you are travelling by air then Gwalior Airport is the nearest airport. While travelling by train the Gwalior Junction is the nearest railway station. From there you can get cabs or auto rickshaws to reach the fort. There are 2 gates of Gwalior Fort and both are far from each other. The Qila Gate is the first one and that doesn't allow vehicles inside. You will have to trek up to the hill top to reach the Fort. The other entrance is the Urvai entrance. This one allows vehicles to go up to the fort. You can take your own vehicle to reach the fort via this entrance.
Best time to visit Gwalior Fort: August to March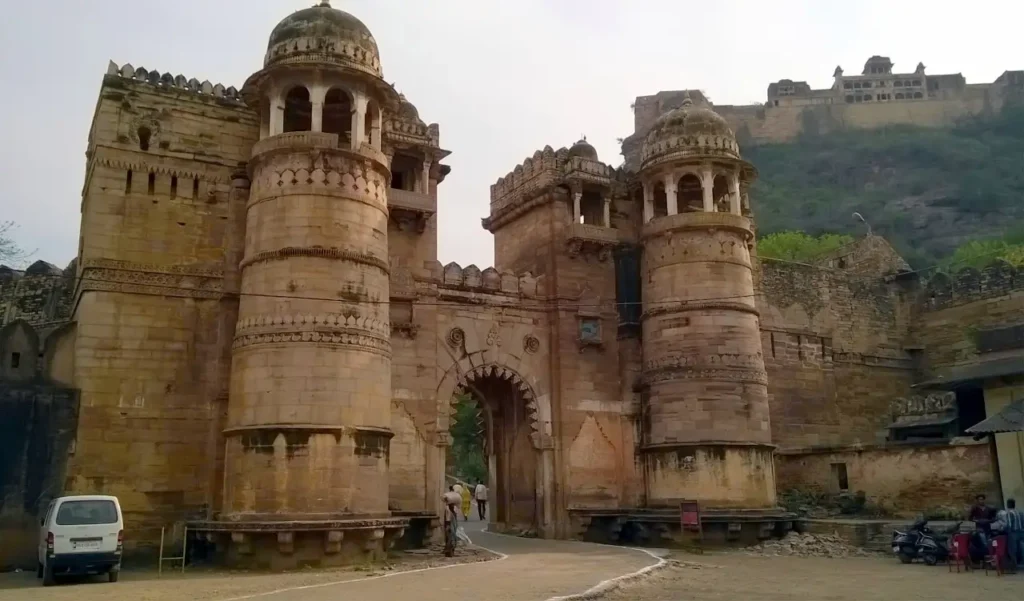 Distance of Gwalior Fort from other nearby places:
Morena to Gwalior Fort is 40 km
Bhind to Gwalior Fort is 80 km
Jhansi to Gwalior Fort is 105 km
Agra to Gwalior Fort is 120 km
Shivpuri to Gwalior Fort is 125 km
Mathura to Gwalior Fort is 175 km
Delhi to Gwalior Fort is 360 km
Bhopal to Gwalior Fort is 435 km
Jabalpur to Gwalior Fort is 475 km
Ujjain to Gwalior Fort is 480 km
About Gwalior Fort:
Gwalior Fort is an example of exemplary artwork and architectural brilliance back from the times. This fort is a popular tourist spot at present because of the rich past it has witnessed. The Fort also holds a record of having the second oldest number of the numeric "Zero" in one of the inscriptions found here. This inscription is itself 1500 years old. Furthermore the huge area of the fort and the breathtaking view that it offers makes this fort one of the must visit places. Being ruled by different kingdoms at different times, this fort is rich in its history which makes it even more intriguing as a spot.
History of Gwalior Fort:
It is believed that the formation of this fort dates back to 3rd Century CE. Raja Suraj Sen Pal, a Rajput warrior was the creator of this beautiful fort. There is a story that once a sage named Gwalipa visited this fort and saw the king was suffering from a disease. He suggested that the king take a dip in a sacred pond and the king was cured of his disease after doing that. That pond is now known as Suraj Kund. The king then named the city Gwalior after the name of the sage.
Later, during 1398 the fort was captured by the Tomars. Maan Singh Tomar was the most prominent ruler and he made many monuments inside the fort premises. The most prominent Maan Mandir is his creation. After the Tomars, there were many attacks on the fort. Later in time the fort was under the rule of Mughals, Marathas and Scindias. The fort passed through the hands of many prominent rulers and dynasties like Huns, Tomars, Jats etc. It is said that for a very long period of time this fort was used as a prison. According to the Sikh history Guru Hargovind Singh was held captive here for many years. Infact Mughals also have used this fort as a prison. Furthermore Akbar's cousin, Aurangzeb's brothers were some of the captives here who were later executed.
The latest attack on this fort was during 1857 by freedom fighters Jhansi ki Rani and Tantiya Tope during the Battle of 1857. After independence the possession of this Fort was taken by the Central Government. From then the fort is maintained by them.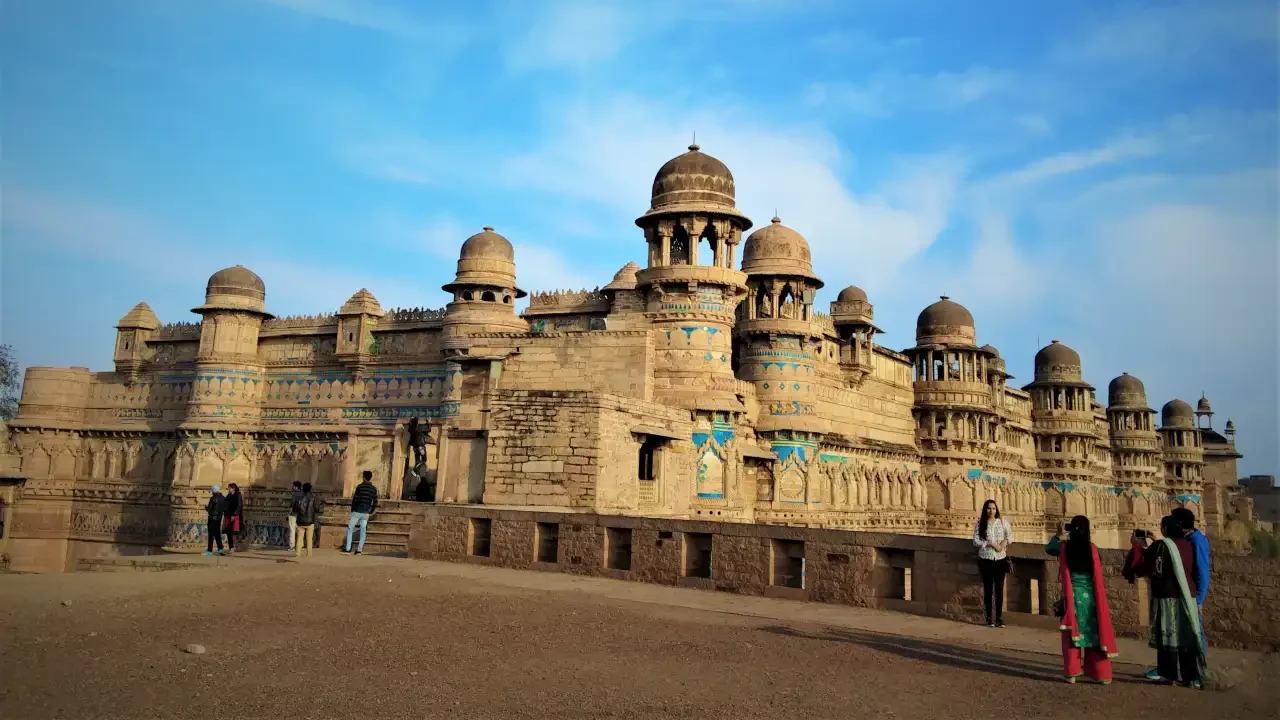 Architecture of Gwalior Fort
The majestic fort complex is spread across 3 sq km and with a height of 10 meters. Located on top of a hill, you can enjoy a panoramic view of the landscape from here. The fort is majorly made of sandstone and lime mortar. You can see massive water tanks here that were used back in the past to store huge amounts of water. Furthermore, there are many monuments and formations inside the fort complex that you can explore.
Man Mandir Mahal
This Palace was formed by Raja Man Singh Tomar in the 15th century. For a long period of time this served as the residential complex for the Tomars. This is the most prominent building inside the Fort premise. The exterior of the walls are ornate with blue and yellow tiles. Along with that there are lattice screens and mosaics inside the palace in beautiful geometric and floral patterns. The palace has a huge amphitheatre and every evening a light and sound show is hosted here.
Read more : Neemrana Fort Palace, Hotels, Booking
Teli Ka Mandir
This one is a Hindu temple built by Mihira Bhoja. You can notice a beautiful amalgamation of North and South Indian style of architecture in this temple. The temple is massive with a height of 23 metres. It is believed that this temple was commissioned by the oil merchants and hence it has been named as Teli that means oil. On the main gate of the temple there are inscriptions that the tourists can read.
Gujari Mahal
This palace was built by Raja Man Singh for his Gujjar queen Mrignayani. It is a two storeyed structure which has been transformed into an archeological museum later. The museum houses many antique and rarest exhibits from the times as long as back to 1st century AD. One of the most famous exhibits found here is the famous statue of Shalabhanjika which is known as the Venus de Milo of India.
Urvai area
The massive Jain statues found here are just spectacular. Some of the sculptures here are nearly 1000 years old. There are statues of Jain Tirthankaras near the Urvai entrance. These are rock cut sculptures which are massive in their size. The most impressive statue is the standing statue of the first Jain Tirthankara Adinath which is almost 17 meters tall. Another statue is the 19 m tall statue of Parshwanath with a cobra motif behind the head. In total there are sculptures of 24 Jain Tirthankaras in Padmasana posture. Furthermore, around 840 idols are carved on the walls of the pillars here.
Sas Bahu Temple
The name of the temple literally means mother-in-law and the daughter-in-law. This temple was built in 1093. The larger temple is the Sas temple which houses Lord Vishnu. This temple has open galleries on all sides that creates a beautiful light and shade on the walls. The Bahu temple is the smaller formation where the presiding deity is Lord Shiva. It is said that originally this temple was known as Sahastrabahu Temple.
Gopachal
This is a place where you can see many exquisite carvings on the rocks. There are almost 1500 rock cut idols on Gopachal Hill. Most of these were built during the Tomar Dynasty rule. The most prominent structure here is the carving of Parsvanath in a Padmasan posture. This structure is 42 feet in height.
Siddhachal Jain Temple Caves
This temple was built during the 7th century to 15 century. You will find a total of 11 Jain temples inside the fort complex which are dedicated to Jain Tirthankaras. The most prominent idol here is the idol of Rishabhnath or Adinath who is the first Tirthankara. This statue is 58 feet high.
Gurudwara Data Bandi Chhor
This Gurudwara is a memorial of the 6th Sikh Guru Hargovind Sahib. According to the Sikh history Guru Hargovind was imprisoned in the Gwalior fort for 2 years along with 52 other kings. When Aurangzeb decided to set him free, he asked for the freedom of all those kings as well who were imprisoned along with him. To commemorate this event this Gurudwara was made.
Hathi Pol
The Hathi Pol or the Hathiya Paur is the southernmost entrance gate of the fort. This gate is massive with a life size statue of an elephant.
Vikram Mahal
Also known as Vikram Mandir, this Mahal was built by Vikramaditya Singh who was the older son of Raja Man Singh. Once this was a temple of Lord Shiva but later during the Mughal rule it was destroyed. It is now re-established as the Vikram Mahal.
Karan Mahal
The Karan Mahal or Karn Mahal was built by Kirti Singh who was the second king of the Tomar dynasty. He was also known as Karan Singh therefore the Palace is named after him.
Chhatri of Bhim Singh Rana
This Chhatri is made as a memorial of Bhim Singh Rana during the 18th century. Chhatra Singh the successor of Bhim Singh built this.
Some unknown facts about the Gwalior Fort:
As we all know "Zero" as a numeric was invented in India. It is believed that the inscription found in this fort contains the second oldest known representation of Zero.
You can find that there is a tamarind tree inside the fort complex which was planted by the great singer Tansen. According to popular belief, if someone eats the leaves of that tree, they can develop a sweet and melodious voice like Tansen.
Another interesting thing about the Gwalior ka kila is about the heavy chandeliers here. It is said that the chandeliers put here were so heavy weighing almost 3 tons each. To check the strength of the roof to hold these heavy chandeliers, elephants were made to stand on it.
According to popular beliefs the Sas Bahu Temple found here is the result of an argument between the royal daughter in law and the mother in law. The mother in law was a worshipper of Lord Vishnu while the daughter in law was worshipper of Lord Shiva. Therefore this temple was formed to please both of them with their beliefs and both the idols were placed.
Nearby places to visit from Gwalior Fort
There are some places that you can also visit from the Gwalior Kila. These are:
Tansen Memorial ( 1 km )
Madhav National Park ( 122 km)
Orchha ( 123 km)
Bir Singh Palace ( 76 km)
Khajuraho ( 279 km)
Bateshwar ( 123 km)
Pana National Park (360 km)
For someone who loves exploring historical premises and monuments, Gwalior fort is a must visit. The unique stories attached to it and the historical structures create a great background for this fort. It is indeed extremely enticing to see a formation like the Gwalior Kila that has been a witness to so many historic events. If you are visiting this place I am sure you will be lost in the richness of everything around you. This place surely serves as one of the most interesting forts that you can visit in Madhya Pradesh.
So next time you are visiting there, make sure you are including this place as a part of your itinerary. Otherwise you might miss out on a splendid experience of exploring such an old construction. Do let me know when you are planning to visit this amazing place. Also don't forget to let me know how helpful this particular article was for you in planning your visit. I would love to know that.