The cuisine of Kerala is vast and infused with culinary expertise. The food is highly influenced by the Malabari, Arabian and French cuisines and you will find a distinct taste in it. The dishes are unique and traditional. The cuisine includes a variety of vegetarian curry as well as chicken, lamb, prawn and beef. Coconut and rice are used a lot in the food recipes in Kerala. You will also notice a heavy use of flavored spices like Cardamom, Black Pepper, Cloves, Asafoetida, mustard seeds, Cinnamon etc. Curry leaves and tamarind are also used generously in their dishes.
Kerala being a coastal area, you will see heavy usage of fish and prawns and the recipes are also finger licking good. You will also find the use of tuna, mackerel, oysters and lobsters in their cuisine. This coastal state takes a lot of pride in their non vegetarian dishes along with the delicious vegetarian spread. From easy to digest light dishes to spicy curries, they have it all. Mostly the ceremonial food here consists of vegetarian items, but the non vegetarian dishes are a surprise here. You must know that the southern states are not just about Idlis and Dosas and Sambhars. Once you are in Kerala you can get on the delicious ride to taste the best dishes here. Keep on reading the article to find more about the favorite food of Kerala.
Puttu and Kadala Curry
Average cost: Rs. 70
Puttu is one of the dishes that has been mentioned in the list of best breakfast in the world by National Geographic Traveler. Puttu is basically made with rice and then steamed and shaped along with coconut filling. There is a special utensil called the Puttu Kutti which is used to make puttu. The rice paste is poured into the vessel and the lower section holds the water and it is steamed. Puttu can be eaten with papadam, banana as well but the most popular is the Kadala curry that is black chickpeas. This is one of the most popular breakfast dishes in Kerala and is savoured by a lot of people. The appearance of the dish is simple, but the flavor and taste is mind-blowing. You need to try this for sure.
Appam with Stew
Average cost: Rs.175
Appam is another staple food in Kerala made with fermented rice and coconut milk. It is a thin pancake with crispy edges. Appams are good for breakfast as well as for dinner as well. There are various versions of appams like Idiyappam, Kallapam, Palappametc but the most popular is the Kallapam which is made of using toddy for the fermentation. Appams are made in a special vessel known as Appachatti.
This Indian version of crepes is best served with European Stew or Ishtu. The stew is made of coconut milk, cloves, cinnamon and other spices. The stews can be non vegetarian as well with chicken and lamb in it. They also have mango pieces and vegetables at times. The use of coconut milk gives a distinct sweetness to the dish which makes it more flavorful.
Malabar Parotta
Average cost: Rs.50
As the name suggests this is a type of Flatbread or Paratha that originated from the Malabar region. The texture of the Parotta is the right amount of crispy and flaky. The texture is a little crumbly and layered. The taste is savory mixed with a hint of sweetness that makes it even more special. The dough is rolled in a different and specific way that makes the flaky layers of the Parotta. This is a very popular street food in Kerala that is relished by the people there.
It is served with vegetable curries like veg handi, veg korma, veg kadai as well as lentils like sambar, rasam etc. However a lot of people also have this with the chicken and mutton ghee roast and also chettinad chicken. It is also served with beef curry at some places. If you are a true Indian who loves their Parathas then this variant is a must try whenever you are in Kerala. Otherwise you will be missing out on this deliciousness.
Karimeen Pollichathu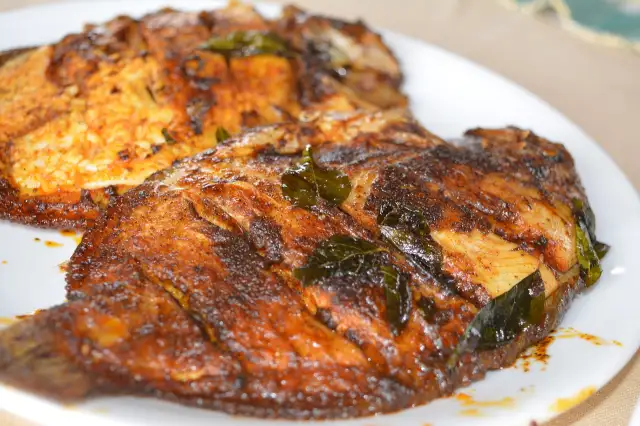 Average cost: Rs. 645
Karimeen is a kind of fish that is found in the backwaters of Kerala. This fish is one of the popular items of Kerala Houseboats. Pollichathu is originally a Christian delicacy in Syria but this has become an integral part of Kerala cuisine later on. The word Pollichathu means roasted or grilled. This is a baked fish preparation that is loved by fish lovers. Karimeen is the local name of pearl spot fish.
To make this dish the fish is first marinated in various spices like red chillies, lemon juice, black pepper, turmeric, etc and then wrapped in banana leaf. Banana leaf is a popular item in Kerala which is found very easily and you will see eating and cooking on banana leaves a lot in Kerala. After the marination the fish is then steamed and then served hot. The dish is served with rice and is one of the popular non vegetarian items in Kerala. The dish is a little highly priced because of the availability of this particular type of fish and increased demand, but the price is worth paying for. Do not forget to try this dish as it is fishy, spicy yet very delicious. Fish lovers are surely going to enjoy this one.
Erissery or Pumpkin Lentil Curry
Average cost: Rs.400
This is a popular curry recipe in Kerala. This curry is made with sweet pumpkin and dried lentils. Grated coconut, cumin seeds, chilies, pepper, turmeric etc are used in adding the flavours to the dish. This is a vegetarian item and is mostly served with steamed rice. This is also a staple curry for religious festivals in Kerala like Onam and is surely one of the favourite foods of Kerala.
Palada Payasam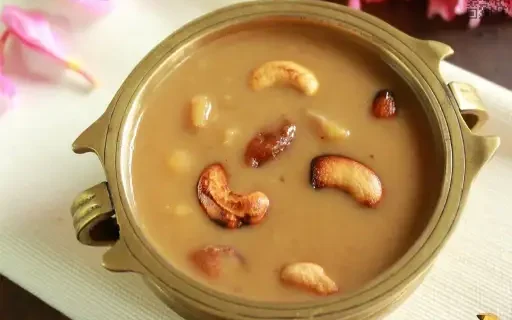 Average cost: Rs. 100
This is a sweet kheer or rice pudding recipe that is loved by the people of Kerala. Mostly this is made during occasions and festivals in Kerala. This is one of the popular sweet dishes made in almost every household in Kerala. Made with basic ingredients like rice, milk and sugar and ghee the dish tastes heavenly.
Kerala Prawn Curry or Chemmeen Curry
Average cost: Rs. 645
This is one of the most popular and well known prawn recipes in Kerala and if you are a prawn lover or a non vegetarian, then this dish is a must try. This is the traditional prawn recipe in Kerala that is very flavourful. There is a generous use of red chillies and pepper that makes it spicy along with coconut milk and jaggery that balances the spice level. This is one of the exotic spicy dishes that you need to try when you are in kerala. This is best served with hot steamed rice but you can also have it with roti or Chapatis as well. The dish can be best relished when served hot and eaten by hand. Try it! You won't regret it.
Thalassery Biriyani
Average cost: Rs. 245
This biriyani is a prominent dish in the northernmost town of Kerala. The flavourful rice spiced with authentic spices and loaded with dry nuts and meat makes this burst of flavours in your mouth. This is mostly prepared during Eid in the Malabar region. It is best served with curd, pickles and salad. You can however even try this with Chicken 65 or stir fried chicken as well. The biryani in Kerala is surely a must try if you are a Biryani lover.
Idlis
Average cost: Rs.65
Now, Idlis are not just restricted to southern states at the moment, but you need to try the idlis from where they are originally from. The Idlis in Kerala are one of the most hot selling items. You will find a shop selling Idlis at every nook and corner of the state and that only says why the dish is so popular. Made with equal proportions of fermented rice and then steamed into small cakes, this one is one of the healthiest meals that you can have. Idlis are best served with chutneys and sambars.
Dosa Ghee Roast
Average cost: Rs.100
Dosa is also another well known south Indian food but the version of Ghee roast Dosa is unique. From the name itself you can get an idea that the Dosa is made using a generous amount of ghee. The crust is thin and crispy and roasted to perfection. Dosa in kerala were also listed in the top 50 most delicious foods in the world. Try the plain Dosas. Masala Dosas and have it with chutneys and sambhars. This is the best fulfilling breakfast or meal of the day that you can enjoy in Kerala. The popularity and hype around the dish is totally justified in my opinion.
Idiyappam
Average cost: Rs. 80
Another famous and popular dish in Kerala is Idiyappam. This is also known as Noolappam. The dish is made with rice flour that are shaped like noodle strands and intertwined to make a soft fluffy texture. This is a versatile dish and can be served with all kinds of curries. The most popular serving is with egg curry that most of the people in Kerala relish.
Sadya
Average cost: Rs.500
Sadya is one of the most fulfilling and elaborate meals that you can have in Kerala. Sadya is prepared in Kerala more during the religious occasions and ceremonies. Also you can find it during wedding functions, festivals. This is the royal lunch that comprises almost 28 to 30 vegetable curries, rice and desserts. This is a full vegetarian meal and tastes delicious. Traditionally Sadya is served over a banana leaf and is eaten by hand. The dishes include curries like sambar, rasam, parippu, olan, avail, erissery, injipuli, mango pickle, lime pickle along with papadam, banana chips, buttermilk, curd and payasam and more.
This is one of the most generous Indian Thalis that you can gorge on. The different varieties and flavours will be an experience to explore for sure. A variety of curries is served to represent prosperity. Sadya is mostly a lunch menu but if it's served for dinner then a lighter version is made. Don't miss out the opportunity to get on to this culinary ride of tasty vegetarian dishes together at one plate.
Fish Moilee
Average cost: Rs.900
This is a famous fish stew in Kerala that is loved by the fish lovers. The dish is a Syrian Christian dish that is now a part of the Kerala cuisine. It is made in a traditional earthen vessel known as Manchatti. The preparation is made with fish in coconut milk gravy along with spices like cinnamon, cloves, and green chillies. The taste is on the sweet and tangy side because of the use of Kokum in it. Mostly seer fish or king fish is used to make this dish. The fish is lightly fried and then added to the gravy for the flavours to get infused with each other. The dish is also known as Kudampuli.
Banana fritters
Average cost: Rs.50
This is one of the best foods in Kerala that is made in almost every household. It is also known as Ethakka Appam. The dish is made with ripe bananas which are mixed with plain flour and then deep fried. You can even find roadside vendors selling these fritters and it is very popular as well.
So now you know Kerala has so much more to offer than just Dosas and Idlis. Yes they are the most popular food when we are talking about South Indian cuisine, but one needs to explore the variety of food that this cuisine offers to actually understand the type of food. So next time you visit Kerala you can't leave without trying these yummy and favourite foods of Kerala. No matter if you are a vegetarian or a non vegetarian lover, you will get something for yourself for sure. Let me know if you have ever been to Kerala, or if you have had any of the dishes that I have mentioned here. And also let me know which dish from this list got you excited the most.