Rajasthan is known for its royalty and heritage and the same can be noticed in the Rajasthani cuisine as well. The area, atmosphere and environment of an area shape up the style of cooking and eating. Rajasthan being a region of arid nature, there is a scarcity of water and fresh vegetables and fruits. The food in Rajasthan has therefore developed in a certain way where the food is made with culinary expertise where a lot of dishes can be stored for days and can be consumed without heating as well. Also because of the scarcity of water, especially for people living in the desert pockets, there is an abundance of usage of dairy products like milk and butter milk, so as to replace the use of water in cooking to some extent.
Due to the unavailability of fresh fruits and vegetables the food of Rajasthan has taken a distinct form. Usages of beans, lentils, gram flour are popular along with jowar and bajra. Ghee is used generously to give a prominent flavor to the food. Even if it is majorly a vegetarian zone, the Rajput tradition of having meat also has an influence on the Rajasthani food. The vegetarian and non vegetarian items are supremely tasty and offer a huge variety. A Rajasthani thali consists of so many tasty dishes together, that it can leave any person confused as to how and what to eat.
When in Rajasthan, you need to try the huge variety of famous food of Rajasthan ranging from refreshing drinks to delicious curries and tasty flatbreads along with the spicy chutneys and mouth watering desserts. A trip to Rajasthan can be a gastronomical experience for you. Keep on reading about the Rajasthani famous food and visit Rajasthan or try Rajasthani cuisine at your own city if it's available there. Here are the top picks from the Rajasthani cuisine that you need to try for sure.
Dal Baati Churma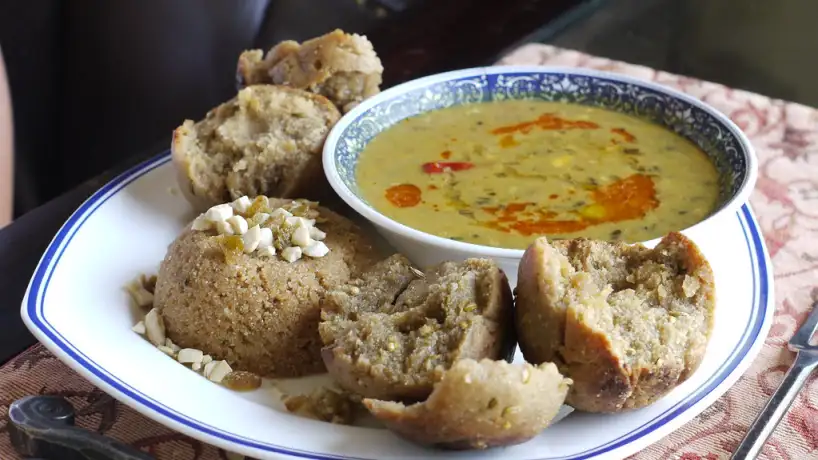 This is one of the most famous foods of Rajasthan. The popularity of this dish is obviously because of the delectable taste. As the name suggests already there is Baati, Dal and Choorma, which are 3 parts of the same dish. The dal is made with 5 different variety of lentils mixed together like toovar dal, chana dal (split Bengal dal), moong dal (split green gram), urad dal (split black lentil) and whole moong dal (whole green lentil).
This dal is also known as Panchmel Dal or the Panchkuti Dal. Then comes the delicious deep fried baatis. Baatis are made with suji (semolina), gehu ka atta (wheat flour) and besan (bengal gram flour) along with milk, ghee and salt. The dough is made into small round balls which are deep fried in ghee or oil. The Churma is made from the remaining of the baati before the salt is added. The churma is basically the sweet part of this dish where the mixture of baati is mixed with jaggery and sugar. It is a very fulfilling meal and tastes heavenly with the crunchy baatis, delicious spicy daal and sweet churma with the aromatic and generous use of Ghee. This dish is a must try for everyone.
Gatte ki Sabzi / Gatte ki Khichdi / Gatte ki Pulao / Shahi Gatte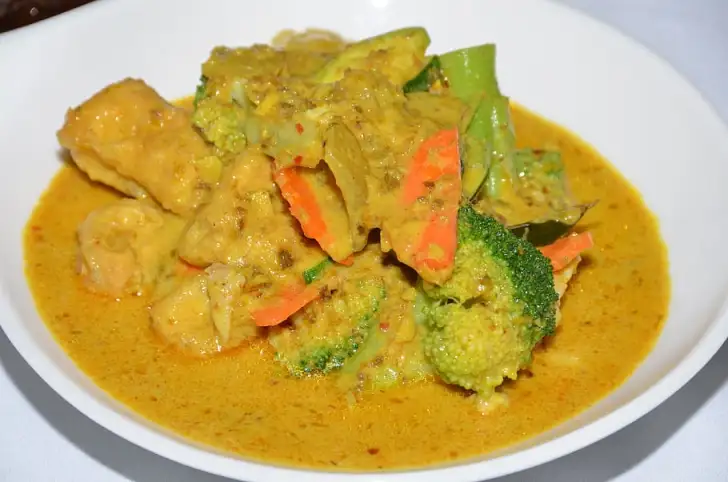 The Gatte ki Sabzi, pulao or khichdi are very popular in Rajasthan. Because of the unavailability of fresh vegetables, Gatta is used a lot in Rajasthan as a staple food. The gatta is made from Besan or Bengal gram flour. Dough is made with besan and seasoning and is boiled in water. Later it is cut into small pieces. It is then used in Subzi where the gravy is made with curd and tastes spicy and tangy. The Shahi Gatte as the name suggests is a royal gravy preparation with gatta also known as Govind Gatte. This is one sort of stuffed gatta sabzi where the gatta is filled with dry fruits and nuts and then fried and added into a spicy thick gravy.
The gatta khichdi is like a comfort food in Rajasthan and this is a wholesome, flavourful yet less spicy one pot dish. The gatte ki pulao is another famous Rajasthani food that everyone loves. It is like a tawa pulao made with Basmati rice and gatta. You must try the dishes made with gatta if you want to enjoy authentic food of Rajasthan.
Rajasthani Kadhi
Kadhi is a popular dish in different regions like Gujarat, Punjab along with Rajasthan. But the Rajasthani Kadhi has a distinct taste and specialty. It is very easy to make and no pakoras are added here. The gravy is completely yogurt based and it is thickened with besan or gram flour. This is a staple food in Rajasthan and is enjoyed daily by a lot of households. Because of the use of yogurt in a generous amount this is also a very healthy dish and is mouthwatering as well. The dish is best served with steamed rice, making the combination of Kadhi Chawal a must try for everyone.
Laal Maas
Laal Maas is another popular and famous dish in Rajasthan. This is one of the most loved non vegetarian dishes in Rajasthan made with Mutton. The dish owes its origin to the Royals of Rajasthan long back. The kings of the royal families loved the taste of this dish cooked for longer hours in a slow flame that made the meat almost melt in the mouth.
The dish got its name from the fiery red colour that comes from the generous use of dried red chilies. This dish is a little high on the spice quotient and is fiery and rich. People who have low tolerance for hot spicy food would have a hard time with this one. But spice lovers will be licking their fingers after savoring the taste of Laal Maas. The dish is best served with bajre ki roti but one can have this with rice as well. You seriously need to try this one for sure.
Mohan Maas
Contrary to Laal Maas, Mohan Maas is a completely different gravy dish prepared with mutton. The gravy is white in colour and is cooked with a generous amount of milk and curd. It is flavoured with coconut, cashews and peppercorn and ghee. Also known as Safed Maas, this rich, thick gravy has a smooth texture and the mutton is soft and succulent. Try this one with rotis or chapatis for a better taste. The dish would surely transport you to the royal Rajwadi era with its aroma and flavor.
Pyaaz Kachori
Rajasthani Kachoris have their unique taste and filling. These are stuffed breads almost like puffed pastry, deep fried in oil. The filling is made with onions and other spices to give a spicy savory taste. The outer layer is crunchy and has a hollow inside with tasty fillings. This is one of the most popular breakfast items in Rajasthan that every other sweets shops and street food outlets sell. These are served with sweet and tangy imli ki chutney (tamarind sauce) that just elevates the taste to a different level. My advice is to have them straight out of the oil, because the freshly fried ones taste even better. So definitely do try them.
Bajre ki Roti with Lehsun Chutney
Rajasthan being a desert area, the crops here are very different from any other states. They are heavily dependent on Bajra flour and Millet flour. The rotis made with bajra are a little hard to make as it is completely gluten free. The rotis were traditionally made in Chulha or wood fire but now it's made on gas. They are made with hands and almost look like a form of art. The Bajre ki Rotis are best served with Lehsun Chutney, which is a spicy pickle made of garlic and other spices. The spicy tangy taste just elevates the food journey. Bajre ki roti is also served with other chutneys or pickles and even dal at times. So give this one a try to taste the authentic Rajasthani food.
Mirchi Vada
Do not get scared with the name already, because this is a gem found in Rajasthan. The big mirchis or chilies in Rajasthan are very popular to make Bhaji or Vada and pickles. They are not as spicy as we fear. Definitely they are spicy but they are prepared in a way that makes it edible and the spice quotient is managed. The Mirchi Vadas are very popular street food in Rajasthan where the Mirchis are stuffed with spicy potato filling and then coated in besan and deep fried in oil. These spicy fritters are common for breakfast as well as evening snacks as well. The outside is crispy and the inside gives a mild spicy taste that a lot of people love. Do give this a try while exploring the famous food in Rajasthan.
Mawa Kachori
Have you ever tried kachoris that are sweet? If not then Mawa Kachori should be in your must try list. The kachoris are stuffed with a generous amount of mawa, dry fruits along with sugar or jaggery and are deep fried in ghee or oil. Then they are dipped in sugar syrup and topped with crushed mawa. Best served hot, you will love the crunchy exterior and syrup dipped soft interior of this kachori. These are one of the popular breakfast items in Rajasthan as well as a famous dessert. So do give this one a try.
Ghevar
This is a sweet dish in Rajasthan that has its name across the country. This dish is very famous as people from everywhere come and taste Ghevar. Rajasthani celebrations and festivals are incomplete without Ghevar. This is a round disc shaped sweet dish made of flour, paneer, ghee and sugar syrup. There are different varieties of ghevar available like the Malai Ghevar, Plain Ghevar, Mawa Ghevar etc. A special type of utensil is used to make Ghevar. The rich aroma of Ghee and the balanced sweetness makes it a universal favourite. This is a popular sweet during the Teej and Rakhi celebrations. Also Ghevar is offered to Gods during pujas. The crunchy texture topped with mawa, pista and saffron tastes heavenly. You surely would not like to miss out on this delicious sweet dish.
Balushahi
This is a deep fried sweet item that is made with maida (refined flour) along with ghee, milk, sugar and dry fruits. They almost look like a glazed doughnut but without a hole in the middle but don't just go by the looks because the taste is absolutely different. The solid flattened pieces are made from a dough and fried. The outer layer becomes crunchy after frying. Then they are soaked in sugar syrup that makes the crust semi hard and the interior is soft and sweet with sugar syrup dipping from inside. This is one traditional sweet dish that is very popular in Rajasthan and you will find this in every other sweet shop.
Imarti
Imarti is a deep fried sweet dish made after frying a liquidy batter made with urad dal, in the shape of a flower. It is known with different names like Amriti, Emarti, Omritti etc. After frying the sweet is dipped in sweet syrup. Although it looks somewhat like jalebi and the making process is also similar, the taste is absolutely different. They are much thicker and the sweetness is milder than jalebi.
Gujia
Gujia and Holi are synonymous. This sweet dish is famous during the festival of colours and also during Diwali festival. It is a stuffed sweet made with maida and suji and is stuffed with coconut, khoya and dry fruits. This deep fried dish is a favourite dish for many. It is crispy, sweet and has the goodness of dry fruits and ghee in it. You can fall in love with this sweet once you try this. So definitely check this one out.
Dilkushar /Dilkushal /Mohan Thal
This is another popular sweet dish in Rajasthan. This is also known as Besan ki Barfi. The texture is grainy and chewy and the crunch of dry fruits makes it even more delicious. To make this gram flour or besan is mixed with sugar or jaggery and mawa. Then dry fruits are added and the mixture is sauteed in Ghee. This is one such royal sweet dish that will leave an after taste in your mouth and you will crave for more. So surely do check this one out while exploring the famous food in Rajasthan.
Badam ka Halwa
Rajasthani cuisine is rich in dry fruits and nuts. So a dedicated Halwa just with nuts is not surprising at all. The Badam Halwa is made of almonds which are peeled and grinded with sugar, cardamom, and milk. The whole dish is made in a generous amount of ghee and smells divine. The consistency is mushy and thick, melts in the mouth and tastes heavenly. It is rich in calories but a dish like this is worth gaining some kilos for. The halwa tastes even better when it is served hot. So enjoy a bowl full of goodness after a heavy hearty meal.
You cannot try everything available on the menu in one single trip to Rajasthan or a single time visit to a Rajasthani restaurant. The delicious Rajasthani famous foods will surely leave you wanting for more. No matter if you have a subtle taste bud or you prefer hot, spicy gravies or want to indulge in the land of sweet goodness, the food in Rajasthan has everything you are looking for. So do not miss out on the experience of trying the food of Rajasthan because it will satisfy your taste buds to a different level. Do let me know if you have tried any of these famous foods of Rajasthan and if you have liked it, would love to know.