It is a great deal of happiness and bliss to get soaked into the richness of the past. If you are a traveler then visiting reminisces of the past must be an interesting activity for you. In the city of Delhi you can find many such old structures, buildings and monuments that would help you travel in the bygone days. So if you are interested in such things then you must explore the Purana Qila Delhi or Old Fort Delhi. As the name suggests, the construction of this fort is very old.
With changes and renovations in the later days, this fort still stands tall in its glory and is one of the popular places that you can visit in Delhi. In this article I have compiled all the necessary information that you might need in planning a visit to this site. As I have said already you can get lost in the world of history after a visit to such a fort. So keep on reading.
Location of Purana Qila Delhi: Mehrauli, New Delhi
Timings of Purana Qila: 7 am to 5 pm on all days
Purana Qila Tickets: Rs. 30 for Indians and Rs. 500 for foreigners. Children below 15 years of age are free.
Nearest Metro Station: Purana Qila is just opposite of Pargati Maidan metro station. However you have avail public transport for 3 KM to reach there
History of Purana Qila Delhi
It is believed by many that the Purana Qila in Delhi is built by emperor Humayun. Many people are of the opinion that this fort is built at the same spot of the old city of Indraprashtha or the city built by the Pandavas. Even during the early part of the 20th century this fort was also known as the Pandavon ka Qila. The present structure is believed to be built in the exact same location according to the Archeological Surveys.
At first Humayun had built this fort as an extension of the city of Din Panah. Later the fort was captured by Sher Shah Suri in 1540. However after that Sher Shah Suri had contributed to a lot of additions in the construction of this fort. The present structure therefore is said as Purana Qila built by Sher Shah Suri. He renamed this fort as Shergarh and ruled the fort for the next 5 years.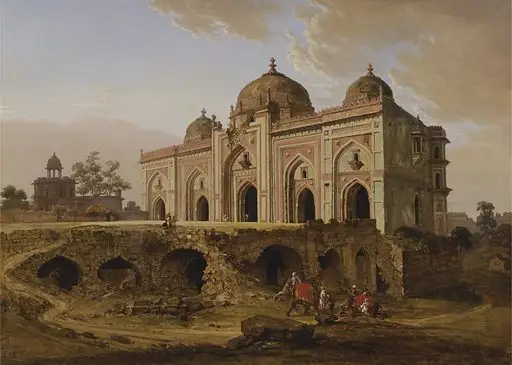 Additionally, the structures added by Sher Shah Suri became a part of this fort and later the fort and its surrounding came to be known as the Sixth city of Delhi. But soon after Sher Shah Suri died, again Humayun took charge of this fort. Later in the times the fort was ruled by many and finally it was under the control of the British. At the time of the Second World War this fort was a campsite giving shelter to 3000 Japanese people. Later, during the partition of India this fort was a centre to give refuge to the people crossing the border of Pakistan. In the most recent times, the Archeological Survey of India has done excavations in 2013-14 which have shown evidence of the construction of this fort in the pre Mauryan phase of 3rd Century BC.
Architecture of Purana Qila Delhi
This medieval style fort is 18 metres high. Built in classic Mughal architectural style the fort is ornate with blue stone work. There are three entrances in total. These gates are two storeyed, that is they are built on a slightly higher pedestal. The first door is the Bara Darwaza which is the western gate and this one is the gate that still is in use. Next is the Humayun's Gate, which is the south gate. There are viewpoints about why this gate is called Humayun's Gate. Some believe that maybe it is called so because Humayun has built it. Others believe that maybe Humayun's Tomb is visible from this gate therefore it is called so. The third gate is known as the Talaqi Gate or the Forbidden Gate. All these doors are surrounded by massive semi circular towers with white marble and blue stone work embellishment on them.
Furthermore what catches attention are the balconies or Jharokhas here that look splendid in their appearance. There is a distinct Rajasthani style of architecture in the pavilions or Chhatris made over the roof. The exterior of the fort also looks beautiful with its sprawling green lawn that elevates the beauty of the fort.
Qila-e-Kuhna Mosque
There is a mosque inside the Purana Qila Delhi known as the Qila-e-Kuhna Mosque which is made with an amalgamation of Indo Islamic architecture. This mosque was built by Sher Shah Suri in 1541. Primarily this mosque was known as the Jami Mosque. It is a single domed mosque with pointed arches in horseshoe shape. This mosque was specifically built for Friday prayers of the king and his courtesans. It also has a rectangular prayer hall. The second storey of the mosque can be accessed by stairs. On the side there is a separate hall for prayers of the women. This had purdah as the building was mainly for the royal women.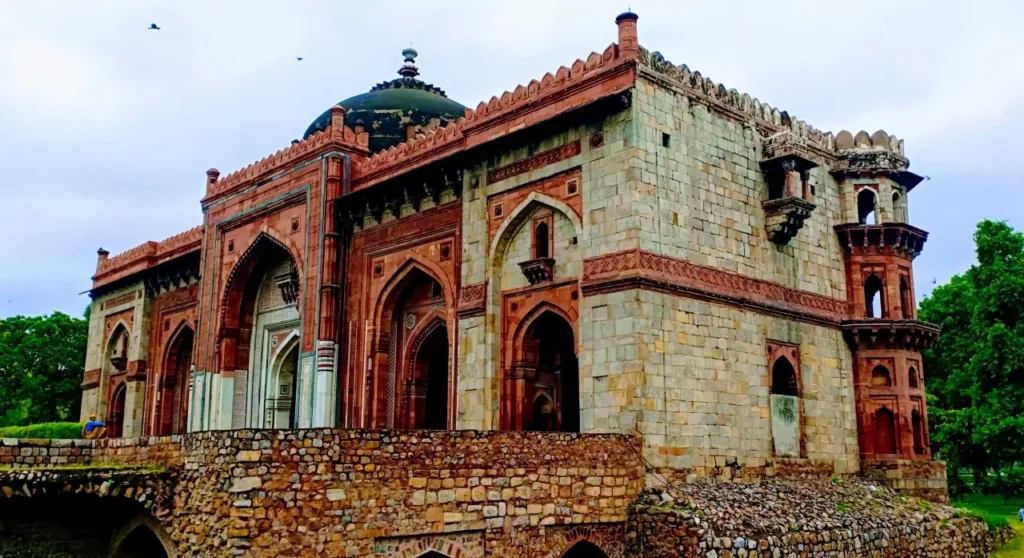 Archeological Museum
Timings: 9 am to 5 pm. Museum is closed on Fridays and other Public and National Holidays.
Entry fee: No additional entry fee is required
There had been many excavations on this site. The specimens found after the excavations are displayed in this museum. Different pottery samples from ancient empires like Rajputs, Mauryan, Kushanas, Guptas, Sungas, Mughals and Delhi Sultanates can be seen here. Also many paintings are found here that date back to the 1500 BC. Many ancient manuscripts and textile items from the First War of Independence are also displayed here.
Sher Mandal
Sher Mandal was a library which is a two storeyed structure. It is made of red sandstone and there are steep stairs attached to it. The tower has an octagonal Chhatri on top that stands with a support of 8 pillars by its side. Decorated by white marble, this place consisted of the books of the emperor. It is said that Humayun breathed his last while he fell from the stair of Sher Mandal and died of his injury after 2 days.
Other structures
There is a mosque known as Kairul Manzil which was constructed by Maham Anga who was the foster mother of Emperor Akbar. The monument is about 550 metres. Another highlight of this spot is the Lal Darwaza or the Sher Shah Suri Gate in the southern entrance of the old fort Delhi.
Purana Qila Light and Sound Show
Every evening a light and sound show takes place inside the Purana Qila Delhi. This show is considered as one of the best light and sound shows shown in India. Many tourists specifically visit this location to attend this show. The theme of the show revolves around the journey of Seven Cities of Delhi. It shows the history of Indraprastha to the formation of Delhi. This show is named Ishq-e-Dilli and shows everything about the politics, war, heritage and culture of Delhi and its evolution.
Timings of Purana Qila Light and Sound Show
The Hindi Show is from 7:30pm to 8:30 pm and the English show is from 9 pm to 10 pm. Fridays are off days.
Ticket price of Light and Sound show
Rs. 100 for adults and Rs. 50 for children between 3 to 12 years, senior citizens, students and differently abled people.
Other nearby attractions from the Purana Qila Delhi
National Zoological Park ( 550 metres)
India Gate ( 2.1 km)
Mirza Galib's Tomb ( 2.7 km)
Humayun's Tomb (2.9 km)
Rashtrapati Bhavan (4.6 km )
Parliament House (4.6 km )
Jantar Mantar ( 5 km )
Things to remember before visiting the Purana Qila Delhi
Wear comfortable clothes and shoes as it would demand a lot of walking inside the fort premise.
It would be wise if you carry a mosquito repellant especially if you are staying back for the light and sound show. After getting dark mosquitoes can be an issue here.
Do carry your own water bottles to maintain the optimum hydration level.
At first Humayun was buried inside this fort and later his body was taken to Kalanaur. Finally it was taken to Humayun's Tomb and was buried there.
Non commercial Still Cameras and Video Cameras are allowed inside. You will have to pay Rs. 25 for still cameras and video cameras each.
In 1970 this fort was used as a theater where three plays were staged by the National School of Drama namely Sultan Razia, Tughlaq and Andha Yug.
Among various other stories regarding this fort, a popular one is about Humayun's Death. It is believed that he slipped from the stairs of Sher Mandal which was the library inside the fort and breathed his last.
Sites like Purana Qila Delhi can give you a lot of insight regarding various historical events. If you are a history buff then this is surely a treat to visit a site like this. Even if you are not much into history, you would find this structure fascinating. The strength of all these age old structures and their survival through so many years in itself speaks for itself. What can be more alluring than that right? So next time you are in Delhi definitely include this spot in your itinerary. I am sure you are going to enjoy a visit to this fort. Do let me know when you are planning a visit there. I would love to know that.