Cities like Bangalore that have been through a lot of ups and downs from the ancient times to what it is today hold a lot in its basket. The history of Bangalore from the time of the various rules, to the colonial period to the modern day city as it is today, is a journey in itself. Furthermore if we talk about the evolution of this busy city, then a street like the Church Street stands as the live testament to all of that. Located at the heart of the city, this is one of the liveliest streets of this bustling city. Moreover this is one of the places in Bangalore that promises a lot of entertainment.
So if you want to know the reason Church Street Bangalore is famous for, trust me there are many. And I am going to share all of that in this article. A prime location, a busy street, and entertainment hub, along with being a place for commercial purpose mostly, Church Street Bangalore is one of the places that you must visit once to enjoy the whole vibe of the place. Keep on reading this article as it would give you a detailed idea about Church Street Bangalore restaurants, pubs, shops and a lot more.
How to reach Church Street Bangalore
The most convenient option would be the metro. Whitefield Metro Station and the Mahatma Gandhi Metro Station from the purple line are the closest. They are within a kilometer from Church Street.
About Church Street Bangalore
Church Street is like one of the popular stretches of road in Bangalore that spreads for 750 meters. It is one of the happening locations in the city that has the ability to make you fall in love with the ambience. Even though 750 metres is not too long, this street in Bangalore has a lot to offer already. Along with being one of the prettiest looking streets, this particular stretch is also really busy. Furthermore a lot of commercial activities happen here and you can find a collection of pretty cafes, popular eateries, different shops and a lot more here. Moreover it is like your own entertainment zone. You name things here and you have it here as well.
History of Church Street
Church Street Bangalore got its name from the St. Mark's Cathedral Church that is located here. This architectural masterpiece was constructed during the 19th Century following the neo Gothic style of architecture. As modern and advanced and commercial the city of Bangalore can be, but structures like this would surely make you remember the bygone colonial days. Once known as the Garden City of India, Bangalore still looks gorgeous with its green cover. Furthermore this street is no such exception. The street is surrounded by gardens and parks and trees all over that looks majestic.
Why is Church Street Bangalore famous?
Now there must be a thought about what is so specific and important about this particular street. Basically Church Street Bangalore is famous for the kind of things offered here. The place being in a very close proximity with metro stations and other roadways is a reachable spot. The area is well accessible to people via different modes of transport. Therefore, the area is known as one of the places where a regular huge footfall is recorded. All of these made this spot a hub for investments. Big chain restaurants, café owners, sellers everyone wants to choose this place as this is like a hot spot for their businesses. Furthermore, it is like a win-win situation for both the sellers and the people visiting here. They get to run their businesses and you get to enjoy it.
However, even though this street is mostly known as a commercial zone, it is also a popular spot as a residential area. Many big promoters and projects are putting up new buildings and urban apartments here that offer a convenient urban style of living. Moreover in today's busy days people prefer staying at a spot like this that is easily commutable and also with the facilities of commercialization. However property costs are really high here. But, nonetheless for a long term investment and businesses or as a residential zone this is still a popular choice amongst the people of Bangalore.
Things to enjoy at the Church Street Bangalore
Street Arts
If there is something that will catch your attention as soon as you reach here are the street arts here. They are colorful, vibrant as well as unique. The first one you would notice is the massive art all over the metro station here. The stretch houses many more installations and street arts that is one of the major attractions of this location. The pictures taken here would look gorgeous with these colourful artworks as a backdrop. And most importantly who doesn't like vibrancy and colours, right? So whenever you are there make sure you click a lot of photographs. It can be one of the picturesque locations that you can visit in Bangalore. I can guarantee you would be done with your dose of Instagram worthy pictures here.
Blossom Book House
Now this place is a heaven for booklovers. One of the oldest bookstores in the city, this one still maintains its charm from 2001. Furthermore, the kind of enriched city Bangalore is, obviously a generous section of people frequent bookstores like this to get their regular dose of reading. You must visit this bookstore and check out their huge collection. If you are a booklover then you would not feel like returning from here at all. And if you are not a book person then you might become one after a visit here. So visit the Blossom Book House, pick up something from you and start reading already. Books can be your best friends. Trust me when I say this. So try it once.
| | |
| --- | --- |
| Address | 84, Opposite Amoeba, Church Street, Bangalore |
| Timings | 11 am to 9 pm |
Church Street Bangalore Restaurants
If you are searching for a food hub and one of the best gastronomic experiences in Bangalore, you must visit Church Street once. This place is the hub of a huge collection of eateries and restaurants. So for a sumptuous meal you can visit some of these popular restaurants in Church Street Bangalore. Obviously these are not the only restaurants there. There are a lot more options that you can choose from. I am just mentioning a few popular ones here for you that you can visit.
Read More : Gwalior Fort in Madhya Pradesh
Church Street Social
For the people looking for a great hangout spot that also serves delicious food, this is the ideal place. They serve a variety of food including North Indian and Chinese. Furthermore you can also try their burgers and pizzas.
| | |
| --- | --- |
| Address | Church Street 46/1, Cobalt, Shanthala Nagar, Ashok Nagar, Bangalore |
| Timings | 9 am to 12:30 pm |
| Cost for two | Rs. 1800 approx |
Mainland China
For the best Chinese experience Mainland China is already a popular name. The ambience here is just perfect along with delicious food. Their staff service is impeccable and they are known for their top notch hospitality. You must check this place out for your sumptuous lunch or dinner.
| | |
| --- | --- |
| Address | 14, Church Street, Shanthala Nagar, Ashok Nagar, Bangalore |
| Timings | 12:30 pm to 3:30 pm, 7:00 pm to 11:00 pm |
| Cost for two | Rs. 2000 approx |
Brik Oven
This is one of the best places in Bangalore that serves a variety of delicious pizzas. One of their specialties is that they make the pizzas from scratch and everything is freshly made. Furthermore they also serve delicious shakes, beverages and desserts to make your heart and tummy full. You must visit this place if you love Pizzas.
| | |
| --- | --- |
| Address | 18, Church Street, Shanthala Nagar, Ashok Nagar, Bangalore |
| Timings | 11 am to 11 pm |
| Cost for two | Rs. 1200 approx |
The Pizza Bakery
It is another cute place serving delicious Pizzas and Pastas. You can also enjoy the salads, desserts and beverages here as well. Furthermore this place is also known for their food presentation and great staff service.
| | |
| --- | --- |
| Address | 86, Spenser Building, 16 Church Street, Shanthala Nagar, Ashok Nagar, Bangalore |
| Timings | 12 pm to 11 pm |
| Cost for two | Rs. 1500 approx |
Cafes in Church Street Bangalore
If you are not up for a full fledged meal you can surely check out the cafes in this area because they do have many. Church Street in Bangalore is like the ultimate destination for people who want to enjoy some quick bites and beverages at a cute setup. Most of these cafes are aesthetically pleasing and they come in all budgets. So you can surely find one for you. Some of the popular cafes that you can visit here are
Matteo Coffea
This can be an ideal spot for a quick date or a quick hangout spot in between some shopping. The place is known for its vibrant ambience and comfy seating arrangements. Furthermore they have both indoor and outdoor seating arrangements. Enjoy a cup of coffee along with some cheesecake and spill the beans on life happenings. After we all know what all can happen over a cup of coffee right? So do visit this place once.
| | |
| --- | --- |
| Address | 2, Church Street, Shanthala Nagar, Bangalore |
| Timings | 9 am to 11 pm |
| Cost for two | Rs. 700 approx |
Rasta Cafe
This is a café as well as a bar that serves alcohol. You can visit here and enjoy their variety of tasty food along with the choice of your drinks or beverages. Furthermore they do have live entertainment there that you can enjoy.
| | |
| --- | --- |
| Address | 3, Church Street, Shanthala Nagar, Bangalore |
| Timings | 9 am to 11 pm |
| Cost for two | Rs. 1700 approx |
Café Azure
This is a budget friendly place with a rooftop setup. They also serve hookah here. If you want to enjoy the outdoor setup or a rooftop view along with some delicious food then do visit here. Furthermore, their cocktails are also really tasty, you can try that too.
| | |
| --- | --- |
| Address | 52. Mahatma Gandhi Road, Shanthala Nagar, Bangalore |
| Timings | 12 pm to 12 am |
| Cost for two | Rs. 1400 approx |
Hard Rock Café
Another place known for its fun ambience is the Hard Rock Cafe. It is a popular place for people who want to enjoy a great time while having good food and sipping on some drinks. This place is most popular for their happy hours. Furthermore, as the name suggests they host live rock music performances, live music shows and the visitors enjoy that ambience a lot. It can be one of the places where you can hang out in Church Street.
| | |
| --- | --- |
| Address | 40, St, Mark's Road, Shanthala Nagar, Ashok Nagar, Bangalore |
| Timings | 12 pm to 1 am |
| Cost for two | Rs. 2500 approx |
Enjoying the nightlife
Church Street Bangalore pubs can be one of the reasons why you should visit this area. Along with eateries and cafes, this area also has a good option of pubs and bars to enjoy the nightlife in Bangalore. So on a chill weekend you can surely visit here with your special one or group of friends to enjoy a gala time. Furthermore, you can also visit here during the weekdays to get de-stressed from the long tiring day and enjoy a break from monotony. Easy Tiger, Hoppipola, LIT Gastropub, Pegs N Bottles, FLO Church Street are some of the popular places that you can visit.
Cultural amalgamation
Various kinds of street performances, art exhibitions and festivals take place in the Church Street that gives a ground for cultural intermingling. People belonging from different communities come together to enjoy the cultural diversity. This is surely one of the most enjoyable things here.
Rooster Guitars
Technically Rooster Guitars is a shop that sells guitars and other musical instruments. However what makes this place even more special is the live performance that they host. The owner of this place is a local musician who performs every evening and that is one of the major attractions here. Furthermore, he also takes classes so if anyone is interested they can opt for it. So next time you visit there or you pass by there and hear some music inside, do check this place out.
| | |
| --- | --- |
| Address | 1st Floor, Brigade Gardens, Church Street Bangalore |
| Timings | 11 am to 9 pm |
Animation Souk
This is yet another fun space that you can visit in Church Street. If you are interested in Pop culture then this is going to be your go to place. Basically this one is a gift shop and you would get a variety of quirky gift items here. They have a great collection of trendy and quirky items like posters and merchandise inspired from superhero movies, animated movies, soft toys inspired by characters like minions, Harry Potter themed items and much more. You can definitely pay a visit to this wonderful shop and grab some gifts for yourself or your loved ones.
| | |
| --- | --- |
| Address | Brigade Gardens, Ground Floor, Church Street, Bangalore |
| Timings | 11 am to 8 pm |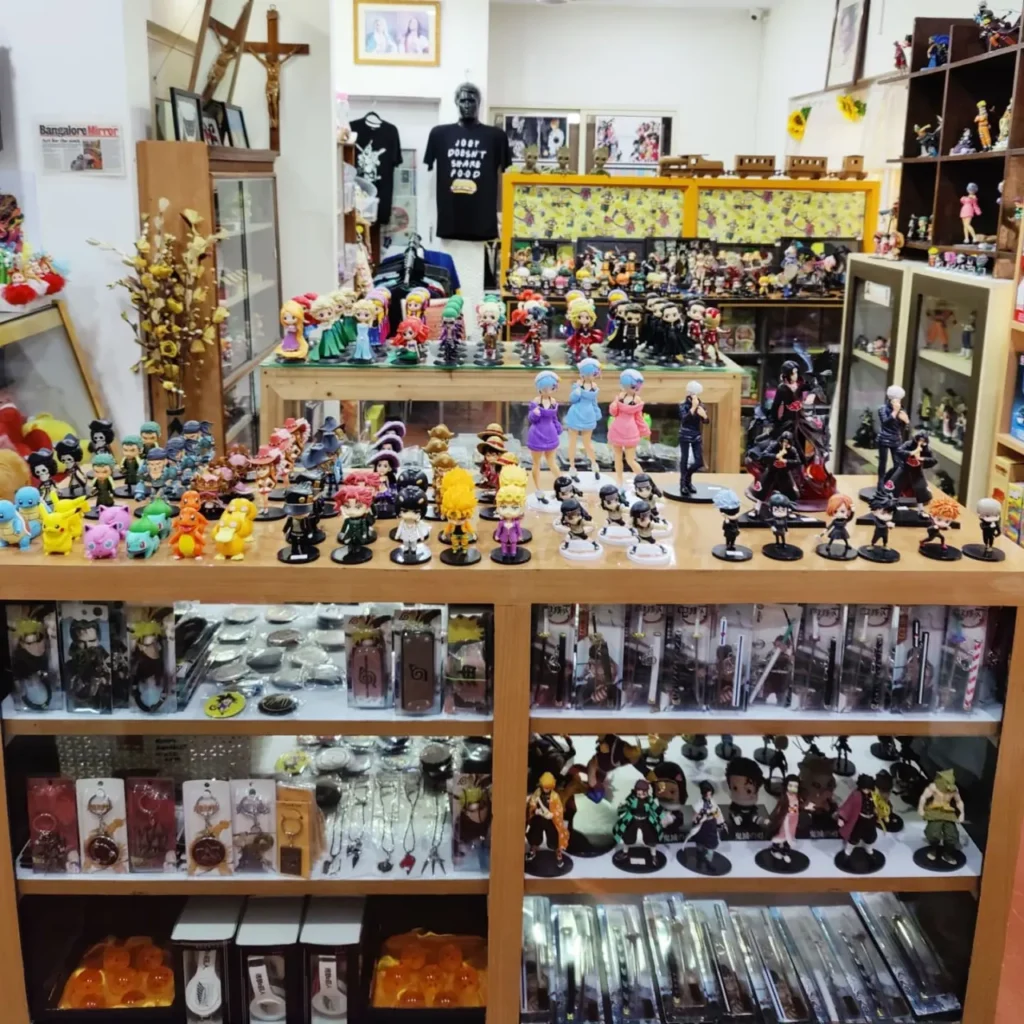 Amoeba – HM Leisure
This one is one of the most happening Game Zones or Sports Bar that you can visit in Bangalore. Primarily popular as a Bowling spot this place also offers Air Hockey, Car Racing Conduits and Basketball Games. They also serve drinks and food here that you can enjoy. So if you are looking for some fun and games with your friends then you must visit here.
| | |
| --- | --- |
| Address | Amoeba Complex, 22 Church Street, Ashok Nagar, Bangalore |
| Timings | 11 am to 10:30 pm |
Shopping
If there is one activity that you need to enjoy in Church Street Bangalore it should be shopping. Indulge in some retail therapy here because you can get the best of stores here. You can buy books, instruments, handicrafts items, fashionable clothes and so much more because you can get everything here. It would be like a paradise for shoppers. Ranging from small shops to Church Street Bangalore mall, you would find it all here. Furthermore, ranging from local stores to sophisticated boutiques or stores, they have something for everyone. Definitely consider this place for shopping your heart out.
Things to remember while visiting Church Street Bangalore
Traffic is a major issue in this area. So whenever you are visiting here make sure you have time in hand. The excessive rush and a prime location make it one of the most crowded areas.
Another important thing is parking. During peak hours getting a parking spot for your vehicles can be quite a lot of task.
The most important aspect of the Church Street Bangalore is its prime location. Furthermore, it draws a huge footfall on a daily basis because of various types of commercial activities. The bustling space is one of the spots in Bangalore that is a living example of a beautiful amalgamation of the colonial days mingled with modern day elements. It retains the colonial heritage of the city along with having a cosmopolitan touch to it. If you are in Bangalore and if you still haven't visited this street ever then you are surely missing out on something. So next time you plan to go out and have a good time, you must consider visiting Church Street. And if you have visited the place already then do let me know what your favorite activity there is. Also, let me know your favorite places to visit in Church Street Bangalore.