Quick holidays, short staycations or weekend getaways are the need of the hour. A small break from the busy stressful life will remain super incomplete if we can't go on a holiday. After all, holidays are the spice of life. Who doesn't feel like enjoying a little away from the regular boring life? But the time restriction and time constraint is real. If you are travelling from Bangalore then this can be a quick getaway for you. You can even travel from the nearby cities to Ramanagara Trek Karnataka.
This destination is right now quite popular among the tourists especially because of the multiple tourists places here. Another highlight of this place remains the religious sites and of course a beautiful landscape. The destination is known for its trekking trails and the visitors enjoy it here. Ramanagara Hills is one of the spots that you are going to love if you visit here. Keep on reading this article to know everything you need to know before you plan a visit to this place. I have added all the necessary information that is going to make your trip easy and convenient.
Ramanagara location: Karnataka
How to reach Ramanagara:
How to reach Ramanagara by road:
Ramanagara is well connected with most of the nearby cities like Bangalore, Mysore etc. You will get buses from all these cities to reach Ramanagara. You can also drive through in your own personal vehicle. Taxis and rented cars and rented bikes are also good options to reach there. Road distance from Bangalore is 47. 1 km.
How to reach Ramanagara by flight:
You can reach Ramanagara by flight as well. You will have to reach the Bangalore Airport which is 80 km away from the city. This is the nearest airport. From there you can take cabs, hired cars or buses to reach Ramanagara.
How to reach Ramanagara by train:
Ramanagara Railway Station is the closest railway station. You will get trains from Bangalore and Mysore to reach here.
Best time to visit Ramanagara: October to April
About Ramanagara: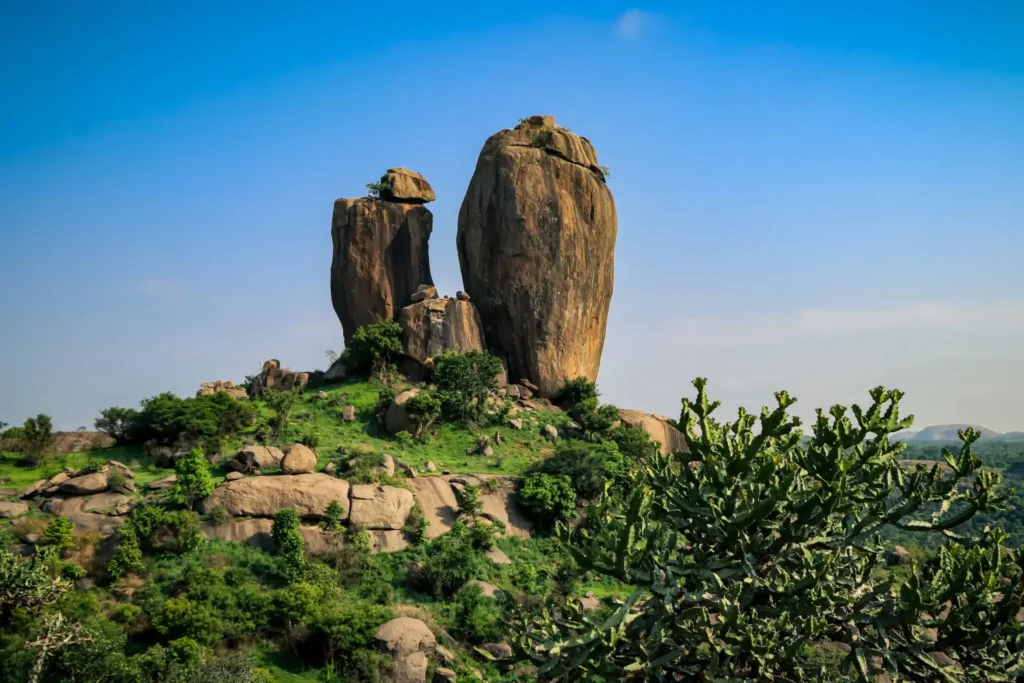 Ramanagara is an old city only 48 km away from Bangalore. This place was carved out of the old district of Bengaluru in 2007. Surrounded by the Bangalore city in North, Chamrajanagara in South, and Tamil Nadu in West this is a popular tourist spot. The region with Kanva, Cauvery and Arkavathi Rivers flowing by is a perfect stop over for holidays. Ramnagara has one of the biggest silk markets in Asia and therefore it is popularly known as the Silk City. This is also one of the regions that produce the raw materials for the famous Mysore silk sarees. Ramnagara is also popular for its Channapattna toys.
Furthermore, Ramanagara is also one of the popular bases for activities like rock climbing. The place is also known as the Mecca of Rock Climbers because of the popularity of this activity here. The rocks and boulders present here sets up a unique landscape. This region also became more popular after a major chunk of the blockbuster Bollywood film Sholay was shot here. The site also became a popular site for sightseeing for the tourists.
Nearby tourist attractions in Ramanagara:
Mekedatu and Sangama
Sangama is the confluence of two rivers. In this case, the rivers are Arkavathi and Cauvery. This is situated in the Kanakapura Taluk. Near the Sangama you will find a temple of Lord Shiva popularly known as Sangameshwara Temple. From there you can trek to Mekedatu which is about a 5 km journey. The forestry trails, the gushing sounds of the Cauvery, and beautiful hills in the backdrop makes this amazingly adventurous. The name Mekedatu came for a reason. At this place the Cauvery passes through a narrow crevice. It is believed that this is so narrow that even a goat can take a leap over. Therefore the name is Mekedatu or Goat's Leap.
Ramadevara Betta Vulture Sanctuary
The forests around Ramadevara Betta are known as the Vulture Sanctuary. You can spot giant vultures here. In 2012 this area was marked as a protected area for the vultures. The area is huge and this is the only Vulture Sanctuary in India. Also this is the only place in Karnataka where the critically endangered long billed vultures and Indian white backed vultures are found.
Revanasiddeshwara Hills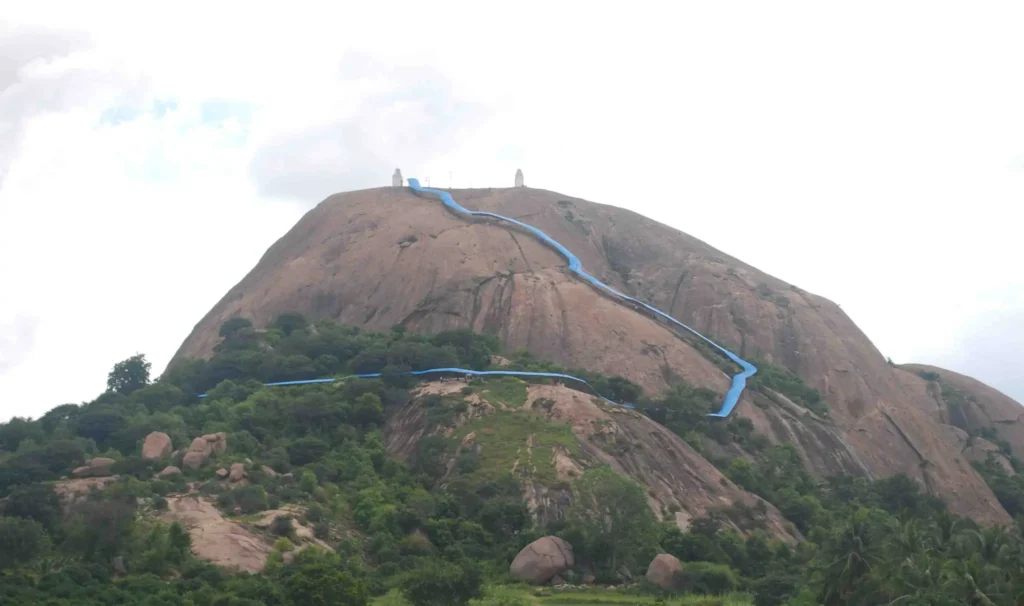 In the south of Ramanagara the Revanasiddeshwara Hill is a conical shaped granite hill. Situated at 3300 feet above sea level the area is reachable via roadways. On top of the hill there is a temple called the Bheemeshwara Temple. This is an ancient temple which is believed to be the oldest temple on this hill. The temple has a Vijayanagara style of Sikhara and the inner sanctum is made of brick. You can enjoy a mesmerizing view of the entire hill from the top.
Pyramid Valley International
The Pyramid Valley International is known as the world's largest and scientifically constructed mediation pyramid. Located in the Kanakapura Road, this non profit organization is administered by the Pyramid Spiritual Societies Movement. The trust was founded by Brahmarshi Patriji in 2003. Regular seminars and classes are conducted here on topics of Meditation and the New Age Spirituality. Furthermore, the place also houses a library with a decent collection of spiritual books. For the purpose of relaxation of mind, you need to visit this place.
Bevoor
 Bevoor is an ancient centre for the Jains. The area is mostly popular for pottery and making of toys. This location also has a few popular temples like the Venkataramana Temple in Thimmappana Betta, Sri Rama Maramma Temple, Usalamma Chowdeshwari Temple and Kempamma Temple.
Bidadi
This is mostly an industrial belt. The area has some of the big industries. Makers of the Toyota Cars and SUVs have their plant here namely the Toyoyta Kirloskar Motors.
Manchanabele Dam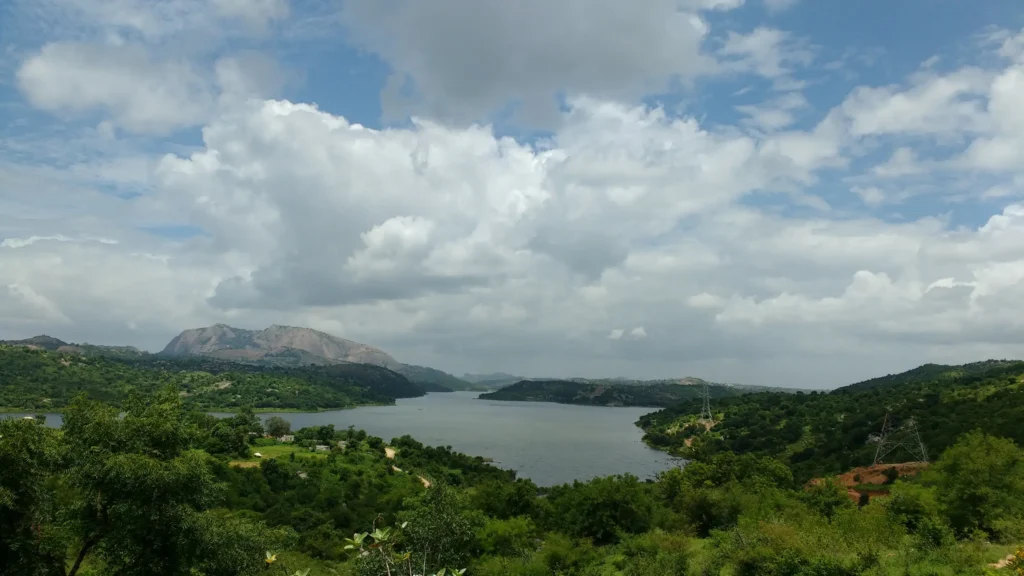 This one is a small dam almost 45 km away from Bangalore. The dam is built on the Arkavathi River. This spot looks spectacular and is an ideal spot for bird watching.
Veerabhadra Swamy Hills
Just adjacent to the Revanasiddeshwara Hill lies the Veerabhadra Swamy Hills. You can reach here through villages like Nelehalli, Achchalu and Kotahalli.
Galibore Nature Camp
The Galibore Nature Camp is a beautiful property that belongs to the Jungle Lodges and Resorts. This camp has a beautiful view that you can enjoy to the fullest. The wildlife experience here is quite adventurous and you can spot a variety of wildlife here like grizzled giant squirrels, spotted deers, marsh crocodiles, snakes, turtles and more. Also there are almost 230 varieties of bird species present here.
Channapattna Lacquerware
Channapattna is a small town 60 km away from Bengaluru which is known as Gombegala Ooru or the "town of toys". Each day almost 3000 local craftsmen produce beautiful Lacquerware wooden toys, puzzles, boxes for jewellery, napkin boxes, and coasters among other things. This vegetable dyed lacquerware is given the Geographical Indication Tag by the World Trade Centre. Previously these toys were made exclusively using ivory wood and then coated with lacquer. Traditionally it was made using the food grade pigments and vegetable dyes and natural dyes. Indigo powder was used for blue colour, turmeric for yellow, kumkum or vermillion for red and orange, acacia tree extracts for brown and more. The best part is the natural colours are safe and non toxic for infants and children. It is advised that you surely visit this place and buy some toys to encourage this local art and artists.
Innovative Film City
This is an entertainment zone located on the Bangalore- Mysore Highway. This place houses an amphitheatre, museums, a global film production centre, India's first ever comprehensive film school, and a food court spreading across 100,000 sq feet. You can enjoy rides like go karting and other rides here as well.
Wonderla Theme Park
This is one of the largest theme parks for water activities and water sports. Located in Ramanagara, this theme park is spread across a massive area of 82 acres. You can enjoy more than 60 rides here that they offer. This one also is the first theme park in India that also has a resort inside the premise.
Janapada Loka
Janapada Loka is a cultural centre. This centre was conceptualized by Sri HL Nage Gowda. The centre is created with the aim to promote, preserve and propagate Karnataka's native folk culture. Moreover from the time of its formation in 1979, this centre is known to be the place where local artists, artisans, craftsmen, musicians can showcase their talent. Among the main attractions in Janapada Loka there is a Folk Art Museum that houses more than 5000 artefacts. All the artefacts here represent the tradition and culture of Karnataka. The area is huge, sprawling over 15 acres. You will find a Studio, an open air theatre, museums among other things here.
Kanva Reservoir
Kanva Reservoir is an ideal spot for picnics and day out. This is located just 10 km from Ramanagara city.
Savandurga
Savandurga is a gigantic granite hill. It is formed by the union of two massive hills. Two very popular temples Narasimha Swamy Temple and the Veerabhadreshwara Temple are located at the foothills. You can enjoy rock climbing, trekking or biking-hiking here. The place is the house for leopards and bears among other wild animals. Therefore it is advisable to not stay there after it gets dark. Also, it is better to travel in a place like this in groups and always be extra cautious on the way.
Religious places to visit in Ramanagara | Temples in Ramanagara
Kabbalamma Temple
The Kabbalamma Temple is located on the steep hill of Kabbal. It is located 14 km away from Kanakpura. This steep hill of Kabbal looks like a Shivalinga and is one of the most popular shrines here. Popularly known as the Kabbalamma the deity here is also known as Kalikadevi. Annually a Jatra of this temple is organized during Shiva ratri which is attended by many devotees. You can surely take part in this.
Ramadevara Betta Temple
The Ramadevara Temple is one of the most popular temples in Ramanagara. This temple is located inside the Ramadevara Betta Vulture Sanctuary. You can reach up to this temple by climbing almost 400 steps. The presiding deity of this temple is Lord Rameshwara and Devi Parvathi. This area is also a perfect spot for sightseeing and hiking.
Magadi
This one is a historic town which is 40 km away from Bangalore. In 1638, the founder of Bangalore city, Kempe Gowda was forced to leave the city of Bangalore. Later he shifted to the Magadi town and made this town his headquarters. He built a fort and the Rameshwara Temple here. Outside the town you will also find the ancient Someshwara Temple as well.
Ranganatha Swamy Temple
This is a famous temple located in the town of Magadi. The temple is situated at a place known as the Swaradri Parvata. One of the attractive features of this temple is the Rajagopuram which is visible from a distance. This temple also has a huge Prakara or gateway to enter the Garbhagriha. The Sikhara of this Garbhagriha is built following the Vijayanagara style of architecture. Here the presiding deity is Lord Narayana in a standing posture.
Hanumanthaiah Temple
Located on the Bangalore Mysore Highway, 3 km away from Channapattna, this is a popular religious site in Kengal. This temple was renovated and restored during the time of Sri Kengal Hanumanthaiah who is the former Chief Minister of Karnataka. Presiding deity of this temple is Lord Hanuman. The image of Lord Hanuman here is built using red granite which is known as Kengal in local language. It is believed that this image was sanctified by the great sage Ved Vyasa. The images of Lord Rama, Devi Sita and Lakhsmana are also attached with it.
Dodda Mallur
This is a village in the Channapattna Taluk that is home for many popular temples like Sri Rama Aprameya Swamy Temple, Aravind Valli Temple and Ambegalu Navaneetha Temple. Dodda Mallur is situated 3 km away from Channapattna on the banks of the Kanva River.
Devara Hosahalli
This location is mostly popular for the ancient Prasanna Anjaneya Temple built during the Vijayanagara period. It is located only 5 km away from Channapattna.
Harophalli
The Arunachaleshwara Temple, Anjaneya Temple, Basaveshwara Temple and Krishnaswami Temples are located here.
Honganur
This location is popular for the Nagaswamy Temple, Ishwara Temple, Maramma Temple, Kodi Bhairava Temple, Gopalakrishna Temple and Lakshmi Koladamma Temple.
Kengal
Kengal is the birthplace of the late former Chief Minister of Karnataka Sri Kengal Hanumanthaiah. This place also houses temples like Venkataraman Temple, Anjaneya Temple and Shani Temple.
Jalamangala
The popular temples you can visit here are the Lakshmi Narayan Temple and Narayanaswamy Temple.
Kallahalli
For the Srinivasa Temple built in the Vijayanagara style of architecture, this place is popular as a site.
Kudlur
This was a popular town during the rule of the Chola Dynasty. At present this is a popular site for the presence of temples like Sri Rama Temple and Mangleshwar Temple.
Things to do in Ramanagara:
For adventure lovers this place has quite a few good options.
Ramanagara Rock Climbing
The Ramanagara area is most famous for the big rocks here. Therefore this is a hotspot for activities like rock climbing. You can find different travel agents that offer guided tours here. You can sign up to any of them after prior research and then indulge in adventure activities.
Eagleton Golf Village
This one is an 18-hole International Golf Course. It is the only Golf Course in South India that was featured in the list of Rolex Top 1000 Golf Courses in the World. The area has a golf course along with a resort surrounding it. A Golf Academy is also set up here. This place is also awarded by Asian Golf Monthly as one of the Best Courses in whole India. Night Golf facilities are also available here.
Longest Zip lining
In Ramanagara, the Shilhaandara Resort offers the longest zipline in South India.
Coracle ride at Mekedatu
The Coracle Ride from Sangama to Mekedatu is a very interesting and thrilling adventure activity that you must try once. Beautiful scenic location and an enthralling ride across river Kaveri, would be a fun activity for you.
Other than these you can also enjoy activities like Kayaking, Nature Camping, and Obstacle Courses etc. There are different agents who will provide you with guided activities like this.
Ramanagara resorts:
You will get some options of good resorts in Ramanagara. Some of them are
Wonderla Resort
Location: Mysore Road, Ramanagara, Bangalore
Eagleton Golf Resort
Location: Bangalore Mysore Highway, Shyanamangala Cross, Bidadi, Rural Bangalore
Shilhaandara Resort
Location: Padarahalli Village, Magadi Road, Ramanagara
KSTDC Hotel Mayura Sangama
Location: Kanakapura Taluk, Ramanagara
While looking for a peaceful location for a short trip, Ramanagara is a great option. This place is going to be the ideal destination for you along with your family and friends. Moreover the location has a variety of tourist spots that you will enjoy visiting. For adventure lovers also this is going to be an ideal spot. Indulge in adventure sports or sightseeing, you will surely feel refreshed after a trip to this beautiful location. Do let me know when you are planning your trip to the Ramanagara Hills.