Few places are just a gift of nature to humankind. The natural formation of rivers, mountains, lakes sometimes only make us wonder with awe with its pristine beauty. But due to excessive urbanization and influx of tourists a lot of these places have lost their natural charm. If you are someone who is in search of an untouched beauty, then I have a good option for you. The Umngot River Dawki is one such spot. This pristine river is known for a lot of reasons and is also becoming a highlight for avid travelers. Still the area is one of the hidden gems which not a lot of people know about. If you are interested in knowing everything about the Dawki Lake then keep on reading this article. I will mention every piece of information that you might need before planning a trip to Dawki Meghalaya.
Location: Jaintia Hills, Meghalaya
How to reach Umngot River?
By train
To reach here you can reach Guwahati Airport in Assam. From there you can take shared cabs that usually cost Rs. 300-400 per person. It would take around 4.5 hours to reach there and the distance is about 173 km.
By flight
Guwahati Airport is about 200 km away from Dawki. From there you can hire a cab to reach there in about 5 hours.
By road
You can travel from Shillong to Dawki and it can very well be your ideal day trip. The distance is about 90 km. If you are driving your own vehicle or via shared cab or rented car then you can also visit some spots like Shillong View Point, Laitlyngkot, Elephant Falls, Pynursla etc on the way. You can also get buses from Bada Bazar in Shillong or from other nearby spots to reach Dawki.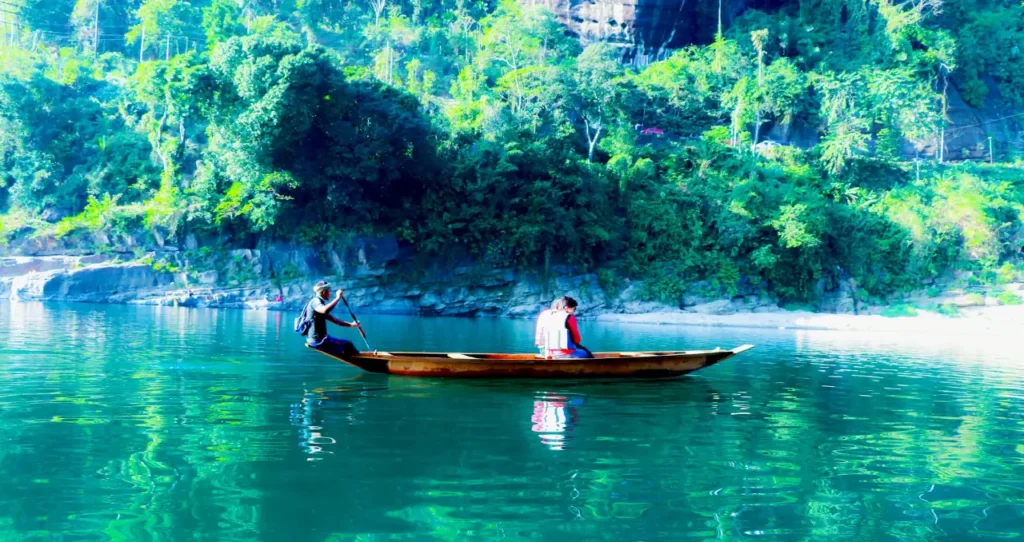 About Umngot River or Dawki River Meghalaya
A quaint town in Meghalaya, Dawki is located on the Jaintia Hills. This north eastern region also shares its border with Bangladesh. The river is also known by its local name U Wah Umngot. You can find a suspension bridge here that is used for transportation. It was built in 1932. The view from the top of the bridge is breathtaking. This river forms a boundary between the Khasi Hills and the Jaintia Hills. Not just that this river also forms a border between the two countries of India and Bangladesh. Furthermore, the Dawki River is also the main fishing spot for the people of Meghalaya. The fishermen are spotted in this area that depends on this activity to earn their livelihood.
Why is Dawki River famous?
At times we look at the pictures of any particular spot but in reality things are far more different. But this is one place that looks like an illusion in pictures. And in reality it would look like an illusion too. Dawki is considered as a blessed beauty harboured amidst nature. The Umngot River in Dawki is so clear like a crystal that whenever boats float on it, you can see the river bed beneath. It gives a crystal clear view of the river bed and the boat looks as if it's floating in air. What makes it even more enticing is that you can spot the pebbles, rocks and even the fishes in the water because of the clarity of the water.
Other than the beauty of this place, it is also really high in minerals. It is one of the major trading points of India and Bangladesh. The place has limestone stocks and coal mines. The location of this spot also makes it an easy way to connect to Bangladesh.
Best time to visit Dawki River Meghalaya
Ideally winters are the best time to visit here. The months from October to February are just perfect in terms of weather. You can enjoy trekking during this time also. The temperature mostly remains around 15 degrees during the day. However the nights are super chilly with temperature sometimes coming down to 3 degrees also. Summer months are also a good time to visit here. But the afternoon can be a little uncomfortable. Temperature during summer months ranges from 12 degrees to 30 degrees approximately. The clear sky is perfect for exploring the place. You can also visit here during special festivals if you want to explore the culture and traditions here. They have Chad Sukra and Shad Suk Mynsiem festivals in summer. In winter there are many festivals like food festival, music festival, kite flying, fishing competition, flower exhibition, kite flying, archery etc.
However monsoon time is not advisable to visit a place like this. Even though the greenery around accentuates to a lot of extent, the area does receive maximum rainfall during the months of June to October. Also two of the wettest places Cherrapunji and Mawsynram are here, that bring in a lot of rainfall. So your travel spirit might get affected if you visit here during monsoon. Also the cloud cover would be unfavourable as the breathtaking views here would be blocked by the clouds.
Where to stay near Dawki River Meghalaya?
Dawki is not very well established when it comes to accommodation. So there are very limited options for hotels in Dawki. Not a lot of established Dawki hotels or homestays are found which will be comfortable for a stay. There are some options of camps though but those would only be comfortable for solo travelers or backpackers. Therefore, mostly the tourists prefer staying in Cherrapunji or Mawsynram and from there Dawki is a few hours' drive. Some of the hotels that you can check out are The Betelnut Resort, Polo Orchid Resort, San Nael La Resort, Aisha Guest House, Sulawado Resort etc.
Read More : WILDLIFE SANCTUARY IN ASSAM TIMINGS, HOW TO REACH
What activities are available?
Soaking into the nature
A place like the Dawki River Meghalaya is an ideal place to get soaked into nature. Look around everywhere and enjoy the cool breeze. The clear transparent water is beautiful to look at. It seems like the creator of this Universe had taken a lot of time to design this beauty. Unwind yourself and get lost into the lush green meadows, pine covered hill station, and the majestic scenic beauty.
Boating in Umngot River
This is one of the most unique experiences here. Boating in the river is normal but boating in the clear water of the Dawki River is special. It would look as if the boat is moving over a clear glass surface. The feeling is almost surreal. As you boat you can see things underwater. The boat ride here costs around Rs. 500 per person for one and a half hours. Sometimes boating competitions are also arranged here. The winners are awarded with cash prizes at times. Also other activities like snorkeling and kayaking are also available here.
Mawlynnong Village
Known as the cleanest village in Asia, this is one of the places you must visit here. It is located at a 30 km distance from Dawki. There is a ticket to enter the village as the money goes in for the maintenance of the place. Everywhere you will find cleanliness and the scenic beauty is unparalleled. You can find some local shops and food stalls here as well. The local marketplace is also a great spot to explore.
Living Root Bridge in Mawlynnong
It is said that this bridge is almost 500 years old. This natural wonder is one of the spots that you surely need to visit. This hanging bridge is created naturally without any kind of artificial materials or support. However you will have to trek down below to reach this spot. The trekking trail is quite steep here.
Double Decker Bridge
The Double Decker Bridge is another natural wonder to check out here. Here also the only way to reach is via a trek. However, the trek to this bridge is very hard and not for everybody. The roads are very steep and slippery and there can be poisonous insects on the way which you need to be careful of. It is advisable that you hire a guide to reach here because there are no signs here to reach this location and you might get lost in your way. The guide will cost something around Rs. 600.
Bangladesh Border
While you are boating in the Umngot River you can spot the border of Bangladesh. You can even visit the border area and no permit is needed for that. You can also spot the BSF Jawans of both the countries on the border area doing their duty.
Mawsmai Cave
This is a limestone cave. The space to the entrance is very narrow and the way is very hard to access. You would need a lot of flexibility to actually get inside. Also make sure you don't hit your head there or don't get hurt otherwise. The inside of the cave is amazing and you can observe different shapes and sizes of natural rock formation.
Visiting the pristine waterfalls
This is one such place that houses so many majestic waterfalls including the Byrdaw Falls, Krang Suri Falls, Bo Phill Falls and Elephant Falls. The Elephant Falls is the most popular and most beautiful waterfall. It is a three tiered waterfall that looks majestic. You must explore these falls as they are the ones holding up the beauty of Meghalaya to a different level.
As always the north eastern states and the beauties of the north eastern zone remains unexplored a lot of times. However the Dawki River Meghalaya is slowly gaining a lot of momentum among the tourists and travelers. Yet this hidden gem still remains one of the less explored places. This is going to be the perfect place for people who want a location to unwind from their stressful life. It gets crowded during peak seasons but still that is within control.
And that is the boon for this untouched beauty which still remains protected from too much of tourist intervention. You can surely visit this place for the amazing natural beauty and uniqueness that it offers. I am sure you will be mesmerized by the gorgeousness of this spot. Do let me know if you had a prior idea about the location or you read about it from this article. I would love to hear that from you.