Our regular life has become a lot more concrete these days in terms of view. Everywhere there are buildings and constructions. The only escape left is to visit locations with unparalleled natural beauty. Nature has gifted us with some of the best creations and if we don't visit them once then it would be like missing out on a huge chunk of natural beauty. The Dudhsagar Waterfall in Goa is one such location. You all must have seen the 2013 blockbuster film Chennai Express. Do you remember the waterfall shown in that particular film? It's the same one I am talking about right now. Now you know exactly why you need to visit this waterfall. In this article I have clubbed all the necessary information about Dudhsagar Falls Goa, so keep on reading.
Dudhsagar waterfall location: Madgaon- Belgaum Railway Route, Sonaulim, North Goa
Timings: 9 am to 6 pm
Dudhsagar Falls entry fee: There is no entry fee. Jeep drive to Dudhsagar Falls from Castle Rock is Rs. 400 per person.
How to reach Dudhsagar Waterfalls
Only a trek to the Dudhsagar Falls is a way to catch the glimpse of this beauty. However till there you can reach by Road, Train or Air.
By Road:
If you are travelling from Panaji then you can take a bus from the Kadamba Bus stand to Dudhsagar Falls. The distance is 71 km. You can also take a bus to the Tambdi Surla and from there you can take a taxi to reach the falls. It costs around Rs. 1000 to Rs. 1300 for the bus journey per person.
By Flight:
You can also take a flight and reach the Goa International Airport which is 69.6 km away. From there you will get taxis to reach the fall in about 1 hour 50 minutes.
By Train:
On a daily basis you will get two trains but Dudhsagar Falls is not directly connected by railways. The closest railway stations are Kulem and Castle Rock. From there you will have to trek to reach the waterfall. However, this is not recommended for aged people and children. Only if you are an adventure lover then it will be a good option for you. Otherwise you can also take the official managements' jeeps to reach the falls.
Best time to visit Dudhsagar Falls: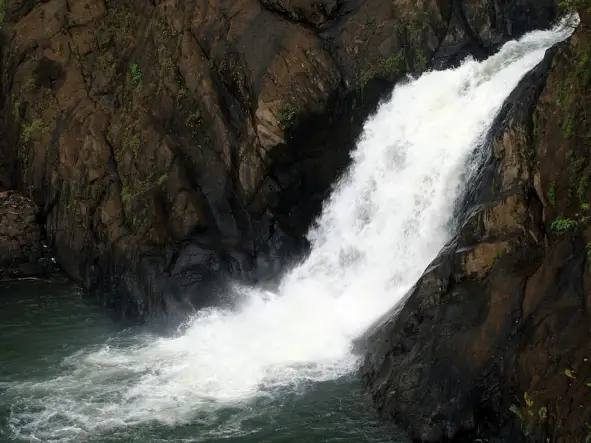 Waterfalls look the prettiest and fullest during the monsoon. The time from July to October can be a good time to visit the waterfall. However, it is a little risky to visit a place like this during the rainy season. The water level would be high at this time and the terrain will be slippery as well. Also if there is heavy rainfall then there might be some restrictions from the management as well. So do check the weather conditions before visiting. To make the most of your visit to this waterfall, the ideal time to visit would be after the monsoon. The time from October to February would be perfect in a way. During this time the water level will be moderate yet beautiful and with fuller strength after the rains. And the trekking trails will also be more accessible this time.
About Dudhsagar Falls:
At 60 km from Goa, this pristine waterfall is one of the 5 highest waterfalls in India. Situated on the border of Karnataka and Goa, the Dudhsagar Waterfalls stands tall with a height of 310 meters (1017 feet) and 100 feet width. This mesmerizing beauty was always a popular tourist spot in Goa. However, after it got featured in the 2013 Shah Rukh Khan starrer Chennai Express, this sight got even more popular. People saw a glimpse of this beauty on screen. Now they want to experience this with their own eyes.
Basically, the Dudhsagar Waterfall looks like a stream of milk poured from the top of the mountain, and later it cascades into a stunning waterfall. This waterfall is undoubtedly a must visit place in Goa, if you want to capture the essence of natural beauty. Mandovi, one of the major rivers in Goa, passes through the twists and turns of the Western Ghats. As soon as it crosses the hilly region it transforms into the Dudhsagar waterfall on the Goa Karnataka border.
This Pristine waterfall is a four-tiered waterfall in the Sanguem Taluka of North Goa. Located near the Bhagwan Mahavir Wildlife Sanctuary, this waterfall flows westwards to join the Arabian Sea. The forest covering as the backdrop of this waterfall makes this spot a scenic location.
History of Dudhsagar Falls:
Dudhsagar means a "Sea of Milk " and this waterfall got its name on the basis of a myth attached to it. It is believed that, years ago, a princess would come to the Mandovi River to take a bath along with her handmaidens. After taking a bath, she used to drink sweetened milk from a jug made of pure gold and diamond studded in it. Once while drinking that milk she noticed a young prince gazing at her from a distance. She was in the most modest attire at that time. Therefore her handmaidens poured the whole jug of milk in front of her, creating a virtual curtain in front of the princess. It was done to block the view through the crystal clear water. In the meantime she got dressed up in her royal attire. It is said that the milky fall still cascades in the honour of the princess to guard her modesty.
Things to do in Dudhsagar Falls:
Dudhsagar Falls Trek from Castle Rock
One of the most adventurous things you can do is the trek from Castle Rock to Dudhsagar Falls. You will have to reach the Castle Rock Railway Station to start your trekking. The trail is approximately 14 km long and takes around 5-6 hours to reach. The enchanting nature and picturesque location will be worth the effort. So be ready to dive into the natural beauty.
Dudhsagar Waterfalls Mollem National Park Safari Experience
The Jeep Safari is the most convenient option to visit the Mollem National Park. In 1969 the park was declared a Sanctuary. The whole ride is 30 to 40 minutes long and you will get a view of the beautiful waterfall as well. The journey starts from the Mollem National Park and moves through the Bhagwan Mahavir Wildlife Sanctuary. Best part of this trip would be spotting the wildlife here. You can catch a glimpse of species like Barking Deer, King Cobra, Drongo, Malabar Pit Viper, Bonnet Macaque, Indian Rock Python, Hump Nosed Pit Viper, Fairy Bluebird, Great Indian Hornbill, Three Toed Kingfisher, Golden Oriole and many more exotic birds and animals. It is advisable for you to pre book your trip for the jeep safari in advance so that it's easy for you.
Walk to the Spice Plantation
You can walk down to the spice plantation near the waterfall. This would give you an insight about the variety of spices. Along with it you can also enjoy the sumptuous Goan style lunch buffet at the same spot. The food tastes amazing and fresh with the use of freshly crushed spices. You can also enjoy elephant rides here.
Nearby places to visit:
Devil's Canyon
Devil's Canyon also known as Devcharacho Kond is 1 km away from the waterfall. It is a river gorge with powerful water undercurrents. The canyon has slippery mould covered rocks surrounding it that gives a feel of Devil's Canyon. This is a perfect scenic location for the adventure enthusiasts. You must visit this place.
Tambdi Surla Temple
This ancient temple is one of the oldest historical locations in Goa. The temple is the only existing formation of the Kadamba Yadava Dynasty. The ancient structures and constructions along with intricate carvings give this temple a vintage look that is beautiful to watch. Lord Shiva is the presiding deity here. What makes the temple more fascinating is the use of grey-black talc chlorite and soapstone to make the structure. Definitely pay a visit to this temple whenever you are in Goa.
Things to remember before visiting Dudhsagar Falls:
You will have to reach the location a little early as everything closes here by 6pm. So it is a little tough to get an entry after 2 pm.
If you are taking a train, make sure you get prior information about which trains halt at the Dudhsagar Railway station. All trains don't necessarily halt at this station.
If you are planning for a jeep safari, it is better to visit in a group of 6-7 people. Otherwise you will have to wait for others to join you and it will be a shared trip.
Do wear the most comfortable clothes and shoes because there will be a lot of walking.
It is advisable that you always opt for a guided trek. It would be safe and secure. Also do collect all necessary information and follow the brief given by the guides before you start trekking.
Life saving jacket is a must for you if you are visiting this waterfall. This is one safety measure that everyone visiting here must take care of.
Do not litter on the way of your trekking to the Dudhsagar falls.
There is no option for lockers to keep your valuables. So whatever you are carrying with you whether it's gold or any expensive gadget it is completely your responsibility to look after them.
Alcohol consumption is strictly prohibited here.
Do carry your personal medicines, enough water, and extra pair of clothing while visiting the waterfall.
There is a washroom facility in the Bhagwan Mahavir Wildlife Sanctuary.
Dudhsagar Waterfall Goa is an example of how beautiful nature can be. The cascading waterfall shines bright with its humongous presence. It will surely leave you mesmerised with its charm and beauty. So next time you are in Goa, this one should be in your list of must visit places. Do let me know if you had an idea about this waterfall or you read about it just now. And if you got to know about the waterfall from this article, then let me know if the information was helpful for you. 
Read my Featured blogs : https://nomadsaikat.com/featured/