Kolkata, the name in itself is enough to describe the sweetness, the age old traditions, cultures and beliefs attached to this city. What makes this city stand out from the rest is the charm that it holds in its love for music, culture, literature and food to name a few. If you are from Kolkata you would know exactly what I am talking about. And if you have never been to Kolkata or you wish to travel someday, then you are at the correct place. What makes The Kolkata famous for.
In this article I will mention the things that Kolkata is famous for. You name these, you name Kolkata. These are things that make Kolkata, and make a name for Kolkata in front of the whole world too. Recently Kolkata Durga Puja has been awarded the UNESCO Cultural Heritage Award. In 2023, Kolkata found its place in the prestigious list of World's Best Food Destinations. Now you must be more interested to know more about this lively city. So keep on reading this article because you are going to get a lot of information about things famous in Kolkata along with Kolkata places to visit.
Kolkata Street Food
While talking about the things, Kolkata is famous for, you need to start with the Kolkata Street Food. The street foods in Kolkata offer a wide variety and the best part is they are very affordable. So people with every kind of budget will get something for them. You can see small street food joints and small shops and stalls selling street food at every nook and corner of the city. What is more fascinating is people from all ages, class and standard relish these street foods.
Starting off with the most popular breakfast Kochuri and potato curry or Aloor Dum is loved by all. Another popular street food is of course Fuchka and you cannot really miss out on this one. Next are the Kolkata famous Kathi Rolls that are available in different varieties like Egg Roll, Chicken Rolls, Mutton Rolls, Egg Chicken Rolls and Paneer Rolls as well. Also there is a huge variety of fried items or Telebhaja that includes Aloor Chop, Beguni (eggplant fritters), Piyaji (Onion Fritters), Dalbora (Lentil Fritters), Singara (Samosas) along with Vegetable Chops, Egg Devil, Chicken Pakora and many more. You can also try the variety of chaats available like Jhaal Muri, Papdi Chaat and Doi Bora.
What's more?
Some more famous street food items include Kolkata Special Bhetki Fish Fry, Fish Butter Fry, Chicken Stew , Bread Omelette, Paratha and a huge range of vegetable curries to go along with it. You will get street style versions of Chowmien, Fried rice and Biriyani as well.  A popular aspect of Street food in Kolkata is the thali or combo platters. You can get small portions of curries, rice and parathas as combo meal options. Chowmein Chilli Chicken or Fried Rice Chilli Chicken are some other popular combo options.
Not just these you will also get Dosa, Idlis, Dhokla,Chole Bhature and Momos as popular street foods here. Everywhere in the city you will get street food but if I have to mention some popular hot spots for street food then I must include Dacres Lane, Esplanade, Bara Bazaar, Gariahat, New Market, Shyambazar etc. Whenever you are in Kolkata these are the things you just cannot miss out on.
Kolkata Durga Puja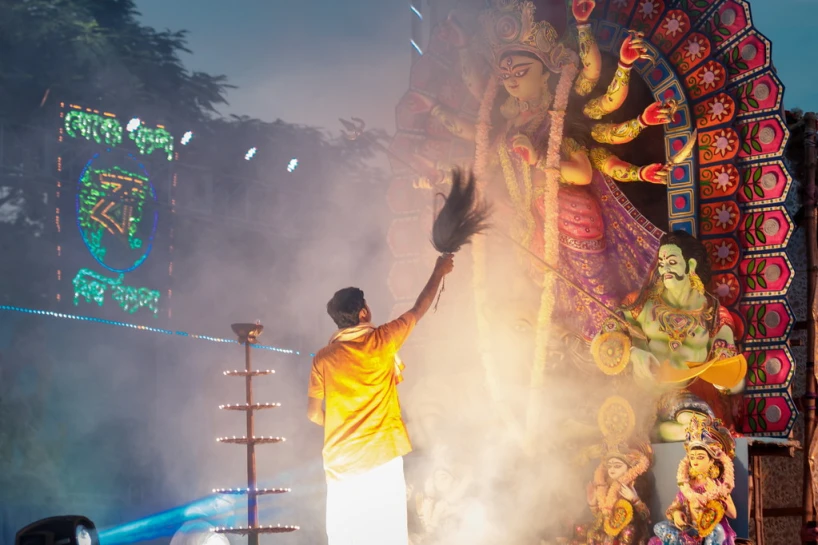 Durga Puja, the biggest festival of the Bengalis is celebrated with a different level of enthusiasm in Kolkata. If you have never visited Kolkata during the Durga Puja you would never be able to understand the zeal and enthusiasm that the people here celebrate this festival with. The city doesn't sleep at all during the days of Durga Puja. Starting from Mahalaya to Vijaya Dashami the city is adorned with the festivities and this feels like a grand carnival.
However the most appreciated and eye-catching part of Durga Puja in Kolkata is the respect for art and culture. Every other puja pandal is decorated so artistically. There are theme puja pandals that are made following a specific theme and the idols of Devi Durga along with her children are majestic forms of art as well. Starting from the lighting, to the decoration and the grandeur, everything takes the Durga puja festivities to a different level altogether.
Nevertheless that is not all. The rituals are also maintained here really well starting from Naba Patrika Snan, to Ashtami Pushpanjali, Kumari Puja to Sandhi Puja, and the grand Sindoor Khela in Dashami. You will see a beautiful mix of commercial Sarbojanin Durga Puja of reputed Clubs and Committees along with the traditional Bonedi Barir Puja.
Furthermore the cultural and traditional infusion mixed with modern day elements and enthusiasm of Durga Puja made a place for itself in the prestigious list of UNESCO Representative List of Intangible Cultural Heritage of Humanity. Now you know exactly why Durga Puja is synonymous to Kolkata.
Howrah Bridge Kolkata
The Howrah Bridge built by the British during 1936 to 1942, is a suspension bridge that connects Kolkata with Howrah. It is one of the symbolic representations of the city of Kolkata and the city is known by this bridge as well. Along with that it is also one of the busiest cantilever bridges that hosts a daily traffic of almost 150,000 pedestrians and almost 100,000 vehicles.
Previously the Howrah Bridge was named as the New Howrah Bridge because it replaced the old bridge. In 1965 this bridge was renamed as the Rabindra Setu. But the bridge is popularly known as the Howrah Bridge today. Lookwise, the bridge has a spectacular view and that's the reason why this bridge has been shown in many films like Ritwick Ghatak's Bari Theke Paliye, Mrinal Sen's Neel Akasher Nichey, Satyajit Ray's Parash Pacthar, Richard Attenborough's Gandhi, Raj Kapoor's Ram Teri Ganga Maili, Mani Ratnam's film Yuva, Pradip Sarkar's Parineeta, Mira Nair's Namesake, Imtiaz Ali's Love Aaj Kal, Sujoy Ghosh's Kahani, Anurag Basu's Gunday, Dibakar Banerjee's Detective Byomkesh Bakshi, Shoojit Sircar's Piku and many more.
The bridge looks even more beautiful with the evening lights on. Boating under the bridge, in the river, is a popular activity that the people enjoy here. You can also enjoy the beautiful view of the sunset that looks splendid. Just being there would take you back to the older times in history and will give you an insight of the days gone long back.
Kolkata Biriyani
As the name suggests you cannot take Kolkata out of Kolkata Biriyani. No matter whichever Biriyani you have tasted in whichever part of the world, the Kolkata Biriyani has a distinct flavor of its own. Now, if you ask me there is history attached to it as well. The Biriyani in Kolkata was introduced by Nawab Wajid Ali Shah. Nawab was interested in making the biriyani same way like the Lucknowi Biriyani. But alas! The cost of the meat was too high to meet his demand. It was then that he replaced the quantity of meat with potato. Cut to the present time, Kolkata people can't imagine their Biriyani without their Aloo or Potatoes.
Coming to the taste now, the Biriyani in Kolkata is mostly on the flavorful yet mild side. It has a rich aromatic fragrance but yet is not too high on the spice quotient. If we are talking about the authentic Kolkata Biriyani, the perfect one would be the rice with a succulent piece of meat, one piece of egg and one potato. The rice is flavourful, lightweight and fluffy in texture made with long grain Basmati Rice. It is not too dry, not too moist, just the perfect blend in between. The yellow, white and brown coloured rice looks beautiful when it is served. The Biriyani here is Dum Biriyani where the rice and meat is cooked separately.
Furthermore, this biriyani is perfect for all age groups starting from kids to elderly people to older ones. Everyone can relish this dish with all their heart. Usually biriyani in Kolkata is served with salad only. At some places you might get raita as well. But if you want you can pair the biriyani with dishes like Chicken or Mutton Chaap, or Rezala and many other dishes.
Biriyani is an emotion:
Another important thing you will notice in Kolkata is the love people have for Biriyani. You will get a biriyani shop or small food stall selling biriyani at every street and every corner. Street Biriyani in Kolkata is another thing that people enjoy. You will see people gathering together and savouring plates of biriyani simply by standing on the streets. Obviously you will also get biriyani in many more famous restaurants and food joints in Kolkata, starting from basic restaurants to even 5 stars.
Hand Pulled Rickshaws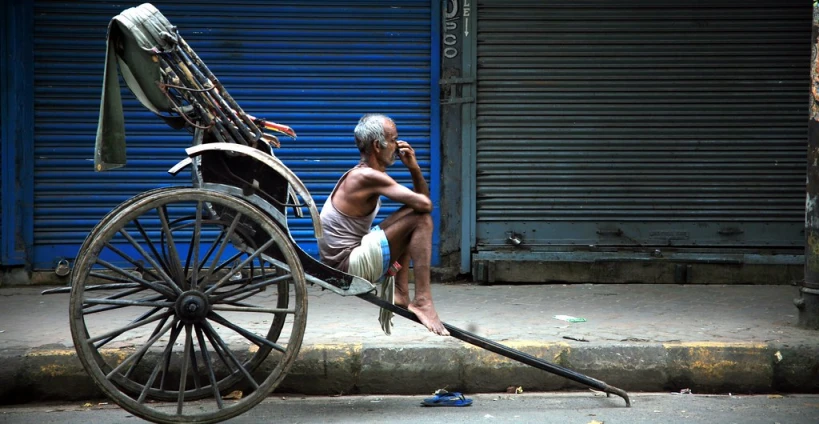 The hand pulled rickshaws were a legacy that the British have left behind in this city. Here the rickshaw is pulled by both hands along with people sitting on top of it. The vehicle looks very elegant and it has a distinct colonial charm attached to it as well. Till now in a lot of locations in North Kolkata you will get to see these rickshaws. However the number is very few these days as these rickshaws had now been replaced by bicycle type rickshaws and battery operated rickshaws as well.
Moreover, it is better to have this vehicle replaced because it takes a whole lot of effort and energy to pull a rickshaw by hand. It also doesn't feel right to sit over on the seat while a person is giving in so much labour to pull you from one location to the other. It is better to keep these rickshaws as heritage vehicles in museums. These rickshaws are very inconvenient and tiresome for the rickshaw pullers in every way.
Bengali Sweets in Kolkata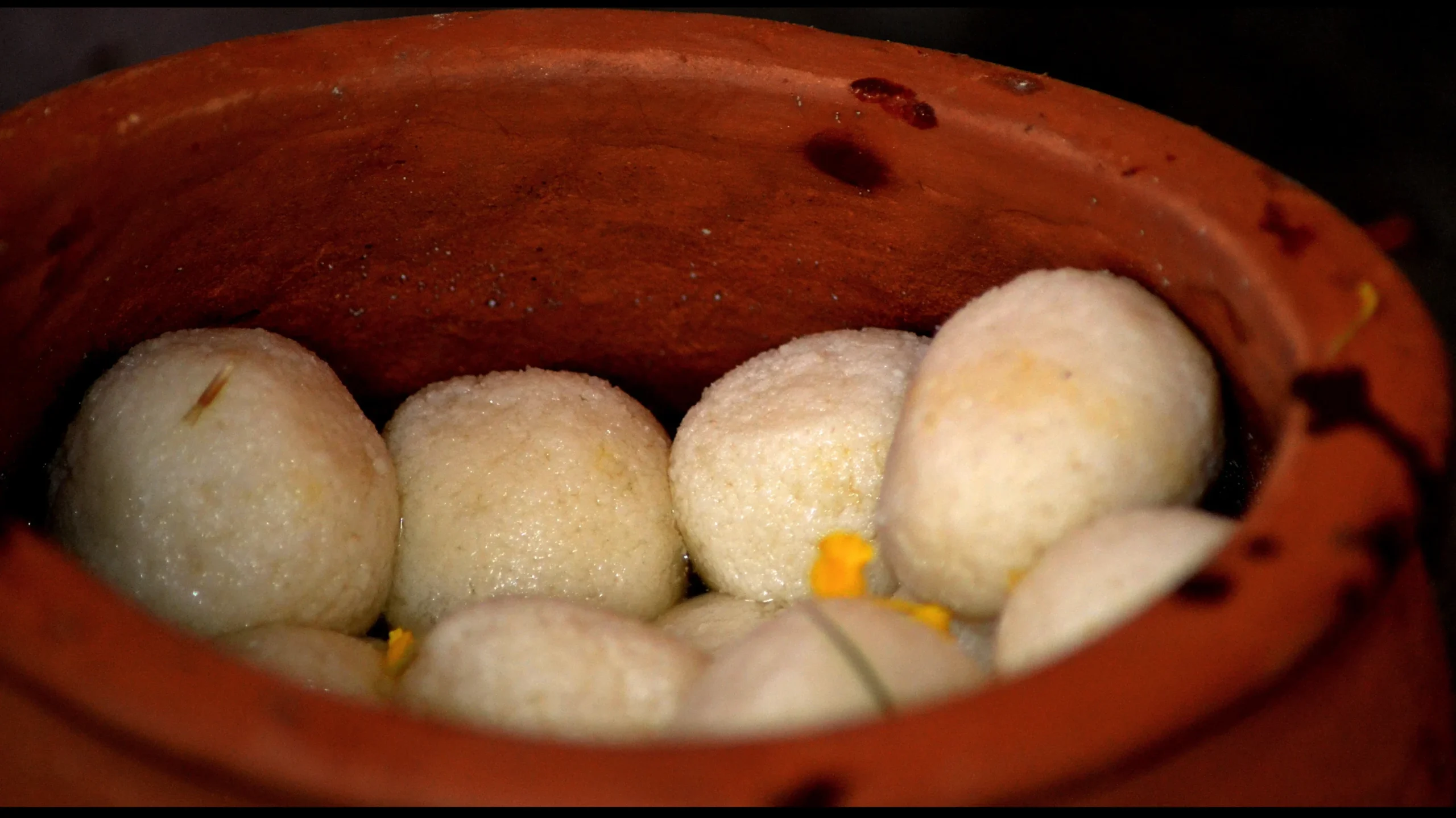 You will get the best variety of sweets in Kolkata and there is a speciality of Bengali sweets as well. Bengali sweets are mildly sweetened and are typically made of cottage cheese or Chena. Along with baked and sugary sweets there is a variety of fried sweets available as well. You would not find use of a lot of ghee in these sweets that makes the texture very light. Some of the sweets are also flavoured with cardamom powder in it.
The most popular one is of course the Roshogolla. Then the list continues with cham cham, rajbhog, kamala bhog , danadar, darbesh and more. If you prefer fried sweets then you must try pantua here, which is not gulab jamun at all. Pantua has a different taste even though it looks like gulab jamun. You must try chanar jilipi, chitrakut, lyangcha and nikuti as well which are all fried sweets dipped in sugar syrup.
Another popular sweet here is the Misti Doi, which is sweet curd which is sold in earthen pots. That just elevates the taste of the curd even more. Also rasmalai, jilipi, labanga latika, kheer kodom are other popular choices here. Do not miss out on the huge variety of sandesh here that is available in two types. Kora Paak  is the hardened version and the Norom Paak which is the softer version of sandesh. Some of the must try ones are jolbhora, kalakand, kachagolla etc.
However the variety doesn't end here. You will also get a lot of options for fusion sweets here nowadays like baked rosogolla, baked mihidana, bhapa doi, mango doi, mango sandesh, chocolate sandesh, ice cream sandesh and a lot more. So whenever you are in Kolkata you need to jump onto this sweet heaven and experience the sugary delight yourself.
Kolkata Tram
Trams in Kolkata were introduced in 1873 and in 1902 it became the first ever electric vehicle in Kolkata. Along with it, trams are also the first ever electric tram in Asia and till date it is the oldest operating tram service. Trams in Kolkata are operated by the West Bengal Transport Corporation (WBTC). Basically, trams are street cars or carriages that operate on the streets by an overhead cable. They run in distinct tracks and are environment friendly as well because they don't produce any pollution.
At first, when trams were introduced in Kolkata they were one of the major forms of transport, however at present they are only a part of the culture and heritage in Kolkata. The trams in Kolkata are still operating but the number is very few and the routes are also limited. The fares of trams are very low till date, like Rs. 5 to Rs. 10 per person. It is a wonderful experience to travel in these coaches and you will actually get an insight of how people used to travel during the older times. Right now Kolkata is the only city where trams are still operating and you must experience traveling in a tram once to get the heritage feel and you will love it for sure.
Kolkata Eden Gardens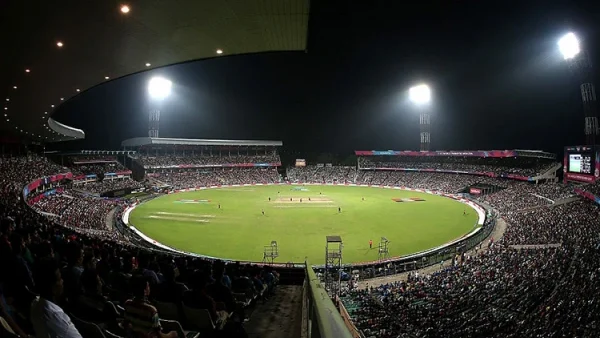 Eden Gardens in Kolkata is famously referred to as the Mecca of Indian Cricket. It is the second largest cricket stadium along with being the oldest cricket stadium. It was established in 1864 and since then it has hosted prestigious competitions like the World Cup, World 20 -20, Asia Cup and IPL matches as well. This massive stadium can accommodate up to 66,000 people at a time.
The first match ever played here was in 1934 and it was a match played between India and England. In 1987 the Cricket World Cup was hosted here after Lords Stadium in London. This is surely one of the heritage places in Kolkata that made Kolkata famous in the International arena as well.
Kolkata Football
If there is one thing that the people of Kolkata are obsessed with and passionate about, it is Football. Not just big matches, even little kids, teenagers and the grown up people in Kolkata love playing football in the muddy grounds. It is like an emotion for the people here. The two major clubs here are Mohun Bagan and East Bengal. People supporting their preferred teams, and having a heated argument with the supporters of the opponent team are just common things that you can notice here. That's how passionate the people are about this game. A lot of famous football leagues like the Durand Cup, Indian Super League and Santosh Trophy were hosted here. That is the reason why Kolkata is also famously known as the Football Capital of India.
Monuments of Kolkata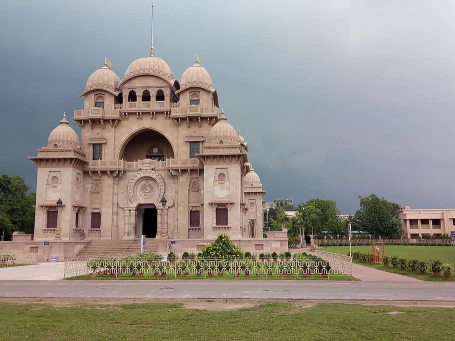 Kolkata is a heritage city and you will see many heritage buildings and monuments here. The rich historical past and the legacy of the Bengal Renaissance period are very much evident in the structures and formation of the monuments in Kolkata. These historical monuments and buildings reflect the rich culture, art and traditions of the city. Among the important ones Victoria Memorial is a popular monument and is one of the famous Kolkata places to visit. The white marbled palace looks exquisite and also holds a lot of history attached to it.
Furthermore, other popular monuments that you will find in Kolkata are Fort William, Writers Building, Kolkata High Court, Shaeeid Minar, St, Paul's Cathedral Church, Town Hall, Birla Planetarium, Belur Math, Indian Museum, Rabindranath Tagore's House in Jorasanko and many more. Once you are in Kolkata these places should surely be included in your list of Kolkata must visit places.
Kolkata as a city stands true to its name, the City of Joy. It seems like the city is always dancing to the tunes of its rich heritage and cultural beliefs and ideas. The city is loved and is ever ready to distribute a lot of love too. From the political beliefs, to discussions on food or nurturing literature, Kolkata has always been forward in its way to leave a mark everywhere. Ranging from sports, to art, to literature or socio political and religious sectors, you will always find a lot of insight in Kolkata. The above mentioned things are not the only things that make the city famous, but these are surely the things most famous in Kolkata. Do let me know, what are the things you feel should have been there in this list of things Kolkata is known for. 

Topic: Kolkata is famous for