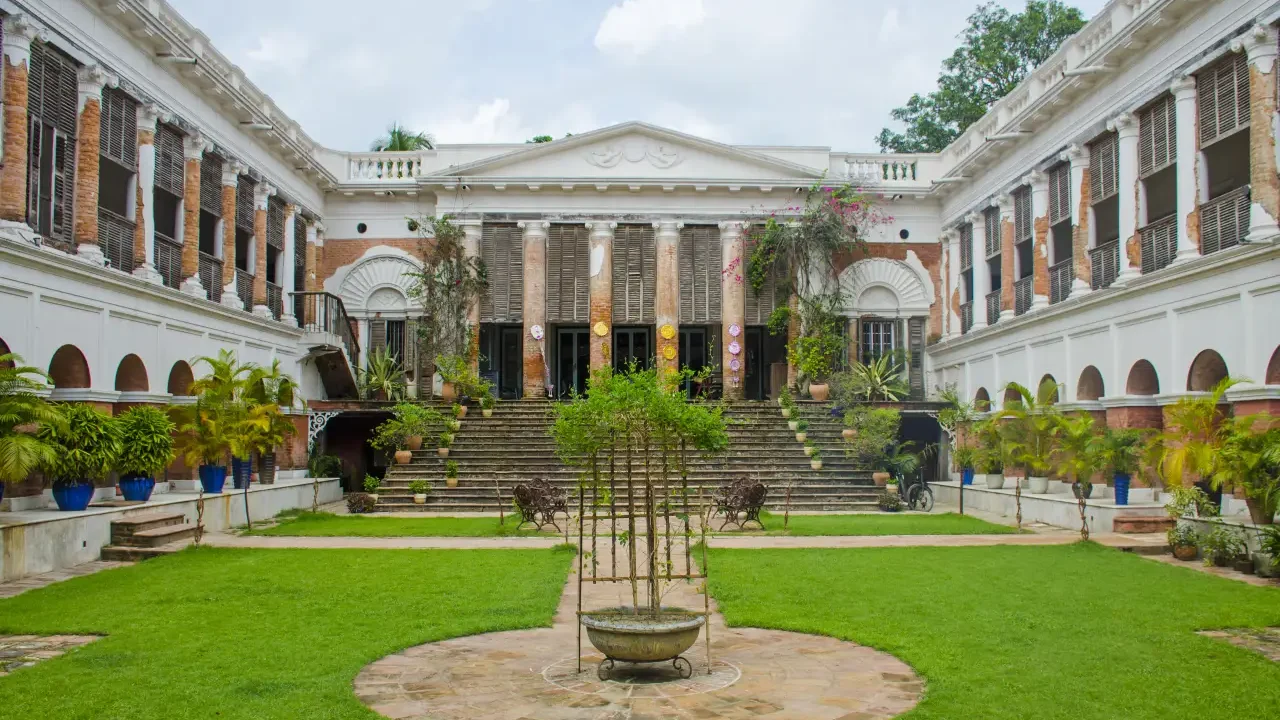 How many of you know that you can enjoy a staycation near Kolkata in so many amazing places? We do not always need to go far to enjoy a holiday. Also who really has so much time for long holidays anyway? In such scenarios places like Rajbari Bawali appears as a savior. You can be away from the hustle and bustle of the city without being too far away. In just 1 or 2 days it would be like a quick escapade. Furthermore this would be like a relaxing yet luxurious stay at a vintage property. Keep on reading about this ancient Rajbari in Kolkata. I will add all the information here that you might need to plan a trip to this location.
History of Rajbari Bawali
This heritage property once belonged to the Zamindari Mondol Family in Bengal. However after the independence of India when the Zamindars slowly started losing their charm, this structure was abandoned. Almost for 40 years it remained inhabited. Just a decade back this property came into the eyes of businessman Mr. Ajay Rawla, who took on the restoration of this heritage building. According to him he felt the structure had an Angkor Wat sort of appearance that looked royal and regal. After 7 years the place was brought to its present form as we see it today. He restored this Rajbari in Kolkata and converted it into a boutique Heritage Hotel.
Furthermore with the tagline of Inspired Heritage they turned this property into a luxury space. The structure made in the Greco Roman style is approximately a 300 year old property. Furthermore, the place highlights the opulent and extravagant Zamindari culture and lifestyle with its architectural elegance.
Location: North Bawali Village, 24 Parganas (South), Kolkata, West Bengal
How to reach Rajbari Bawali
By train
The nearest railway station would be Howrah Junction. You will get trains to Howrah from all nearby locations and cities. From Howrah the Rajbari is about 34 km. You can take a cab to reach there from the station.
By air
If you are taking a flight then Kolkata International Airport will be the nearest which is about 51 km away from the Rajbari. From there you will need a car or a cab to reach the location.
By road
You can even travel by your own vehicle to reach here. It would take only an hour to reach here via car from Kolkata.
Accommodation in Rajbari Bawali
Amongst that 17 are Classic Heritage Rooms. Each of the heritage rooms is around 33 sq metres. Furthermore, with a queen size bed, beautifully decorated walls, spacious bathrooms and marble floorings the stay here would be luxurious and comfortable. Up to three people can stay in one such room.
Next there are 6 Zamindari Suites. These are larger rooms spreading across 41 sq meters much bigger than the Heritage Classic Rooms. Along with a queen size bed, spacious bathroom, and marble flooring this room also has a separate sitting area. Here also up to 3 people can stay comfortably.
Then comes the Notun Bari Pond View Rooms and there are 2 of them. The rooms are the same as the Classic Heritage room. However the special attraction of these rooms is the pond facing the entrance. The view is mesmerizing. Furthermore, these rooms also come with all modern amenities, queen size bed, marble flooring and spacious bathroom. It is suitable for a stay of 3 people.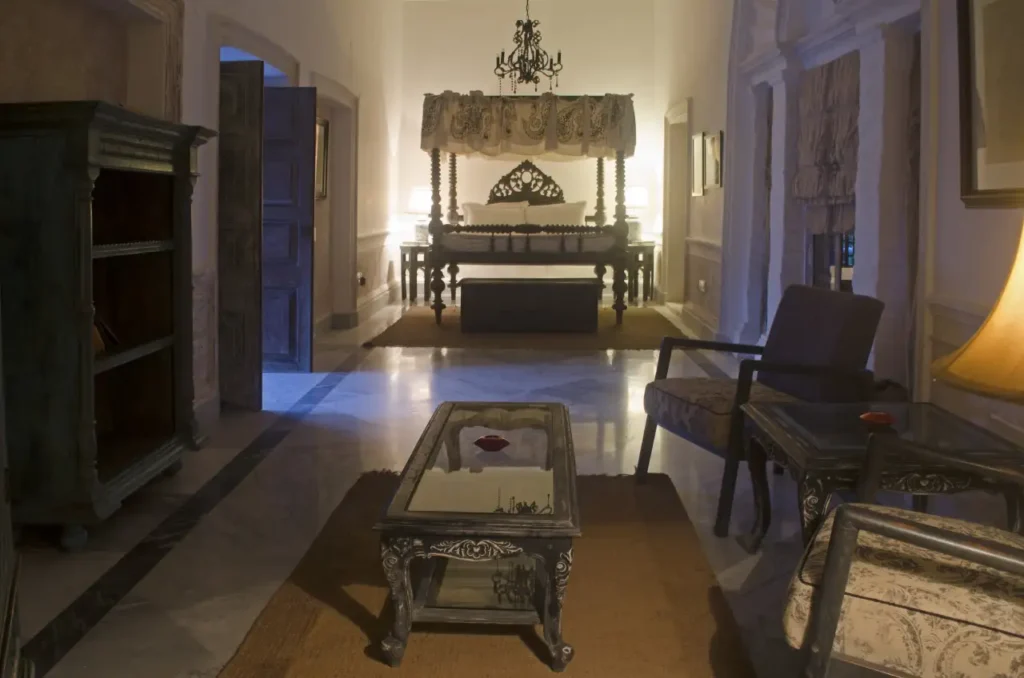 The Rajbari Bawali has a total of 30 rooms.
Moving on there are 3 Royal Suites. These are similar like The Zamindari Suites but only much bigger than them. The area spreads across 67 sq metres, with a separate bedroom, living room and bathroom. This one also has a queen size bed and 3 people can stay here.
Then comes 2 Dukbunglows. These are elegant Villas spreading across 50 sq metres, with 2 bedrooms, one living room and one dining space.
All the rooms have traditional 4 poster beds and the furniture also is vintage and old. The whole charm of the rooms is old and ancient with dim yellow lights. Furthermore, the whole decoration creates an ambience of the days gone long back. You would feel like you are transported to the bygone days of Zamindari rule. However only the feel would be of the older days, but the rooms are well equipped with all modern amenities and free WIFI is also available. The stay here would be a perfect mix of both modernity mingling with heritage and ancient world charm.
Other attractions in Rajbari Bawali
The hosts here make sure that the guests are enjoying their time to the fullest with various activities. You can enjoy a good spa session here or take a dip into the swimming pool. Alongside, you can take a walk to the villages as a part of your tour and explore the property as well. The Rajbari also has a Thakur Dalan, a Piano Room, Library, Dining Room, Dungeon, and Verandah. Everything looks straight out of a picture. There is a reason why this spot has been a favourite among filmmakers. The famous Bengali film Chokher Bali starring Aishwarya Rai and directed by filmmaker Rituporno Ghosh was shot here. Along with that the latest Netflix film Bulbul was shot here as well.
Rajbari Bawali Restaurant
Bengal is incomplete without its food. And when we are talking about food in a Rajbari, it has to be extravagant and exquisite. Starting from presentation to cuisines they have a lot to offer. Here women and men wearing traditional outfits serve the food. With typical Bengali traditional Laal Paar sada saree (red bordered white saree) the women give an old world charm. They blow the conch shells during your entry into the Rajbari and the visit ends with mishti mukh that is having some sweets as a part of ritual. They are best known for their traditional Bengali thali serving both delicious Veg and Non Veg food options.
Furthermore the delectable Aloo Posto, Sukto, Kochu Pata Chingri, Bhetki Paturi, Mutton Kosha will win over your heart for sure. The serving of food on traditional terracotta or earthen plates with a banana leaf on top of it makes it even more special. A sumptuous meal at a location like this would be one of the experiences that you would want to experience again after. They also have high tea arrangements in the evening as well.
Things to do in the Rajbari Bawali
One of the most important things to enjoy here is the slow paced life of the days gone by. Whenever you are visiting here make sure you have some time in hand to relax and go slow.
Explore the property. The whole property is extravagant, elegant and reflects the old world charm. From the huge pillars to elongated verandahs you would find the classic vintage touch in every corner.
You can take a guided tour here as well if you are staying here. The guided tour includes a walk into the village, a boat ride during sunset on Hoogly River etc.
This is like a perfect spot for photography lovers. The beauty and elegance of this Rajbari would create an unbelievably gorgeous backdrop for perfect photos. So make sure you are clicking a lot of good pictures here.
Booking Information
Pre booking is always recommended as there are limited numbers of rooms. And you surely do not want to return without getting a room to stay. Especially if you are travelling during weekends, festive weekends or festive season you must go for a prior reservation.
Overall this place can be a great escapade for a short span. Even if you have only a day in hand you can visit here in the morning and then return by night as it is very close to Kolkata. But I would suggest you all to stay there for a night at least. Furthermore, the mornings, noon, evenings and nights here look very different. And during different times you can enjoy a different backdrop of the Bawali Rajbari. So next time you get a short holiday or if you are looking for a nearby spot from Kolkata for a staycation, surely consider this place. You are surely going to enjoy a stay there. Do let me know if this article was helpful for you. And also let me know when you are planning a visit here.