Road trips can be amazing and thrilling right? It can be the best way to enjoy a day trip going up to a place and returning later in the evening or night. Furthermore with our busy life and hectic schedule most of us do not really have a lot of time in hand to enjoy long holidays. Day trip can be a savior in such cases for sure. So if you are in Gujarat or Ahmedabad or anywhere around then the Ahmedabad to Statue of Unity day tour can be a really interesting round off trip for you.
Furthermore with the popularity of the Statue of Unity in recent times it is anyway gaining a lot of momentum in the present days. It would be a thrilling, exciting as well as enriching trip for you. In this article I am going to mention how you can reach the Statue of Unity from Ahmedabad. Along with that I will also mention what all you can do there, what food to eat and where to stay as well. Overall this article is going to be your one stop destination to plan a day trip to the Statue of Unity from Ahmedabad. So keep on reading the whole article so that you can plan a successful trip soonest.
About Statue of Unity
Statue of Unity is currently World's tallest statue. Height of Statue of Unity is huge, going up to 182 meters. Located on the Narmada River, the statue faces the Sardar Sarovar Dam. This statue is of Sardar Ballavbhai Patel who was an eminent Indian independence activist and an ardent follower of Mahatma Gandhi. Furthermore he is known for getting together a total of 562 princely states as one union to form the Union of India. His act of Unity is lauded by the whole world and therefore the statue had been named as the Statue of Unity. This is a fairly new structure in India that was inaugurated by Prime Minister Narendra Modi on the occasion of 143rd anniversary of Sardar Ballavbhai Patel's birthday in the year 2018. Furthermore the Statue of Unity height had also broken the records of the Spring temple Buddha in China to become the tallest statue in the world. However, in India before this the tallest statue was the 41 meter tall statue of Lord Hanuman of the Anjaneya Temple in Andhra Pradesh.
Where is Statue of Unity?
Sardar Sarovar Dam, Statue of Unity Road, Kevadia, Gujarat, India
| | |
| --- | --- |
| Timings | Open on all days from Tuesday to Sunday from 8 am to 6 pm. Mondays are closed. |
| Statue of unity tickets | The Statue of unity ticket price is Rs 120 for adults and Rs. 60 for children. For the viewing gallery the ticket price is Rs. 350 for adults and Rs. 200 for children. |
| Laser Light and Sound Show timings | On all days from Tuesday to Sunday at 7:30 pm onwards. |
What is special about Ahmedabad to the Statue of Unity Day Trip?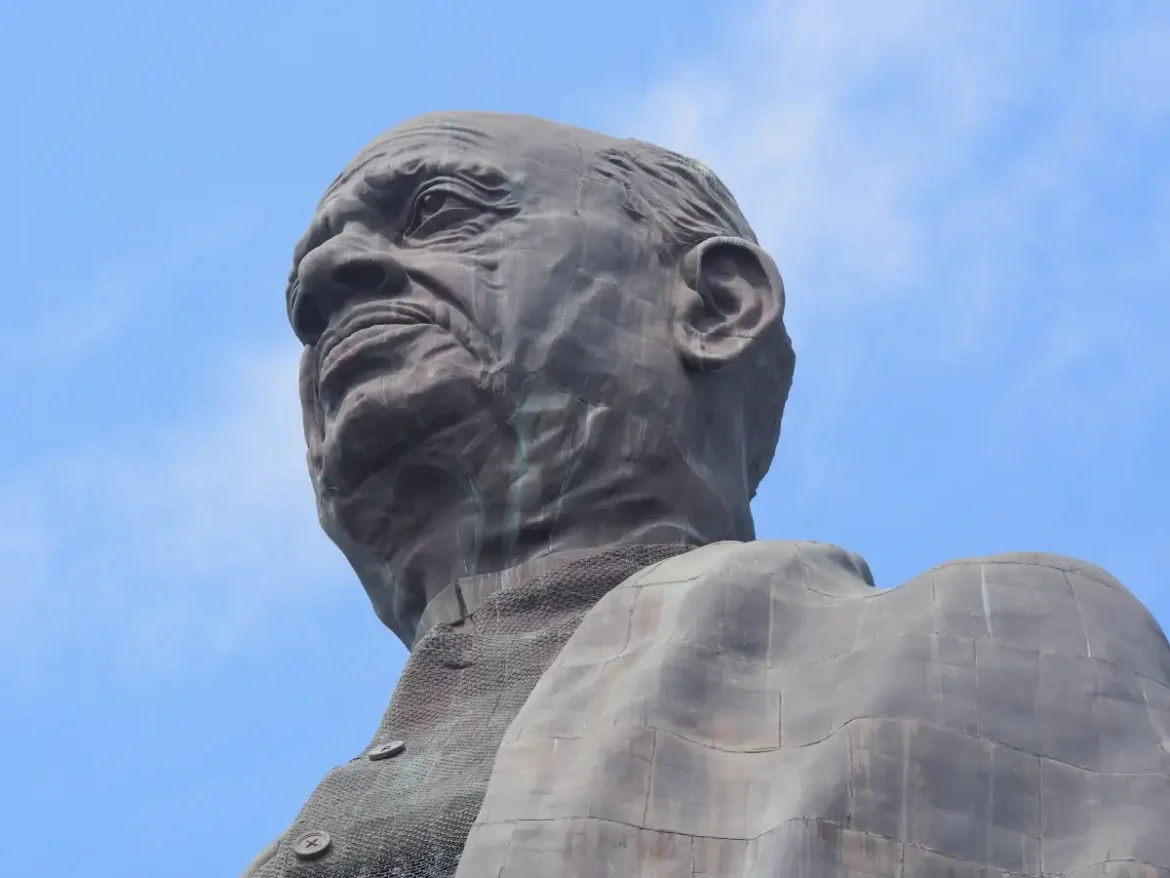 If you are someone who enjoys a road trip then you must travel from Ahmedabad to the Statue of Unity through Gujarat. This way you will be able to explore some parts of Gujarat as well as enjoy a road trip. Furthermore Ahmedabad to Statue of Unity distance makes it even more accessible for a comfortable day trip. So next time you are looking for a location for a drive through in Ahmedabad or Gujarat do consider this trip as well.
This site is an all year round site so technically you can travel here anytime of the year. But according to the weather conditions, if you want to enjoy a comfortable trip then the ideal time would be from October to February. These are the cooler and drier months which will make your trip more comfortable. However the summer time is not at all recommended to visit here because Gujarat in general can be really hot and the temperature goes even above 40 degrees during March to June. So it would be extremely uncomfortable to plan a trip around that time. Furthermore, the monsoon season can also be inconvenient for planning a trip there because the rains can dampen the travel spirit. In general Gujarat receives heavy rainfall so avoid visiting during that time too.
How to reach the Statue of Unity from Ahmedabad by car?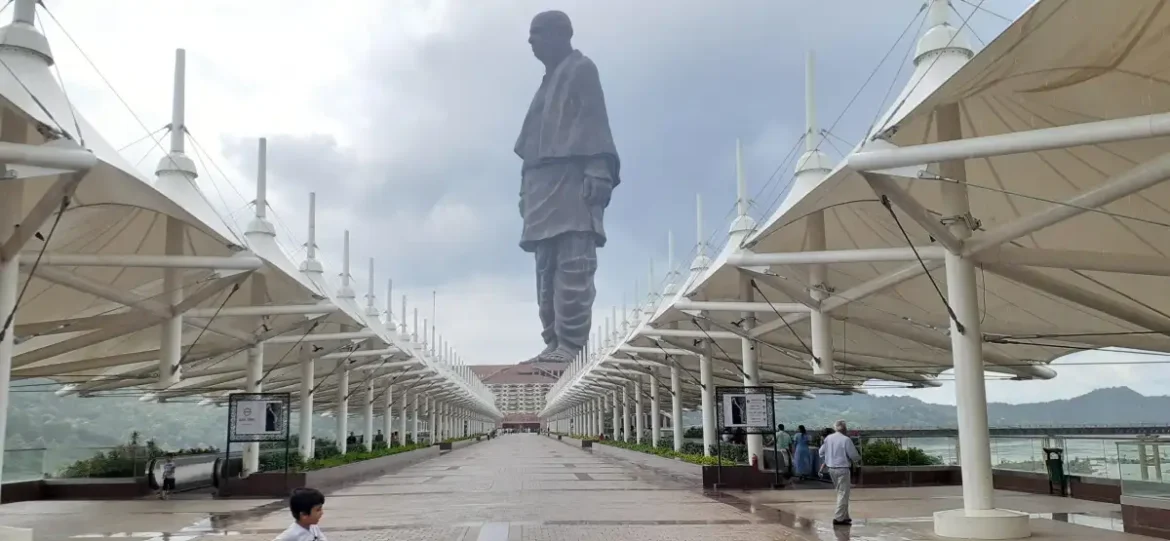 Ahmedabad to Statue of Unity distance is 198 km and the road condition is also good. There can be two routes to reach the location from Ahmedabad.
The first route is driving via the Ahmedabad- Vadodara Expressway that is NE 1 or National Expressway 1.It would take around 3.5 hours to 4 hours to reach the location via this route. Vadodara to Statue of Unity distance is Around 90 km. This route is considered the best route to reach the Statue of Unity from Ahmedabad. However, if you are interested you can even check out some other sightseeing spots that come in the way of your trip from Ahmedabad to the Statue of Unity. Some of the places that you can visit are
Maharaja Fateh Singh Museum, Navapura
This is currently a museum which was once a school from the 19th century. You can find different sculptures, paintings, textile goods, armours and many other exhibits here. Furthermore you will get a good insight about the heritage and rich culture of Gujarat by visiting this museum.
Lambhvel Hanuman Temple, Lambhvel
It is said that this temple is more than 500 years old. Inside the temple you can find a 14 feet tall statue of Lord Hanuman ji. Furthermore, the temple looks majestic and you can notice a distinct blend of Gujarati and Rajasthani style of architecture of this temple. It will be a nice and serene experience to visit this temple.
Sur Sagar Lake, Vadodara
This is a lake that comes along NH 48. Also known as Chand Talao, this is a lake constructed in the 18th century. Furthermore, this man made lake is surrounded by lush greenery, fountains, and statues. The place serves as a very popular picnic spot. Even the local people often visit here to spend some nice time with friends or family. You can surely visit this beautiful spot and have a good time.
Places to eat
If you are travelling via the above mentioned route then there are some good options for places where you can stop and eat. These are,
Jalaram Khichdi Restaurant
Ranging from Gujarati dishes, Kathiyawadi dishes and Punjabi dishes this place serves delicious food. It is one of the well known places where many people satisfy their taste buds.
The Golden Leaf Restaurant
This is one place that offers pure vegetarian food. So if you are in a lookout for a place like that then this is the best option for you. Furthermore they even offer various cuisines like Kathiyawadi, Punjabi, North Indian as well as Chinese. So you are getting a good variety in vegetarian options as well as a variety in cuisines as well. You can surely visit this place for a good sumptuous meal.
Saikrupa Multi Cuisine Restaurant
Ranging from North Indian to Chinese to snacks like burgers and pizzas you will get a really good variety of vegetarian food here. It is one of the top rated restaurants in Vadodara that a lot of people prefer visiting. So you can surely make this place a stopover in your journey.
An Alternet Route to the Statue of Unity from Ahmedabad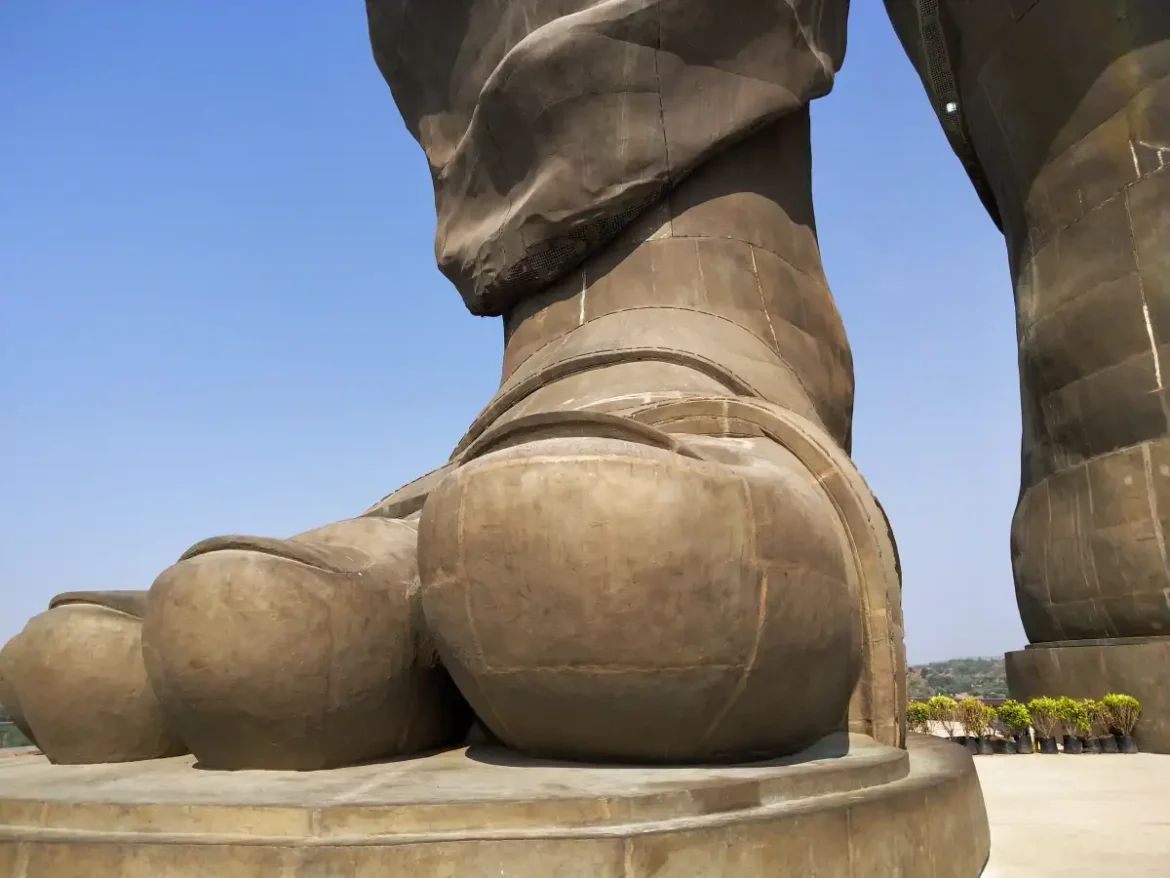 However there is another route as well that you can take but this is a longer route though. The distance between the Statue of Unity to Ahmedabad would be around 253 km via this route. It would take around 5 hours to 5.5 hours to reach there. Furthermore in this route also you will find some sightseeing spots where you can stop. Some of them are
Jambughoda Wildlife Sanctuary and Eco Tourism, Dhanpuri
Spread across an area of 130 sq km this is a wildlife sanctuary that houses varied flora and fauna. If you are a nature and animal lover then you would really enjoy visiting this place. Furthermore if you are looking for a place to enjoy the unhindered beauty of Gujarat and the nature of Gujarat nothing can be better than this place. So make sure you are visiting this spot.
Champaner- Pavagadh Archeological Park, Champaner
This Archeological Park is one of the names in the prestigious list of UNESCO World Heritage Sites. This is an old site belonging to the 16th century and now the area has been restored. Furthermore the area is huge, spreading across 1329 hectares. Previously a Hindu City, this site can be an ideal spot for the people who enjoy delving into age old structures, monuments and formations. Also for history lovers this spot can be a paradise as well. You can surely think of visiting this spot as well.
Waterfall, Narmada Sub Canal, Bakrol
This is a natural waterfall that looks beautiful cascading down. However this spot can only be reached after a short hike. So if you are an adventure lover who enjoys activities like this then this is a must visit place for you.
Places to eat
If you are taking the second route then also there are some really good options for places where you can stop and eat. These are
Hotel Annapurna
From Gujarati Thalis to delicious North Indian food this is a popular place where you can eat your heart out. The food here is tasty and they are known for their hospitality as well.
One Ten Restaurant and Banquet
From Continental to Chinese to North India this place serves a delicious spread of food. Along with the food the ambience here is also noteworthy. You can definitely visit here and try out some food from their elaborate menu.
Shiv Shakti Dhaba
This dhaba is a place that serves authentic full vegetarian meals. Known for their quick service, this dhaba serves delicious Punjabi and Kathiyawadi thalis and other dishes. Most of the visitors here stop for a quick lunch. You can surely visit this place to try some delicious food.
Other ways to travel from Ahmedabad to Statue of Unity
By train
The nearest railway station that is connected to major cities is Ahmedabad Junction Railway Station which is around 10 km from the main city centre. However the nearest railway station to the Statue of Unity is the Ekta Nagar Railway Station.
Ahmedabad to Statue of Unity Train :
| | | | | | |
| --- | --- | --- | --- | --- | --- |
| Train Name | Train Number | Departure Days | Departure – ArrivalTime | Boarding Station | Destination Station |
| Jan Shatabdi Express | 20947 | Everyday in a week | 7.55 AM – 10.40 AM | Ahmedabad Jn.(ADI) | Ekta Nagar railway station (EKNR) |
By flight
The Vadodara Airport is the nearest Airport to reach the Statue of Unity which is around 95 km away. However there are no direct flights to Vadodara from Ahmedabad so it takes around 4-5 hours to reach there along with a stopover in either Mumbai or Delhi.
Major attractions in the Statue of Unity Site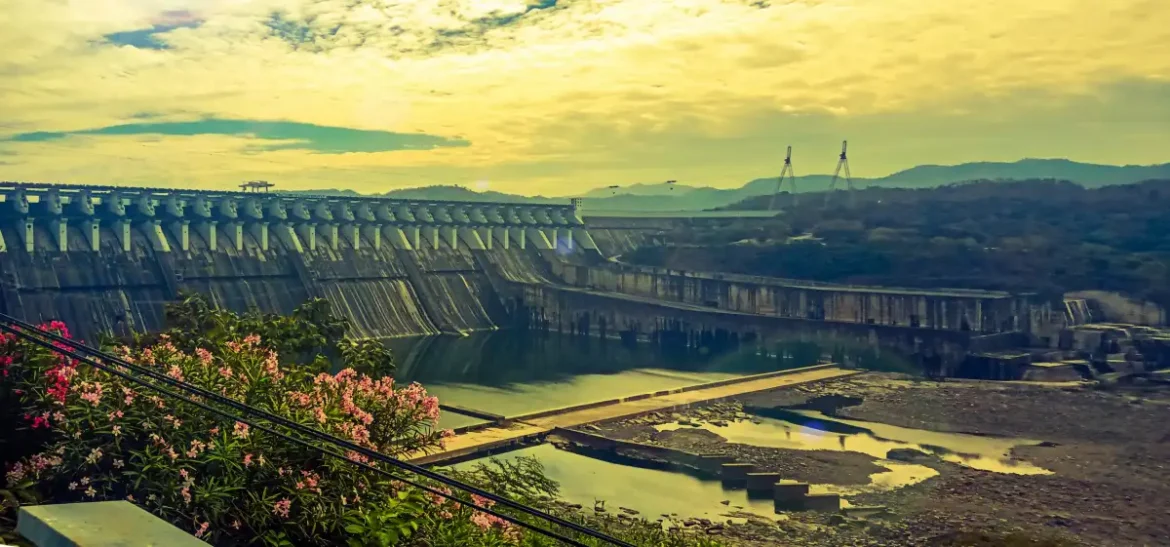 Statue of Unity
Of course the Statue of Unity is the major and main point of attraction. The statue of Sardar Ballavbhai Patel is a symbol for unity and national pride. We as Indians take pride in our Unity in Diversity and therefore this statue puts forward that idea. It is believed that the beauty of India as a country lies in its diversified nature. Furthermore this statue is constructed as a reminder to that concept. It is currently the tallest statue in the world which makes it even more interesting as a sightseeing spot. The massiveness of the statue and the detailing, the location of the statue everything makes it a larger than life kind of a set up that you will enjoy visiting.
Memorial Museum
The humongous statue is not just a statue. A beautiful memorial museum nestles at the base of the massive statue. The inside of the museum is very enriching for all the visitors. This museum houses various important achievements of Sardar Ballav Bhai Patel's life, many significant contributions made by him for the Independence of the country. Furthermore you will also get an idea of the remarkable life that Patel had once lived. In a way you would get to dive into the history of Sardar Ballav Bhai Patel's life along with a significant insight on the pre independence period as well.
Observation Deck
There is an observation deck at almost 500 feet height. From the top you can enjoy a mesmerizing view of the Narmada River and the whole surrounding area. This can be one of the most memorable experiences of your whole trip to this location for sure.
Exhibition Hall
This is an exhibition Hall where you will get a fair idea about the life and numerous achievements of Sardar Ballav Bhai Patel. Furthermore you will get a better idea about the significance of the Statue of Unity as well. With engaging pieces of exhibits and various interactive displays everything is explained in a beautiful way here. For people who have an inclination towards knowing about the life and activities of various activists or philanthropists, this exhibition hall would be an interesting visit for sure.
Valley of Flowers
There is a beautiful garden just in front of the Statue of Unity with the stunning Narmada River as the backdrop. Known as the Valley of Flowers, you can enjoy various kinds of blooming flowers here. Along with that there are various trees, shrubs, bamboo and grass covering that further elevates the beauty of this place a notch higher. Spread across an area of 600 acres it consists of over 24,00,000 plants in total. Furthermore the area is divided into various zones like the Garden of Senses and Panchatatva Garden, Green Energy and Upcycling Park, Sardar Park, Butterfly Garden and Adventure Park. Alongside there are two lotus ponds and photo booths inside as well.
Sardar Sarovar Dam View Point
One of the most beautiful spots that you can enjoy here is the viewpoint of the Sardar Sarovar Dam. Just in front of the mountains and sprawling greenery the view is captivating enough to keep you engaged for a really long time. Furthermore the breathtaking view is surely going to make your jaw drop. For nature lovers this can be the ideal spot to soak into the beauty of nature. You should not miss looking at the breathtaking views from here.
Helicopter Ride
How thrilling would it be to experience the breathtaking view of the Statue of Unity in a 10 minute long Helicopter ride? It can surely be one of the finest memories that you can cherish all your life. Furthermore this aerial view can be exciting, thrilling as well as adventurous at the same point of time. So make sure you are taking part in this activity whenever you visit the Statue of Unity.
Boat Ride
The Nauka Vihar or Boat Ride available at the spot is another major tourist attraction in the Statue of Unity. There are options for a serene 45 minute long boat ride or a 75 minute Dinner Cruise as well that you can choose from. The tranquility of the whole ambience mingling with the thrill and adventure of being in the water with the massive Statue of Unity as your backdrop is a mesmerizing experience for sure. Furthermore, get engrossed in the beauty of this ride and enjoy your time to the fullest.
Unity Glow Garden
This is one place that you need to visit only after 7 pm in the evening. By the time the sun sets and this beautiful garden comes to life. With light based installations and elaborate lighting activities this glow garden can be one of the most enchanting sights that you can enjoy here.
Pet Zone
This is a specific zone for the animal lovers. It provides a good opportunity to all the people to interact and witness a variety of animals ranging from Cockatoos, Miniature Ponies, Macaws, Rabbits, Sheep, Goats, Geese, and Macaws etc. Furthermore this zone is a good option to spend some quality time for both adults and children. Pet lovers are going to have a really good time here.
Statue of Unity Light and Sound Show
This is another major attraction in the Statue of Unity. The light and sound show here is a beautiful presentation with lights and audio visual effects that depicts the life and contributions of Sardar Ballavbhai Patel. Furthermore, this show is one of the most mesmerizing experiences that you can enjoy here. The show happens every day at 7:30 pm except Mondays.
Hotel near statue of unity
There are some nearby options for staying near the Statue of Unity. You can check out The Fern Sardar Sarovar Resort, Galaxy Unit, Sankalp Garden Inn, Statue of Unity Eco Camp etc nearby.
As a destination, the Statue of Unity is versatile in many ways. You can enjoy the essence of history, embark on the life and philosophy of Sardar Ballavbhai Patel, and delve into the history of pre Independence India and much more. And the Road trip from Ahmedabad can be even more interesting if you are taking quick stops and driving. Furthermore I would suggest you all to travel this distance via your own vehicle or rented cars and you can enjoy the road trip as well as enjoy visiting the Statue of Unity. It will be like a very short yet memorable day trip if you have less time in hand for a full fledged holiday. You can reach there by the morning and return by evening as well. However, if you are interested in watching the light and sound show in the evening you can even opt to stay there in any of the nearby hotels as well.
Overall this will be like a very thrilling and enriching journey for all of you. Do let me know if this particular article was helpful for you in planning a successful day trip to the Statue of Unity. Also let me know which route you would like to take. Furthermore don't forget to share your experience with me as well and let me know if I have missed anything here. I would love to know that from you. So when are you planning this trip? Pack your bags and get moving as soon as you can. Happy tripping!