For ultimate relaxation we need some time off. And nothing can serve us better than offbeat tourist destinations. For people who enjoy being amidst nature, away from the hustle of city and city life, offbeat destinations can be ideal for them. Furthermore, the peace, tranquility that comes along makes an offbeat destination a great escape from regular monotonous life. While in Odisha if you are searching for any such offbeat destination then Bangriposi can be a really good option for you. For the people seeking some exploration and relief along with relaxation, Bagriposi Orissa can be the perfect escapade. So if you are interested in knowing everything about this getaway then keep on reading this article. Here I will mention all kinds of information about Bangriposi that you might need to plan a successful trip to this beautiful location.
Bangriposi
Location of Bangriposi: Mayurbhanj District, Odisha, India
Overview of Bangriposi
Bangriposi literally means the beautiful daughter of the hills and how beautifully the place stands true to its name. With the rolling hills as the backdrop this is a location that serves its visitors with lush greenery along with the blissful atmosphere. Located on the foothills of the Thakurani Hills Bangriposi is an offbeat secluded village in the Mayurbhanj district of Odisha.
It is a natural escapade that will give you a lot of relief with its serene atmosphere. The rustic rural landscape looks enchanting for its simplicity. This small town cuts off from the main highway. You will find small markets, schools, colleges, administrative offices and railway stations and a police station here. Furthermore the tribal lifestyle, panoramic view and the laidback nature of the location will keep you engrossed.
How to reach Bangriposi
By Train
There are trains from Howrah Junction to Balasore like Dhauli express which would take around 3 hours and 30 minutes to reach. From there you can take another local train to Bangriposi which would take an hour to reach. Also you can take any train to reach Bhanjpur which takes around 7 hours to reach and from there you can take a bus or car to reach Bangriposi which is at a distance of 20 km.
You can also travel from Bhubaneswar. The Bangriposi to Bhubaneswar train is available and the distance is 286 km. In the Bhubaneswar to Bangriposi train the Bangriposi BBS Express would take around 6 hours to reach.
By Bus
There are direct buses from Kolkata to Baripada that take around 7 hours to reach Baripada which is the nearest town to Bangriposi. These are overnight buses that cost around Rs. 300 per person. From Baripada cars and buses are available to reach Bangriposi which is around 35 km away.
By Car
If you are travelling directly from Kolkata to Bangriposi in a car then you can drive through NH 6. Kolkata to Bangriposi distance is around 230 km. You can drive via Kharagpur, Lodhasuli, Baharagora, and Bombay Chowki to reach Bangriposi.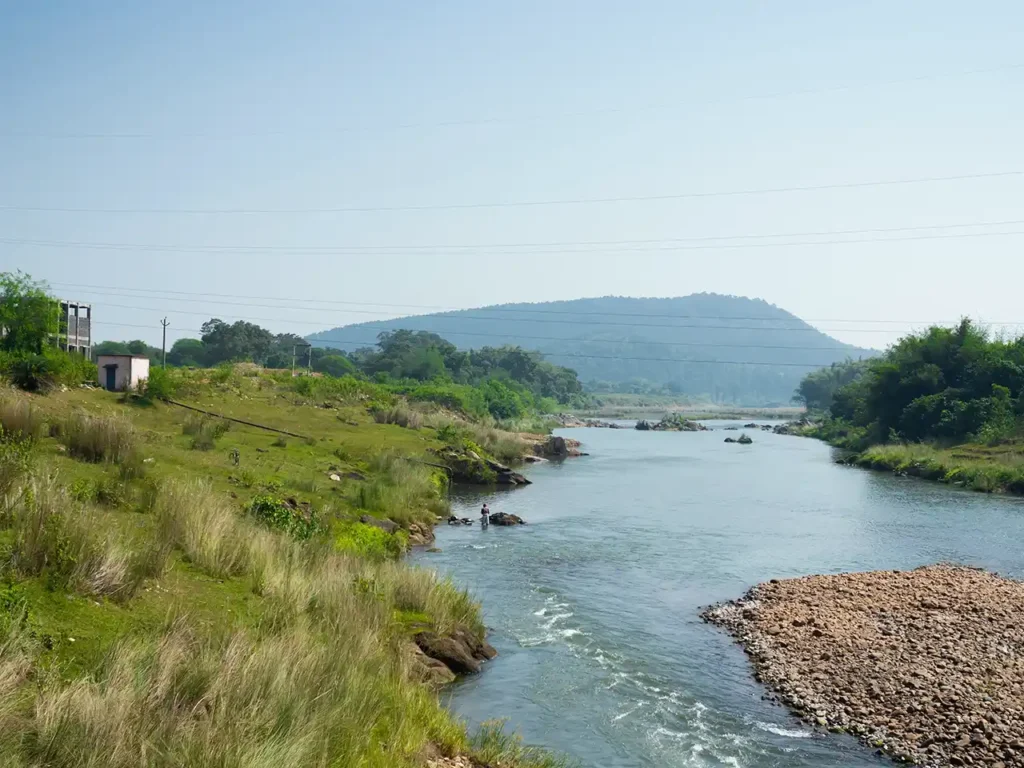 Best time to visit Bangriposi
The best time to visit this gorgeous destination is from October to June. During this time the weather remains most pleasant with shorter days and chilly nights. But if you are not a big fan of longer nights then you should visit here during spring season. Also the flowers are in full bloom during spring including Palash flower that enhances the beauty of this place to a level higher. You can explore the hills, waterfalls and rivers at this time.
Furthermore the location looks beautiful during monsoon with the Buribalam River at its enchanting best. But there is a major turnoff during monsoon that the rains can dampen the travel spirit. Also one of the major attractions here the Simlipal Forest remains closed during monsoon. So avoid visiting during that time if you don't want to miss out on this experience.
Hotels and Resorts in Bangriposi
Hotel Bangriposi
Contact number– 9831309512, 9836830342, and 6291377154
Website– bangrisposi.com
They offer a stay in their eco cottages. The smaller cottage has 1 four bedded room along with attached bathroom and the tariff is Rs. 1600 per day. The second cottage has 3 rooms with 1 double bed in each room, one common dining space and attached bathrooms with each room and the tariff is Rs. 2400 per day. Furthermore the second cottage can accommodate up to 8 people at the same time. The famous Bengali Novel Bangriposir Du Rattir written by Buddhadeb Guha is written while the author was staying over here.
Simlipal Resort
Address: Bangriposi, Handa for NH 49, Mayurabhanj
Contact number: 8327789997, 9437612747, 06791223142
Website: simlipalresort.com
Email: simlipalresorthanda@gmail.com
This resort is really well maintained and one of the most popular resorts in Bangriposi. They have luxurious rooms and offer services like room Service, Recreation and Activities, Free Wi Fi. They also have a multi cuisine restaurant. Furthermore the tariff of
Semi Deluxe Non AC rooms are Rs. 1080 per day.
Super Deluxe AC rooms are Rs. 2160 per day.
AC Four Bedded rooms are Rs. 2700 per day
Also with regular services they also offer complimentary breakfast, on demand barbeque and grills, welcome drink, smoking zone, outdoor parking, conference facilities, playground, lobby, meeting rooms, early check ins, pets allowed etc.
Simlipal Khairi Resort
Address: near Forest Check Gate, NH 6, Kolkata- Mumbai Highway, Bangriposi, Handa
Website: simlipalkhairiresort.com
Email: simlipalkhairi.resort@gmail.com
Contact number: 8249002656, 9437877730, and 6791223292
It is another resort that you can check out. They have facilities like terrace, parking, free wi fi, complimentary breakfast, barbeque grills, playground, conference facilities, private dining for groups, early check ins, live entertainment and more. Furthermore they offer
Standard Non AC rooms Rs. 900
Deluxe AC rooms at Rs. 1900 per night
Deluxe AC rooms with complimentary breakfast Rs. 2300 per night
AC Family Cottages Rs. 2499 per night
AC Family Cottages with complimentary breakfast Rs. 2699
4 bedded Non AC room Rs. 2699, maximum occupancy 6 people
4 bedded Non AC room with complimentary breakfast Rs. 2999
Major Tourists Attractions in and around Bangriposi
Simlipal National Park
This national park is one of the major attractions in Bangriposi. Usually everyone visiting here covers visiting Simlipal in a tour to Bangriposi. It is a Tiger Reserve as well and is one of the oldest and largest national parks. Spread across an area of 2750 sq km you can observe diverse terrain here including rivers, pristine waterfalls, rolling hills and a lot more.
Furthermore one of the major tourist attractions here is the jungle safari and you can spot varied animals here. These are Royal Bengal Tigers, Indian Gaur, Elephants, Leopards, Sambar Deers, a variety of birds, reptiles and a lot more. You simply cannot miss visiting this location whenever you are travelling to Bangriposi.
Brahman Kund
It is a sacred water reservoir surrounded by dense forests in the Mayurbhanj district. For nature lovers this can be a blissful retreat to witness. Located 25 km away from the main town, you can find a large statue of Lord Hanuman beside the Kund. The Buribalam River originated from the Brahman Kund. You can visit the spot, skit and relax and have some time off getting engrossed in nature. Also the Kund is full of fishes and the local people love feeding them too as it is considered a good deed. For both the natural beauty as well as the religious significance this is one of the major tourist attractions in Bangriposi.
Buribalam River
Also known as the Budhabalanga River, this river has a lot of historical importance attached to it. Renowned freedom fighter Jatindranath Mukhopadhyay or Baghajatin fought against the British army from this location. If you are inclined toward knowing the history of our nation then you will surely get goose bumps visiting this spot thinking about the heroic act of bravery. However the actual battle was fought in Chandipur where the river meets the Bay of Bengal. Yet this site remains famous as the name Buribalam is attached to it and the incident. After originating from Brahman Kund this river flows by, and then plunges as the Barehipani Waterfall, and finally meets the Bay of Bengal in Chandipur.
Barehipani Waterfall and Joranda Waterfall
Inside the Simlipal National Park you can spot these two beautiful waterfalls. These waterfalls are one of the highest waterfalls in India plunging from 400 meters and 150 meters respectively.
Maa Dwarsini Temple
Also known as the Bonbibi Temple, Duar Seni Temple or Kanak Durga Temple, it is one of the popular tourist spots and an important site of pilgrimage located on the Bangriposi Ghat. Here the presiding deity is Mata Dwarsini and it is believed that the Goddess protects the valley. Furthermore the locals here believe that if you wish for something with a true heart then Goddess will grant your wishes. However after that you will have to come back here to pay homage and if you fail to do so she will appear in your dream to remind you of your visit. There is a hiking trail that starts from here and goes till the summit of the hill. Every year a fair is organized here on the occasion of Makar Sankranti that is attended by a lot of people.
Lulung
It is a small village which serves as the gateway to Simlipal National Park. Located on the banks of the Palpala river this spot also has some resorts and cottages for overnight stays.
Khiching Temple
Dedicated to Goddess Kichakeswari this is an ancient temple. It is believed that the Goddess here is an incarnation of Devi Durga. Furthermore made of black stone, the temple houses intricate carvings and sculptures. This is also a museum that displays various ancient artifacts.
Bisoi Haat
Located 18 km away from Bangriposi, Bisoi is a town famous for its haat. If you are interested in catching a glimpse of the tribal culture then this is the perfect place for that. On every Saturday you will find this village market or Haat where local people sell various commodities.
Bankabal Dam
Created over Bankabal Nala, this is a dam with tribal villages on either side of it. This is located only 32 km from Bangriposi.
Sulaipat Dam
On the foothill of Badampahar Range this dam is located on the Kharkai River, the tributary of River Subarnarekha. It is 50 km away from Bangriposi.
Wrapping Up!
Next time when you are looking for a location in the middle of natural beauty, definitely do consider visiting Bangriposi Orissa. For the much needed relaxation places like this can be perfect. So plan a holiday to this location and enjoy the waterfalls, rivers, dams, temples and markets along with having a relaxed time with your friends or family. Furthermore to witness the variety in lush greenery you must visit here and it would soothe your eyes, soul and mind all together. Do let me know if this article was helpful for you in knowing everything that you wanted to know about Bangriposi. Also let me know when you are actually planning to visit this beautiful location.